SENEGAL ESSENTIALS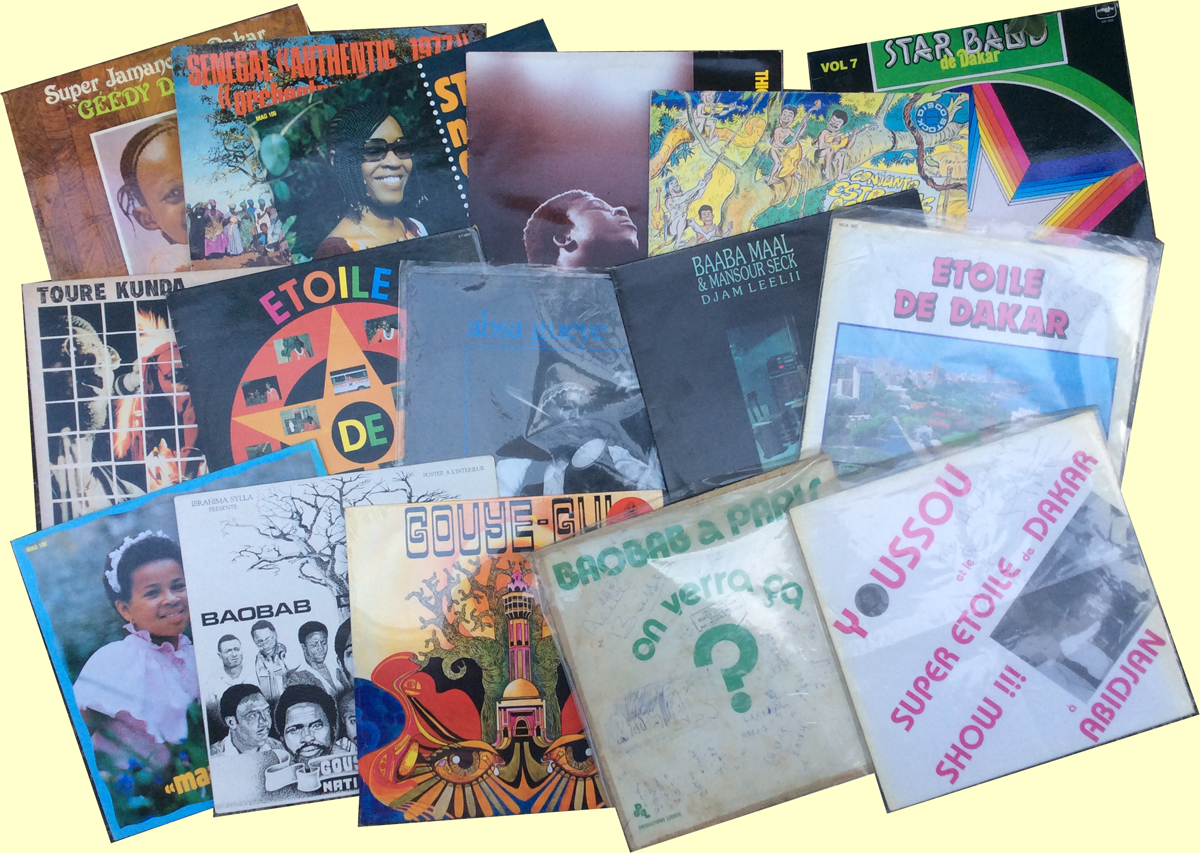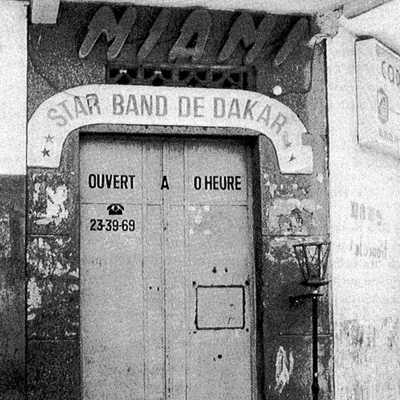 For the purposes of this selection I have considered Senegalese popular music from the early Latin-style bands of the 1960s, though the breakthrough mbalax-driven bands of the 1970s to the mixture of world styles (reggae, rock and jazz) that pervaded the music in the 90s. I have not gone forward into hip hop, though you can find it on e.g. the latest Rough Guide to Senegal, if you are curious. You can read about the other music from Senegal in my past reviews also. Fortunately for us there have been some dedicated servants of the music like Ted Jaspers of Dakar Sound and Adamantios Kafetzis at Teranga Beat [see spotlight at bottom of this page]; these labels along with World Circuit, Stern's and others have added substantially to our library of Senegalese music and these notes are suggestions for you to build your own collection.

As far as compilations go, 2/3rds of the 6-disc Senegal Flash series from Syllart is a good introduction, but you will find yourself duplicating that material once you discover how great individual bands are, namely Guelewar, Ifang Bondi (from Gambia), Star Number One, and of course orchestre Baobab; the two discs Ndar and Lougah are my favorites. There are outstanding tracks by Ouza and Guelewar scattered throughout the series. Similarly the hard to find Escale au Senegal is a great set, with a few more obscure artists on it. Idy Diop leads off, and in addition to now-famous tracks from Baobab and Number One, there's Orch. Fangool and three tracks from Sedina Wade. Panorama du Senegal, also quite rare, has obscure tracks from Youssou and "Sutukum" from Canari de Kaolack which, fortunately, is also collected on Their Thing from Dakar Sound.

First up: the Latin bands, led by orch Baobab, who were the introduction to the sound for many of us. A cosmopolitan band with members from far and wide, they sang in Wolof and other Senegalese languages, and ruled the roost, creating splinter groups, until the style fell from favor with the ascendancy of mbalax. Their superb first vocalist, Thione Seck, left Baobab to form le Raam Daan. His later work, like Orientation was a bit off track, showing his passion for Bollywood, but there's a trail of cassettes including Pur m'balax as well as Le Pouvoir D'Un Coeur Pur (Stern's) 1988, to pursue.

The Baobab revival in the 1980s with the breakthrough Pirate's Choice LP signaled a "nostalgia for decay," as Richard M. Shain says in his important study ROOTS IN REVERSE (Wesleyan University Press) [see bookshelf], where he explains how they became a tree without roots as their label, World Circuit, insisted they continue to play their old hits and not evolve. However they left plenty of material from their peak early days which has now been reissued.
Part One: the Latin Bands

The Star Band was led by Dexter Johnson, a Nigerian saxophonist who came to Senegal hoping to spark an interest in Highlife. Laba Sosseh, a Senegambian vocalist, left the Star Band in 1969, right before the live recording discovered by Teranga Beat (see bottom of page). This retains the Sosseh repertoire sung by others, but you can compare the songs to his own versions recorded on "Coco Yee."
At this point the Star Band moved to Abidjan while Sosseh resurfaced in the USA in 1980, with many superb recordings, fronting actual salsa musicians such as Alfredo Valdés, Jr and "Chocolate" Armenteros. Dexter Johnson also incorporated Cubans into his conjunto when, in 1979, he recorded two albums for Disco Stock as Estrellas Africanas [cartoon cover, left], with the violinist Alfredo DeLaFé. Both discs are wonderful and feature Raymond Fernandez on vocals, a Cap Verdean singer born in Dakar who later appeared on an Africando session. DeLaFé returned to Senegal (at least in his mind) for two more wonderful charanga albums, Jules Sagna presenta La Charanga 1980 (which includes the track "Vamos Pà Dakar") and Orchestra Afro-Charanga Vol II.

DEXTER JOHNSON
SERIE SANGOMAR 1 and 2 (Dakar Sound DKS 016 / 017)

One of the major exponents of the unique saxophone sound of Africa was also one of the key people in keeping alive the Cuban tradition. Dexter Johnson anchored the house band at Sangomar Nightclub in Dakar, Senegal, in the 1960s. The whole subsequent popularity of artists like Gnonnas Pedro, Laba Sosseh, and most recently Africando, stems from this vital connection. A Nigerian by birth, Johnson moved West to spread Highlife music. At that time, in the late fifties, there was a cultural conflict in the music of French West Africa: indigenous forms were arising to replace French colonial music, but more and more people were turning to cha-cha and mambo rhythms from Cuba. Hybrids were not succeeding, so Johnson took over the Star Band in Dakar and turned it into a Cuban cover band, and the rest is history. His golden sax tone glitters like desert sand at noon.
These recordings, presented on three CDs (vol 1 is a double disc), were made by the owner of the nightclub and the tapes have decayed in the tropical climate, but Dakar Sound (that excellent label based in Groningen, Holland) has managed to do a lot of restoration. It's a miracle that these gigs were recorded at all. Musically they are an important link to the reintegration of Afro-Cuban rhythms into the motherland. STARBAND – SUPERSTAR DE DAKAR – INTERNATIONAL BAND featuring Dexter Johnson, is the title, showing the evolving groups that performed with the legendary saxophonist in the mid-sixties. Both Laba Sosseh and Amara Toure appear as vocalists. This is the essential collection for anyone interested in how Salsa Africana came about.

AMARA TOURE
1973-80 (ANALOG AFRICA NO 18)

Samy ben Redjeb of Analog Africa has taken his foot off the African Funk pedal and switched to a mellower sound, Salsa Africana, the griot appropriation of Latin beats as manifest in Senegal by bands like L'Etoile de Dakar and Star Band. This is definitely a good sign, though the Teranga Beat label has that area of music well in hand. But more is always merrier. Amara Touré is not a household name but had a number of hits in West Africa in the 1970s. Hailing from Guinea-Conakry he started out in Tropical Jazz of Dakar and was a founding member of the Star Band, as timbales player. He also sang lead on some of their Cuban covers, with a distinctive raspy delivery. He then joined saxophonist Dexter Johnson's Super Star de Dakar (see DakarSound DKS16 and 17). After a decade in Dakar he headed to Cameroun and formed the Black and White Ensemble. A scratchy copy of their "Lamento Cubano" is one of my favorite Latin remakes of this era (teamed up with the other two 45s which have been posted on various blogs over the years). The 45s Touré released with this band form the first six cuts on this compilation, so I am pleased to get a better sounding copy but also to fill out the set because Samy went another mile and found the later work of this enigmatic musician. Touré went on to join Orchestre Massako of Mack Joss in Libreville, Gabon, in 1980 and cut an album with them (released on the Sonafric label), also included here in its entirety. There is a superb guitarist (uncredited) and also a sultry sax, Fefe Diambouana, who is on a par with Dexter Johnson (He has two albums on Disques Sonics, produced by Eddy Gustave). This is fantastic music and deserves the wider audience new exposure will bring to it. While I am not opposed to bloggers posting music, they rarely clean up the sound or provide informative context. (I am not including Worldservice in this generalization, they have in fact offered some great notes on Amara on their post of his LP, now superannuated, which forms half of this new release.) We should patronize Analog Africa and keep them (i.e. Samy) out in the field doing this exemplary work.




ORCHESTRE BAOBAB
PIRATE'S CHOICE (World Circuit WCD063CD)

If you were to ask me, What's the best-ever single African album? I'd be torn between a few choices: Hugh Tracey's recordings of THE GUITARS OF AFRICA from 1954 springs immediately to mind; a compilation of Orchestre Rock-a-Mambo 78s (sent to me by John Storm Roberts) is another personal favourite; Bembeya Jazz's HOMAGE A DEMBA CAMARA would be a strong contender, or a live album by them including "Pétit Sekou"; Franco & Sam Mangwana's CO-OPERATION from 1982 also demands consideration (It has not been served well by Sonodisc's reissue: the tracks were carelessly dispersed over a couple of CDs and the out-takes discovered by Günter Gretz and included on the PAM edition of the OYE MOÇAMBIQUE LP by Sam have not resurfaced on CD yet) — and of course PIRATE'S CHOICE by Orchestre Baobab of Senegal.
The Baobab story is a fairytale. Their music was popular in West Africa on cassette (also released in 1982) and much-bootlegged until it came to the ears of BBC disc jockey Charlie Gillett who heard it and started a quest to find the original. World Circuit of London released the album on vinyl in 1989. When the CD appeared with two bonus tracks, I broke down and bought a CD player (after holding out for a decade). Now World Circuit has re-released the CD. The bonus tracks, which were alternate takes of the best songs on the album, are gone. But in their place is a bigger bonus: a whole other album's worth of material from the same session. This Holy Grail of West African music has a happy outcome: the surviving members of Baobab reformed and started to tour.
The music is not mbalax but the first wave of the re-Africanization of Cuban music. With my limited Spanish I can almost understand the lyrics to "Soldadi" as Rudolph Gomis sings it, but then I've listened to it scores of times. The renewed interest also led to the rediscovery of other great Baobab albums. World Circuit released the two 1978 Paris sessions as ON VERRA ÇA in 1992. Most of two of their albums, MOHAMADOU BAMBA from 1980, and SIBOU ODIA from 1981 were released as BAMBA on Stern's as one of the top releases of 1993 (and then reissued in full on vinyl on 2020). Günter Gretz put out a compilation called ROOTS AND FRUIT in 1999 as PAM African Dancefloor Classic 304.
Although they came to rival the Star Band in their prime, Baobab were forgotten until the World Circuit reissue and subsequent popularity in the West. The first edition of Ronnie Graham's indispensable DA CAPO GUIDE TO CONTEMPORARY AFRICAN MUSIC (1988) missed them, but by the second volume they had been established in their rightful place. (It would be worthwhile for Stern's to revise and combine both volumes into one better reference book.)
This era of Senegalese music was clearly a golden age: there is a relaxed urgency to the sound, exemplary ballad singing from the long line-up of vocalists, catchy riffs and a great interplay between the guitarist, the bass, and the horns. The new tracks are all gems: "Ndiaga Nlaw" (not to be confused with "Mother Nlaw") uses the descant from Tom Jones' "Delilah" as the hook! The last cut "Balla Daffe" is a credible reggae groove in the Sly 'n Robbie mode without falling into the perennial African trap of trying to do Peter Tosh-style stadium reggae. Even if you have PIRATE'S CHOICE you'll probably want this for the second set (though I wish they had made it two separate albums) and the arty packaging which uses the classic photos of Malick Sidibé.




ORCHESTRA BAOBAB
AFRICAN CLASSICS (Sheer SLCD1004)

It was unthinkable in 1989, when PIRATE'S CHOICE came out, that one day we would have a shelf of 7 or 8 officially released CDs by the incomparable Orchestre Baobab du Senegal. Yet here is another gem that carries forward a few songs we already know and sprinkles in one or two rarities to make the determined collector covet it, even if only to compare the sound quality with their bootlegs of the rare vinyl albums from which the additional tracks were taken.
Young Dr Chris, on one of his trips to Senegal, found me a copy of their White Album, the one recorded in Paris called ON VERRA CA. It was thrashed and far from white: it had ball-point writing all over it, but YDC thought I would enjoy owning it, which I do, though it hasn't been on the turntable (I once broke a needle on a rare Jamaican 45 that I swear had ganja seeds and stems mixed into the vinyl!). Anyway he enclosed a New Yorker cartoon with the album: a Latin-american indian in suit and headband has entered the Metropolitan Museum's ethnic gallery with a goat on a leash. Among the huge totemic heads and statues he enquires whether he can make a small sacrifice? Baobab's albums became like those totems and talismata extracted from a distant culture. But through their music that culture is not alien and remote, requiring anthropological enquiry, instead it is alive and becomes part of the fabric of our own culture, and this is where music plays a vital role in connecting people across continents and generations.
The twelve tracks on here include five — "Cabral," "Liiti Liiti," "Diarabi," "Soulemane," & "On verra ça," — which were included on the 2006 Oriki compilation, UN NUIT AU JANDEER. "Tante Marie" & "Sibam" appeared on ON VERRA CA. The title cut on the World Circuit release is a different version of this song; here it begins with what sounds like axé drumming! "Mbeugel," is a different version of "Wane ma maguiss," which also appears on ON VERRA CA. "Ndeleng ndeleng," "Yen Say," "Mbaar" & "Ndoiougou Ndoiougou" have not been on CD before.
In short, half the tracks are new to CD. Overall they sound better than the Oriki release. While sonically they are good, musically they are incredible. Baobab passed into legend long ago. They were the house band of the Club Baobab in the chic part of downtown Dakar. Their guitarist, Barthelemy Attiso was a law student who financed his studies by playing guitar in the evening. The core was formed around members of the Star Band, lured away from the rival Club Miami in Dakar. They mixed Caribbean tunes with Wolof vocals and Manding rhythms. Laye Mboup, their lead singer, died in a car crash and two younger singers were introduced, Ndiouga Dieng and Thione Seck. But at the end of the 70s when the club closed the band gradually faded into obscurity as members drifted away to new gigs. A decade after their break-up the Pirate's Choice album appeared and a new generation of European kids began to listen to the band. They returned to the top with a 2002 recording and a world tour. Sheer from South Africa has been putting together a whole series of classic albums, including Bembeya Jazz and Ismael Lô which I didn't pick up because I believe I have all the originals, but I will have to double-check. This Baobab release is a treasure to enjoy again and again.

LATIN THING (Dakar SoundDKS003)

Another comp? Well, Dakar Sound's Latin Thing is a comprehensive overview of the Cuban tinge in Dakar and Thies, embracing Royal Band, Number One and the relatively obscure Takarnasse. Canari de Kaolack, a forerunner of Etoile 2000 and also unjustly overlooked. Mar Seck was a vocalist with Number One de Dakar but is backed here by Etoile de Dakar on "Si si ye." These recordings were made in the Sangomar Night Club in Thies, between 1979-81 and first issued on cassettes in Dakar, but were mastered and reissued in Holland. I show a "secret" inside page since the front cover is basically illegible!

Part Two: the True Salseros

One name stands out in African Latin music and that is Laba Sosseh (1943-2009) a Senegambian vocalist who is one of those rare singers, once heard, you want to track down everything they did. Super Cayor is another example of genuine Senegalese salsa musicians and their two albums on Popular African Music are definitely essentials. If you like those, then follow up with another PAM release Los Afro-Salseros de Senegal en la Habana (PAM407). Amara Touré (reviewed above) was another of those legends talked of but unheard until Analog Africa brought his mid-70s music back in 2015. Pape Fall & l'African Salsa also recorded a successful cassette Artisanat which was picked up and expanded by Stern's in 2002.

LABA SOSSEH
[COCO YEE] ( SAR Records SLP 1029)

Laba Sosseh, from Banjul, Gambia, was one of the great African salseros & among the first to have an international career. His great self-titled album on the Miami-based SAR label has no information other than the titles of the 6 songs. From a close listen you can hear Alfredito Valdés name-checked on piano and Charlie Rodriguez on tres. While the whole album is stellar, from "Coco yee" to "Aminata," there was one outstanding song, "Diamoule Mawo," a son montuno sung in Wolof, which was covered by Colombian singer Joe Arroyo in 1987 and became a huge hit. There was even a music video of it and Arroyo sang the African lyrics in his best pidgin (It came out as "Yamulemao") mdash; a neat reversal from the usual case of Africans trying to phrase Spanish they didn't understand.
Laba started singing with Dexter Johnson in 1965. The two met in Gambia and Dexter brought him to be part of the Star Band in Dakar. Three years later they evolved into Super Star de Dakar in a new location. They teamed up with Pape Fall in Orchestre Vedette before going to Abidjan to form the Super International Band de Dakar. In 1978 Monguito invited him to New York and they worked on a series of four African salsa albums for Aboudou Lassissi. Their SALSA AFRICANA album on SACODIS turned gold. Ramon Quian (i.e. Monguito) did the arrangements and the musicians included Alfredito Valdés on piano, Eddy Gugua on bass, Bomberito Zarsuela on sax and flute, Mario Rivera on trombone, probably "Chocolate" Armenteros on trumpet, and Pupi Lagaretta on violin, among others.
Roberto Torres produced two albums with Laba Sosseh on the SAR label (SAR 1020; 1981 and SAR 1029; 1982). He popped up to sing "Manicero" on El Hadji Faye's 1998 album with Etoile 2000 de Dakar that has flute and kora on it. He then reprised a couple of his hits (including "Aminata") with Africando, on the BALOBA! album. The two crucial albums are Monguito presente Laba Sosseh SALSA AFRICANA which every library should have, and this self-titled SAR album.

SALSA AFRICANA (Sacodis LS-26)

Painfully these reissues are of single LPs whereas the previous reissues I have teamed the cream of two albums on one CD so you got an hour of music for your big bucks. (These were $20 imports decades ago!) The must-have classic is Monguito el Unico presents Laba Sosseh in U.S.A.: SALSA AFRICANA (Sacodis 05026-2). I don't know where you might find the original CD; the albums are also scarce. However the CD I have seems to be taken from tapes rather than vinyl. The first two tracks are "Boniboni" and "Boranito" which came from the LP SALSA AFRICANA VOL II. The rest constitute volume I. Now you have to buy them individually, but you will get one more track on volume I and three more tracks on vol II. Monguito sings coro and arranges. Alfredito Valdéz plays piano, Bomberito Zarzuela is on trumpet, Mario Rivera on sax and flute, Jose Garcia on tres, and the great Pupi Lagaretta on violin. The band get quite mellow and stretch out, especially on the tracks that were from volume II. "Micorason" (sic), originally the opener of vol I, has a rap where Monguito introduces Laba to the American audience in a pidgin English exchange. You can tell it's spontaneous and the way the band pulls it back together when Monguito utters his trademark "Si señoooor!" indicating he's ready for some punchy horns, is remarkable. "Yamanek" has a great tres solo with "Manicero," "Theme from a Summer Place" AND "Perfidia" quoted in it! (Extra points if you tell me the other two or three lyrics he quotes.) "Yatinama" is loosely based on "Pare cochero" (a huge hit for Johnny Pacheco in 1961) and signals full steam ahead. Also note Maguette Dione (the African "Celia Cruz" as she is billed) has a tribute album Hommage à Labbah Socé which kicks out the jambs.

Among the essential recordings of African music, the series published by Günter Gretz as Popular African Music rank high, and on top of that stack rides SOPENTÉ by Le Super Cayor de Dakar. Basically a Cuban-inspired band singing in Wolof, they take Guillermo Portabales' "El Caballo vamos pa' monte" to new heights on the title cut. The hard swinging salsa-ish cuts from this album have all been anthologized, attesting to their success, but here you get them in the context of some of their Senegalese neighbors. Instead of a rediscovered oldies band, Super Cayor are still keeping the beat alive in Dakar, despite the immense popularity of mbalax and hip-hop there today. They sound like Baobab and les Balladins, of course, but have a real groove that is uniquely theirs. In fact theirs is a hybrid of mbalax and salsa, and the revived popularity of the Baobab sound has meant that in the last years of the twentieth century more and more bands were reinvigorating the salsa sound that was at the foundation of modern Senegalese pop. Since then some of the old-time West African bands have actually resurfaced are now reaping the benefits of late recognition in the West for their superb canon of works. And leave it to Günter Gretz (who was instrumental in the rediscovery of Baobab), to promote more of the classic Senegalese bands and to record them for his exemplary Popular African Music label from Frankfurt.
While Gretz was pushing his dead van out of the Sahara desert in 1994 he heard SUPER CAYOR DE DAKAR, last examplar of the old-style bands that combined salsa with Senegalese mbalax by switching the timbales for African talking drums. Although Africando was taking the West by storm, the period was not favourable to salsa bands in Senegal. Baobab in fact broke up in the early nineties. But Super Cayor, formed of old band-mates from Star Band, M'bol Cissé and James Gadiaga, scored hits with "Capitale-Region" and "Xamsa Bopp." They toured Europe in 1999 but didn't really catch fire so returned to their weeknight club gigs in Dakar. Gradually their salsa songs became club favorites in the West, cropping up on Candela's SALSA AFRICA compilation and also Earthworks' AFRICAN SALSA (which leaned heavily on the SOPENTÉ album released by Gretz in 1997 mdash; including half of it!). Then two years ago Baobab's former leader and saxman supreme, Issa Cissokho, joined Super Cayor.
Gretz points out that the pure mbalax diet wore thin on the local crowd hence the return of salsa, but the salsa you hear in Dakar is truly a local sound, not just rehashed Cuban music. Other influences come to bear on the music of course, as we critics are fond of pointing out when we detect a Jack Bruce bass line or a Hank B. Marvin guitar riff. The second CD from Super Cayor is titled EMBOUTEILLAGE, which means traffic jam. It does have remakes of several familiar Super Cayor songs but it is still great, and now that Issa Cissokho is on the album it will be required listening for Baobab fans too. The album opens and closes with "Degoo" (heard before on SOPENTÉ), the latter being a faster live version complete with a tres-like trill in the opening guitar part and a touch of feedback (it was recorded by Gretz in a tiny snack bar). It's based on Guillermo Portabales "El Caballo vamos pa' monte," but has a unique Senegalese feel to it. The title cut is a remake of "Capitale-Region" with new lyrics and heartfelt sax blowing by Issa. The song now deals in couched terms with the political situation in Senegal, the traffic jam being a metaphor for the deadlock in government, housing crisis, etc. The most Wolof-sounding track was recorded live in Brussels at a festival in 1999 and features Moustique on lead vocals, Sylvain Ndiaye on lead guitar and two other percussionists (Sylvain, the regular guitarist, had broken his arm so was not on the other tracks). Fans of Super Cayor will snap this up. Anyone interested in Baobab, classic Etoile de Dakar, or African music in general will find this a rare treat.




NICOLAS MENHEIM & LE SUPER SABADOR
COMMANDANTE CHE GUEVARA (Popular African Music pam oa 209)

A musical offering that bridges the Atlantic from Senegal to Cuba comes from Nicolas Menheim & Le Super Sabador. Menheim paid his dues in all the right bands: Star Band, Number One and Super Etoile. He sang alongside Youssou Ndour as well as Pap Seck. In 1991 he was one of the founding trio of Africando, recorded four albums with them and toured the world. This gave him self-assurance about his career. He quit to go back to Senegal and formed Le Super Sabador and here we have their first two cassettes united on one album: Commandante Ché Guevara. It's a very Cuban sounding set, yet nevertheless it retains an authentic Senegalese feeling to it. As Gunter Gretz points out in his liner notes, mbalax was a welcome turn away from colonial influences, but then the return to a Latin sound was entirely indigenous and owed little to the imported sounds of Orchestra Broadway and co that were popular in the 1950s. Menheim's singing is key: his father was Spanish/Lebanese and his mother Senegalese. The piano is in tune and works out, courtesy of Mansour Lam. There's timbales, maracas and guiro, but no tama. The guiro player, Maguette Dionne, also sings lead on two cuts, including "El Divorcio" (also covered by Laba Sosseh and Johnny Pacheco, written by Arsenio Rodriguez). She's known as the "Celia Cruz of Senegal," perhaps for being the only female salseros from there. Another vocalist, Camou Yandé, gets to front the band for two songs, one of them "Ainicha" by Tabu Ley Rochereau. No other songwriters are credited but there is strong writing on here ("Yaye sama" sounds like another Arsenio tune "El Reloj de pastora") and really good arrangements, particularly the horn parts (outstanding trombone and two trumpets). The style is montuno with a Senegalese sheen and is very smooth.

SONEROS ET SALSEROS DU SENEGAL
NICOLE SARR (Bellot Records Three)

Nicole Sarr is a radio presenter in Senegal who championed Latin music; she does not appear on the disc, except in a sung homage from Laba Sosseh which is the closer. It is a fine compilation with well-known and obscure bands in a superb sequence. We start in 1968 with Laba Sosseh and his Vedettes band, who numbered sax player/arranger Issa Cissokho in the front rank. "Aminata" came out on Ndar disc and has been anthologized since, but it's a rough and rudimentary recording, a bit tinny; however Laba's voice shines through. Then we plunge into the first discovery: Cissé Macki et les Dogons, four Ivoriens who rip through "Como el Macao," in fractured Spanish. The A-side of that single "En Guantanamo" is also here in a fine sax-led rendering. We hear the title track from Idy Diop's 1976 LP Diouba (also known as "Tu veras") — he covers Pachecho, Rochereau and gives us another "Yaye boye" on that album, but it'll cost you plenty to hear it: 150 euros on discogs. ("Yaye boye" appears on Golden Afrique vol 1.) The old chestnut "Guantanamera" is up next, with no less than Dexter Johnson's Star Band live at the Miami in a previously unissued take. In fact there are five musical debuts from rare tapes on here, which makes it all the more astounding. Two of them are from the Dakar University Sextet featuring Soleya Mama (later an experimental musician, museum curator and politician) and a sparking guitarist. Not that obscurity necessarily means valuable but Sada Ly was another singer with Laba Sosseh in the Super International band and he gets the mike for "Santa Barbara," in a really great rendition from another Ivorian 7 inch. Laba's version of "Santa Isabel" with the same group actually surpasses that for a Latin groove, though again the sound is a bit off. But what can possibly top that, you ask? Why "Moliendo Cafe" here rendered as "Thiely" by Pape Seck and the Star Band from 1977. From that first release of the Star Band we also hear Johnny Pacheco's "Caramelo," another gem. I noticed some of these rare tracks are also on Afrolatin via Dakar (I wonder how they got there!) but, as I am convinced Ibrahim Sylla was a pirate who cared little for author's rights and did nothing to restore sound or correct errors, and padded his sets to make them more costly, I do not endorse his products. It's true he created the popular Africando, a revolving roster of West African singers fronting Latin musicians, but since Laba Sosseh was largely excluded, and had done it all better, much earlier, I am including him to their exclusion.

STAR BAND DE DAKAR
PSICODELIA AFRO-CUBANA DE SENEGAL (Ostinato)

A new vinyl LP from Ostinato Records of New York, featuring psychedelic Senegalese music from the golden age, focused on Latin rhythms. Why, I will take a large dollop of that, thank you. If you are a Star Band fanatic like me you will have their dozen albums showcasing the acid-washed guitar of Yakhya Fall, Cuban rhythms mixed into the mbalax, and a roster of singers, including Youssou Ndour, Pape Seck and Laba Sosseh who went on to stardom with other bands including Etoile de Dakar and Number One. Other alumni include guitar wizard Barthélémy Attiso, singer Balla Sidibe and saxophonist Issa Cissoko, who left to found Orchestre Baobab. Dexter Johnson plied the sax, before he and Laba Sosseh left to form Super Star de Dakar and Estrellas Africanas. The main Star Band discography is here.
For the record the tracks are "Guajira Ven," written by Trio Matamoros, from vol 4 (sung by Laba Sosseh), "Mysterioso" which was on Vol 12, originally a hit for Dominican duo Cuco & Martin Valoy who performed as Los Ahijados, "Andado" from vol 10 (sung by Papa Fall), "Mariama" from vol 9, "Danguele Fasso" from vol 8 (also sung by Papa Fall), and "Le Lolay" which appeared on vol 3 (again sung by Laba Sosseh). Those with disposable income will want the vinyl which comes with a 12-page booklet. I strung these tracks together, which are their most Latin ones, and it makes a great set. "Danguele Fasso" is a Wolof rewrite of "Cambia el paso (o se te rompe el vestido)" i.e. change the step or you'll rip your dress — the lyrics from "El paso de Encarnación" by Antonio Machin, popularized by Orq Aragón, and then by Larry Harlow of Fania All Stars, a classic jam in any language. This will have to do until someone finds the tapes, and the remastered 12-disc box set comes out.

Part 3: The Birth of Mbalax

On top of the Latin groove, maintained in the horn lines, the mbalax revolution brought in traditional percussion to recreate a new hybrid Senegalese music. The guitars are restrained but occasional psychedelic outbursts show they've been tuned to Europe as much as the USA. Youssou Ndour's Etoile de Dakar are presented in a 4 CD set from Sterns that includes El Hadji Faye's songs also. Their voices are a good match. Stern's repackaged the material in a two-CD set called Once Upon a Time in Senegal: The Birth of Mbalax 1979-81 (STCD3054-5 2010), which, as a distillation, is choice. For a one-shot hit you cannot go wrong with Absa Gueye [left] the LP from Popular African Music (PAM02; also Discafrique DARL002), recorded at Jandeer Night Club, October 1979. It's pure gold. If you are not a vinyl collector the whole album is included on volume 1 of the Stern's series. Youssou has a fabulous voice and the percussive backing on timbales, tama drum (Assane Thiam), tumba and maracas is sweet. The lead guitar by Badou N'diaye (with flanger) and delicate rhythm from Alpha Kante are second only to Baobab's guitar heroes. Rane Diallo is the sax player.
Etoile de Dakar were a splinter group from the Star Band, the mother of all Senegalese popular bands. The Star Band issued a dozen albums, all of which are great. I asked Adamantios of Teranga why he had not done a Star anthology and he said he did not think there were any master tapes and the sound on the vinyl is not adequate for remastering. So what you hear is what you get. However I was pleased to find the Star Band Psicodelia album from Ostinato (reviewed above). Also growing out of Star Band we had Star Number One, as well as Etoile de Dakar (later Youssou's Super Etoile and the short-lived Etoile 2000 of El Hadji Faye). Star Number One's vocalist, Papa Seck, has to me what sounds like a "masked voice." I know real ethnomusicologists will say I am talking rubbish but I feel a connection however tentative that may seem. There are three reissue CDs by Number One based on their various albums: so you have to ask yourself, do you need all of them? Hell yes! Furthermore the 3 CDs do not include all of the tracks on their LPs. Six are listed on discogs but there must be more. Dakar Sound put out vols 1 and 2 and Popular African Music came out with volume 3.




From Dakar Sound comes the first two installments in the saga of the Star Bands. After a late night fight with the owner of the Miami nightclub in Dakar in January 1976, half the band moved to another club and created a musicians' cooperative whereby they all got equal pay. These 15 musicians, named Starband Number One, were the hottest thing going and it was some time before the remainder of the band, fronted by Youssou Ndour, came to rival and then surpass them, as Etoile de Dakar. Two of the five vocalists of Number One were heavily into salsa at the time. Years later one of them, Pape Seck, enjoyed the accolades of the world fronting Africando as a salsero in his final years. But back in the day, like they say, there was still the smoky guitar styling of Yakhya Fall to contend with and, with Mamane Fall on tama or talking drum, it was clear that mbalax was the wave of the future rather than Senegalese salsa. There's a three-man horn section (the trumpeter is the weakest member of the ensemble) and a good bass and rhythm guitar adding momentum to Yakhya's far-out trips.
The original "Yaye boy," "Guajira ven" and "Walo" are on No 1 DE No 1, a must-have album. The follow-up, No 2 DE No 1, came out in 2000. In addition they were anthologized on two crucial Dakar Sound compilations, THEIR THING & LATIN THING. Pape Seck's insistent "Nongui, nongui" was the opener on THE MUSIC IN MY HEAD compiled by Mark Hudson. It also crops up on ESCALE DE SENEGAL VOL 1, along with "Walo" and "Say Konntaa," and another Dakar Sound volume 100% PURE DOUBLE CONCENTRÉ.
The tracks on Vol 2 are drawn from their third through seventh album releases (one of the best tracks, #7, listed as "Ngomar," is actually "Lii Lumuy Nuru"). On Mar Seck's "Mory," the guitarist stomps his echo pedals and works out, feeding back and landing the Roland Space Echo (one of my favourite toys), and trying out all the effects at once, over a haunting sustained 4-bar repeated groove punctuated by the tama.

NUMBER ONE DE DAKAR
NO. III DE NUMBER 1 (PAM adc 307)

Günter Gretz is a one-man record label operating out of Frankfurt. When he goes into the control room, I imagine he slips off his jacket and underneath is wearing a Superman costume. He really is the Superhero of World Music, keeping it alive with well-selected and consistently brilliant reissues. His African Dancefloor Classics series, subtitled "Reminiscin' in Tempo" is the core of any good collection of African classics. NUMBER III DE NUMBER 1 is the latest installment in the Senegalese salsa/mbalax story of Star Band and Number One de Dakar. Gretz has considerately avoided duplicating any of the two Dakar Sound releases. He draws from nine cassettes and LPs to produce a genuine "Best of the rest" compilation. I know Pape Seck's "Liti-liti" because it occurs on a more obscure series of Senegalese compilations: the SENEGAL FLASH series which came out in France, as does "Ndaga seri boy" from the MAAM BAMBA album, in which Pape Seck urges the audience to dance the Ndagga with him. So put on your clogs and ah-one and ah-two...

Number One were the main rivals to Orchestre Baobab in the 1970s. Both had similar sounds apart from the guitars. Baobab's Barthelemy Attiso is the consummate technician and plays quietly but his understated leads creep up on you till you are totally engulfed in his sound. Yahya Fall is more of a chancer: he uses dramatic effects so tube screamer and fuzz-tone pedals pop on when you least expect them and jarringly remind you of acid rock. Star Band are well-known for applying the traditional Wolof instruments sabar and talking drum to Cuban rumba rhythms. Yahya Fall joined the Star Band in 1970 but quit 6 years later, feeling he wasn't getting his due from bandleader Ibra Kassé. He left with other disgruntled musicians and they formed a new band called Starband Numero Un, claiming they had the original members aboard. But Ibra Kassé had the Minister of Internal Affairs on his side and the breakaway group were told to think of another name and leave Star Band alone. Thus they switched the Numero Un to English and became Number One de Dakar. Founder Pape Seck was chef d'orchestre. Other vocalists included Mar Seck and Nicolas Mennheim. Ali Penda Ndoye also joined on trumpet. But don't expect slick New York-style salsa horn charts, these guys ain't the Fania All-Stars: they have their own ideas about horn playing so there is some very ragged (but charming) soloing on here. And the guitarwork shimmers. If you were disappointed that you didn't get to see Africando after the death of Gnonnas Pedro derailed their last tour, you can console yourself with this album. It's not all Cuban: there's a lot of loping mbalax with outrageous outbursts on the tama by Mamané Fall and those smoky questioning vocals echoing in the distance while the guitars chop about and the horns make tentative replies to the melody.




ETOILE DE DAKAR FEATURING YOUSSOU N'DOUR
Once Upon a Time in Senegal: The Birth of Mbalax 1979-1981 (Sterns SRCD3054-5)

Over the years Youssou Ndour has risen to become acknowledged as one of the world's greatest performers. Even though his recent EGYPT album did not do well in his native Senegal, it was a bold step and showed a master at the peak of his powers. As with fans in other countries, the old-timers of Dakar like to hear him do what he does best, even if it is an historic style. Like reggae or ragtime to their devotees, Mbalax is an old-established musical genre with a broadening fan-base. Mbalax has also grown in popularity outside Senegal, so it's a good time — it's always a good time — to check out the early days of Youssou when he was just one of the singers with Etoile de Dakar, who were competing with (splinter group) Star Band, (splinter of splinter) Star Number One, (hard wood, no splinters) Baobab, and others, for the box office in the Medina, on the outskirts of Dakar. (For the full spectrum of these bands back in their heyday check out Dakar Sound's compilations, such as 100% PURE DOUBLE CONCENTRE with Canari de Kaolack, the smoking Etoile 2000, Mapenda Seck, El Hadji Faye & others.) The music was emerging in competition to the Western-influenced music of Africa: Cuban, R&B, and so on, and as Mark Hudson points out in his liner notes, it was the song "Jalo" on an Island compilation that first alerted us to this undercurrent of wailing Islamic voices over talking drum that would come to captivate us. Of course material this good has not just appeared from nowhere. It has been around on vinyl and cassette, but never sounded as clean and clear as it does today, after a sonic rinsing. Here's the breakdown of new and old: If you have the 4-disc set that Stern's previously issued in the 1990s (STCD 3004, 3006, 3012, 3014) then you have most of this material already. The last two tracks of disc one and the first two tracks of disc two are the sum of a self-published LP (ET001) called "Toulou Badou Ndiaye", never before on CD; the last two cuts on disc two are from a cassette that was vol 5 in the Touba series, titled "Maleo." The first four cassettes from Touba were the basis of the four Stern's discs previously released. If you have those 4 Stern's discs you will probably want to download the 6 tracks for $6, and if you have never heard these early sides you are in for a huge treat. The additional tracks include "Tolou Badou N'diaye" which has swannee whistle on it, however that is overcome by the fuzztone guitar, played by "Grandpa" Badou N'Diaye who weaves a sinuous thread throughout the music with his hollow-body Gibson. Is it worth getting for the bonus material? Absolutely. This band was solid throughout its career and anything by them, in this sonic quality, is worth having and hearing again and again.




LE SUPER DIAMONO
INEDITS 80 FEATURING OMAR PENE AND ISMAEL LO (Cantos 079.A006.020)

I have some pretty scratchy Super Diamono albums in my collection, so it's great to hear cleaned up (if occasionally overmodulated) versions of their best songs. From the period 1982 to 1984, Cantos has taken five of their albums and put together a tight set of 11 solid tracks, all of them featuring both talented vocalists Omar Pene and Ismael Lô, as well as sabar (talking drum), guitar, keyboard, and horns. Half of the tracks on here were smash hits in Senegal and Gambia in their day. The band had been in existence since 1975 but only released sporadic singles. In the early eighties they recorded three albums at Club Baobab in Dakar and then two more on a trip to Paris. Their career parallels that of Youssou Ndour who also started with a band called "Diamono" (which means "Generation"), hence the name change to Super Diamono in 1975. Like the Super Eagles in neighbouring Gambia, Super Diamono moved away from the Latin format of their contemporaries to adapt folklore to modern instruments. Adama Faye their guitarist and keyboard player adds jazz and funk to their sound. He is a pioneer of that ragged frayed lead guitar sound on fuzztone that we love on those early Senegalese albums. His keyboard tends to a wash of strings with occasional jazz solos. He also thought of bringing the sabar to the lineup to create an m'balax beat. While playing in Gambia in 1980 the group came across 24-year-old Ismael Lô, performing on acoustic guitar and harmonica as a Senegalese "Bob Dylan," and he was quickly inducted into the ranks of the Diamono collective. Cantos has clearly found the original tapes here, because the songs are unedited and have been remastered splendidly. One curiosity: track six, "Nitki" has the same progression as "Sympathy for the Devil"! Four of the cuts come from their electrifying 1982 cassette "Casamance" and it is truly wonderful to hear them again, as if for the first time.

Part 4: Traditionalists

Super Diamono of Omar Pene were founded in 1975 as a traditional group but amalgamated pop and Latin sounds to become one of the first full-fledged mbalax groups. Their debut album Biita – Baane will set you back 100 euros on discogs but you will find others more readily, like the Cantos comp reviewed just above. In the later 70s Super Diamono added reggae and jazz to mbalax; they peaked in 1982 with Jigenu, a big hit, but their popularity waned after that. Ismael Lô, ex-Super Diamono vocal and guitarist, went solo in 1981. Check out his African Classics compilation on Cantos (However, a warning! For me the synth is the bane of 80s music), or Natt (Syllart, 1989), where he plays acoustic guitar and harmonica.
Xalam incorporated funk and jazz into their act, but not successfully; they moved to Paris in 1973. Their debut LP Daida (Musiclub 005 1975) is in the 200 Euro stratosphere. Cheikh Tidiane Tall was the original guitar player, alongside percussionist Idrissa Diop.
Touré Kunda came from Casamance in the south, where there is a Mandinka minority. They moved to Paris and had huge hits, including E'mma (1980), Casamance au clair de lune (1984), and Paris Ziguinchor (Live), also in 1984.


BAABA MAAL & MANSOUR SECK
DJAM LEELII (Rogue Records FMSL 2014 1989)

Baaba Maal studied and recorded with his mentor blind guitarist Mansour Seck before he joined forces with Daande Lenol (Voice of the Race). Like Youssou he made an international breakthrough (also helped by Peter Gabriel), touring Europe and the US and recording with many other artists from different genres. His stage shows and dancers even upstaged Youssou's, as seen in the 1999 video Live at the Royal Festival Hall. Djam Leelii means The Adventurers. Maal was born in Podor in 1953, proud of his Toucouleur heritage; however it is a harsh environment and most youth leave to find work in Gabon, Ivory Coast or even Europe. Maal was a law student but also hung out with traditional musicians and in 1984 made a recording with his mentor Mansour Seck which came out locally on cassette. And like the Baobab saga, a copy of that cassette made its way to England where it was copied and recopied by fanatics of the music. The original tapes were lost but in searching Dakar for the masters another session recorded a few months earlier was unearthed and released to huge acclaim, just as Maal was getting attention for his electric band. Djam Leelii is truly earth-shaking. In the late 1980s Mansour Seck came on tour with the electric band and the duo opened their sets to massive acclaim. Although there may be elements of American blues in the sound, there are strong echoes of the lute repertoire of West Africa not usually heard on 6-string guitars.

BAABA MAAL
FIRIN IN FOUTAH (Mango 162-539 944-2)

Baaba Maal's big breakthrough came with 1992's Lam Toro when his beautiful piercing voice erupted into our collective consciousness. Two years later, after touring the world, he issued his triumphant Firin' in Fouta, which perfectly blended Western pop ideas with traditional Senegalese singing, tama drums, etc. Recorded and mixed between Studio 2000 in Dakar and Real World in Wiltshire, producers Simon Emmerson and engineer Dave Bottrill crafted a modern sonic landscape with keyboard drones and even Celtic harp and drum loops, without overwhelming the original. Lam Toro was good but seemed unsure, occasionally lapsing back into pure folk music before lurching into hi-tech. The vacillating producers (Mango) even released two versions of the CD: a rootsier version (with blue type on the cover) for the UK market and a diluted take (with brown title) for the American market. This is reminiscent of their (Mango/Island)'s dilemma with Bob Marley's Catch a Fire (exactly 30 years earlier) when they remixed it with less emphasis on the bass and drums for the International release. Either way, you need the BLUE issue, if you are going to get it. There was no such prevarication with Firin' in Fouta and the single, "African Woman," was a huge hit. To the regular African rock line-up Daande Lenol added hoddu and kora. On tour they brought the legendary Jamaican guitarist Ernie Ranglin who came out to jam on three or four numbers. The audiences went wild, especially with the colorful flapping big boubous of the "Ventilateur" dancers bouncing around the stage. There's also rap from Positive Black Soul, tons of echo on the chorus and something called infinite guitar played by Michael Brooke. They beefed up the horn section for "African Woman" and "Mbaye," and perfectly captured the zeitgeist of the "We are the world" togetherness felt in 1994 with the explosion of world music festivals and cross-pollination between disparate acts.




DABY BALDE
LE MARIGOT CLUB DAKAR (Riverboat TUG1052CD 2009)

I frequently resort to West Africa looking for new material, because there is consistently great music being made and recorded there. Daby Baldé is a Fula from the Casamance region in the south of Senegal but sings in French, Wolof, Mandinka, and all the local languages. Baldé now owns a nightclub in Dakar, the capital, and Riverboat Records (who released his great debut album in 2005) has caught his act, and preserved it for posterity. It's mellow even though there is energetic drumming, mainly because his vocals are so laid back & the mix is smooth. There is also a great sleepy sax (Christian Derneville) on the session that complements the acoustic guitar, played by Daby himself. Kora (Djeli Mory Tounkara) and balafon fill in the background, both less evident than the steel-stringed guitar. There's even a violin (Wouter Vandenabeele). These were recorded between Dakar and Belgium, where he frequently goes to attend festivals. Tracks like "Lambe leydi" are extremely hypnotic. "Le Joola" is different, I think there may even be a Congolese singer on here, with a voice like Papa Wemba, but I got an advance copy with no credits (Hell, the backing singer sounds like Youssou, maybe I am hallucinating!@). You can check out Baldé's music videos on line. In 2014 he signed to Real World. Apparently this disc includes a coupon for a free drink at his club! See you there.

Part Five: the Sufis

The Baye Fall are members of an Islamic sufi sect, the Mourides, followers of Cheikh Amadou Bamba. The most prominent musician in their ranks is the great Cheikh Lô (a balladeer with a sweet voice but also a fierce trap drummer!); but you must check out Youssou's Egypt album, which explores his own Mouride beliefs, though critics saw it as a concession to western pop thus compromising its Islamic "sanctity." Star Number One has a praise song on the album Maam Bamba, sung by Pape Seck and not collected on their three CD anthologies. Among others, Thione Seck has a praise song for Bamba recorded once with Baobab and later with Le Raam Daan on his scarce Chauffeur Bi album. Another member of the sect, Nuru Kane, has a song "Bambala" on his Exile album.

CHEIKH LÔ
BAMBAY GUEEJ (World Circuit WCD0057CD 1999)

From the first notes of Cheikh Lô's BAMBAY GUEEJ, you know you are in for a treat. Though it's only the singer's second outing, his assurance comes from a life deep in the music of Senegal infused with the New World currents of Cuban country music and James Brown. It's no surprise to learn that this crisp album, recorded at Youssou Ndour's studio in Senegal, has horn arrangements by Pee Wee Ellis who scripted the charts for the Godfather of Soul himself during the "Cold Sweat" period of the nineteen-sixties.

When I saw David Murray in town with his Fo Deuk Revue, I thought this was what African music needed: African-American jazz horns instead of tweaky French disco synthesizers, and it's starting to become a reality. It makes a huge difference to the mood of the music: the swelling tide of horns and Hammond organ are a balm in the mellow tracks and fat in the fire of the smokers. The title cut is closest to a funky rave, though the horn riffs are as much Kool & the Gang as the Famous Flames. Cheikh Lô raps and struts his tama drum while biding his time and the whole thing just coasts along on the smoldering funky groove. Pee Wee comes up front on Hammond for the jazzy "Bobo-Dioulasso" which features the legendary Oumou Sangare from Mali on vocals. Richard Egües, flautist and founder of the also-legendary Orchestre Aragon from Cuba, comes aboard for a blistering take on "M'Beddemi" which is based on Guillermo Portabales' classic guajira "El Carretero" — a song likely to overtake "El Manisero" in popularity for African cover versions. Though it's a chestnut, this is a fresh take (compare the almost thirty year old version by Etoile 2000 on the classic DAKAR SOUND VOLUME 1), and Lô adds lyrics about life on the street: "No longer just the madmen, the streets are full of the angry and the poor." Sounds like home, doesn't it? World Circuit's distinctive package also adds appeal to this excellent offering.




Though he is Burkinabè by birth, Lô's musical identity was forged in Senegal where he performed from 1978 to 84 with Volta Jazz and Ouza (check them out on the Senegal Flash series). He was born to Senegalese parents but grew up speaking Bambara, a language of neighbouring Mali. Lô converted to Mouridism, a sect of Islam that resisted the French colonizers, & he sang about his faith on his last album, Lamp Fall. It's been five years since that was released, but it was worth the wait. Meanwhile, I have obsessively collected his other available work, including his really fine first album Né la Thiass, produced by Youssou. As carefully crafted as ever, this is a wonderful relaxed yet simultaneously energetic set. I mean even on the fast numbers his tone is smooth. It's unplugged (apart from electric bass and occasional electric guitar leads) and Cheikh Lô reworks some classics from the Senegalese & Guinean repertoire, leaning more towards Cuban oldies than mbalax. Among the high-calibre sidemen here are Pee Wee Ellis & Thierno Koite on saxes plus Tony Allen on drums on two cuts. "Seyni" is a reworking of "Guantanamera," and done as a tribute to two of his heroes, (Gambian) Laba Sosseh and (Cuban) Abelardo Barroso. Just as it starts to turn into Baobab they quit. But the band also turn in a credible version of Bembeya Jazz's 1971 hit "Doni doni" (complete with pizzicato guitar), which they refer to by the opening line "Il n'est jamais trop tard (It's never too late)." Amadou Balaké's "Morico" from the 1978 album "Taximen" pops up. Another mellow cover is Doh Albert's "Moya" (from the 1979 Lassissi-produced album, Du Belier), which is revamped as "Ne parti pas (Don't go)." It is really pleasant to have Cheikh Lô give us this little tour of his personal jukebox: songs he grew up with, or started out singing. The band is tight but stretches out (notably the saxophonists), & Lô is in fine voice. "Dieuf Dieul," a religious song, is especially fine, but it's hard to single out tracks: the whole disc is exceptional. But to return to the Mouride theme for a moment, I was fortunate to see him in concert, here in Berkeley, in 2020. At a pause between songs, a very white-sounding woman's voice screamed "Mohamadou Bamba!" from the back of the room. "Hmmm ... are you a follower?" he asked!

ORCHESTRE BAOBAB-GOUYE-GUI DE DAKAR
MOUHAMADOU BAMBA (Stern's music)

I was a late adopter of compact discs. The format was introduced by Philips and Sony in 1982 and touted as the future of music. People unquestioningly sold off their LPs to get the new format, at which point I started collecting Cuban albums on Seeco and Palladium that were turning up cheap, and expanding my African holdings. I heard of CDs that stopped playing inexplicably; some folk touted "gold" CDs that had an extra precious coating. Skeptics wondered whether they would last more than a decade. I stuck with vinyl until 1989 when World Circuit reissued Pirate's Choice by Orchestre Baobab with two alternate takes. I was done for. Well, I argued, I could lay in my hammock for a full hour listening to a disc, instead of struggling to get out halfway through and flip the disc. Now 40 years later no one wants CDs anymore, most people want MP3 files and a growing segment of the audience is giving a second listen to the LP format. Despite the ecological implications of vinyl, pressing plants are re-opening to meet the growing demand. Yes LPs can get scratched, but there's nothing like the "warmth" of the sound compared to the clinical sterility of other formats. So now we've gone full circle and Baobab Gueye-Gui de Dakar's Mouhamadou Bamba has once again come out on vinyl. ("Gouye-Gui" is Wolof for baobab.) It's a form of fetishism for boomers validating their existence as we look back over the trajectory of our lives; though it's more healthy finding new music than being entrenched in the sounds that defined our adolescence as many of my generation seem to do. Amadou Bamba was a wandering preacher, founder of the mystic Mouride Brotherhood in Senegal in 1883. I don't think this is a thematic album, since I don't understand Wolof, but it coheres wonderfully. And, yes, you already have it or nearly all of it on CD, because it is a reissue of half of Bamba the 1993 Stern's release that included two rare albums from 1980-81, the peak of the band, featuring Thione Seck on vocals (who left soon after this to start his own band). But crucially, at the time, Stern's left off one track from each LP to squeeze two albums onto one CD, so the vinyl includes the first five tracks from the Bamba CD with the addition of "Yen saay," an exquisite 8-minute ballad animated by a wiry lead from Attiso, that did appear once on CD, on the 2006 Cantos compilation African Classics. Band-leader Issa Cissokho (sax) has died, and the other key member, guitarist Barthelemy Attiso has retired, so there will be no more new Baobab albums. The bonsai craze that caused everyone to jettison their albums in the first place overlooked another important factor: the delight of handling the LP cover and being able to read the liner notes in a readable text size (not to mention rolling a joint in the gatefold editions of Miles Davis or Santana albums!). Now the album has been repressed with beautiful original artwork from one of the two original issues. Yes, you will have to get up halfway through to turn over the LP, but some sacrifices are worth making.




YOUSSOU NDOUR
EGYPT (Nonesuch 79694-2 2004)

Youssou Ndour's Egypt is a strong effort and I applaud him for doing it. In 2003 he cancelled his annual US tour in protest against Baby Bush's fundamental Xtian crusade against Islam. Cynics said there were more pragmatic reasons for the cancellation: advance sales were flat and he was having the usual hassles trying to get visas for his entourage. But now he has gone one step beyond and made the most fundamentally Islamic album of his career. To do so he went to everyone's favorite Muslim watering hole (because they sell beer!?!): Egypt, and got a 14-piece orchestra of the kind you hear in Oum Kalthoum records. It's a very interesting album, if a little shaky in places, but it's a darn sight better than the "Shaking the Tree" piffle he was doing for so long. Formerly, when he couldn't commit himself to Western pop he re-did his old Etoile de Dakar stuff and the fans were generally thrilled. But this is a new departure. In fact he started the album in 1999 but was unsure about its reception until the US invasion of Iraq, then decided it was time to stand up for his own beliefs. To which we can add, Amen. There are songs about Cheick Amadou Bamba and Cheick Ibrahim Fall whom we know to be marabout saints from Senegal. The opener is sweet and light but then we get a more Morrocan sound for "Shukran Bamba (Thanks Bamba)", a song to his personal saint, the sufi and founder of the Mouridiya sect, who died in 1927. It opens with the breathy woodwind sound on arghul, a double-reeded instrument, then the big fiddle section looms in with the dancing girls stamping their feet impatiently in the wings. His voice is distinct even when the slur of mushy strings envelopes it. He probably will not tour with this group, but the album is a keeper.




EL HADJI FAYE AND ETOILE 2000
CHEIKH IBRA FALL (Dakar Audio Diffusion 1998)

El Hadji Faye and Etoile 2000 give us a traditional Senegalese mbalax offering on their release CHEIKH IBRA FALL with kora and tama to the fore. Cheikh Ibra Fall was the first disciple of the marabout Bamba Guuej, founder of the Islamic sect of Mouridism which is widespread in Senegal. Etoile 2000 was the first splinter group from Etoile de Dakar and they have stuck with the muscular mbalax groove while Youssou Ndour was off exploring his sensitive synthi side with Peter Gabriel. And once more we get a reworked Cuban classic, "Afromanicero," which sounds great with kora and talking drum and lyrics in Wolof. The great Laba Sosseh who popularized charanga in West Africa in the 1970s does the guest vocals in pidgin Spanish and someone called simply William plays electric violin. The sound on this album is a bit shrill, which makes it characteristically Senegalese. Things sag in the middle with "Sédé," a track featuring turgid synthesizer washes, but the kora and talking drum pick it up for the title cut which quickly breaks out into a wild dervish whirlwind, after which there are two instrumental reprises of the opening cuts. After this little interlude we get a classic Etoile 2000 track redolent of their old "stadium sound" recordings with heaps of echo and reverb on the voice and organ, and snaky lead guitar wrapping around the talking drum on "Wirri Wirri." The drifting sound always makes me think of hot nights in the tropics, a radio tuned to a distant signal, with the smell of cooking and faint ghosts discernible in the gloom beyond the paraffin lamp.

Label Spotlight: TERANGA BEAT




IDRISSA DIOP & CHEIKH TIDIANE TALL
DIAMONOYE TIOPITE (Teranga Beat TBCD 013)

I suppose it's part of getting old that you find most new music superficial and derivative and really love reissues and classic material from the period when you were young. I didn't grow up in Africa in the '60s, but I must have had a doppelgänger, and no doubt there is some 60-ish African guy who is into Kinks, Cream and Small Faces as much as I am into Baobab, Balla and Bembeya. Teranga is a label based in Senegal since 2010, and I wish them every success because their aim is to reissue little-known gems from the golden age as well as some newcomers to the West African music scene. Their debut disc features Idrissa Diop and his Sahel band from the period 1969 to 1976, and it is a sure-fire winner. The label is the brainchild of a Greek music lover Adamantios Kafetzis who regularly visits Senegal looking for rare vinyl or neglected artists and their "lost" tapes. Obviously it is our duty to support him in this endeavor by buying the discs, and I guarantee you will not be disappointed. In the sixties the predominant sound in Senegal was Cuban, heralded by singer Laba Sosseh and Nigerian saxophonist Dexter Johnson. Kafetzis can attest to this because he notes, modestly, "Because I have collected almost all the records and cassettes released in Senegal, I have listened to all the musical phases within its development." Clearly he knows whereof he speaks. For him the height of the music came in 1975 with three albums: Bamba by Sahel, Bitaa Baane by Le Diamono, and Daida by Xalam. Among them, he asserts, Sahel was the top band. Cheikh Tidiane Tall was chef d'orchestre, known for playing guitar and organ, often simultaneously. Thierno Koité, much later with Orchestra Baobab, is on saxophone. Vocalists included René Cabral, Seydina Wade, and Idrissa Diop. Their major contribution was to bring the sabar & tama drums to the salsa sound thereby creating Mbalax, which grew to dominate Senegalese music in the 1980s. Kafetzis was determined to bring his passion to the larger world and went to Senegal to find Diop. Not only did he find the master tape for the Bamba album, it contained a bunch of great unreleased material. Idy Diop saw what was happening with this enthused Greek and turned over an unreleased 1976 tape of Sahel, half of which is heard here for the first time. There's a kindler gentler mbalax brought to us on the mellow sax of Thierno and the intricate guitar leads of Tidiane Tall, but there's also storming mbalax and also classic Senegalese salsa, including a great cover of Larry Harlow's "Caridad," recorded live in Club Sangomar, far removed from its origins, literally and musically. But after Salsa, Soul music made a huge impact on the whole continent & Idy moved to Paris. Considering these are two-track recordings, done live with two mikes, they are far better than a lot of Senegalese stuff I've heard that was taken from sandy cassettes.




GUELEWAR
HSLLELI N'DAKAROU (Teranga Beat PTB CD014)

Guelewar, from Banjul in The Gambia, is one of those legendary West African bands that people may have heard of, or heard one or two tracks from thanks to the internet. Now for the first time, here is a whole CD dedicated to this wonderful music. Guelewar was the experimental rock band of their era, using the mini Moog synthesizer to add psychedelic washes of spacey effects to their organ and guitar sound. This CD presents a live show, captured at the Senegalese Canari de Kaolack club in 1982. Periodically the synth and guitars drop out and they take it down to a rock-solid hand percussion groove. Then the other instruments lurch back in behind the singer and the heat builds. With Ifang Bondi, Guelewar was part of the Afro-Manding revival of the late 70s that revitalized traditional Sene-Gambian music (both bands came from Gambia) but were a hit in Senegal also. The fine guitar and bass are courtesy of two brothers: Moussa Mbodji Njie on guitar and Njok Malick Mike Njie who plays his bass like a lead guitar. There are four more brothers in the line-up: Moussa Ngom the lead singer later joined Super Diamono, and Laaye Ngom is effective on keyboards, while Koto Sunu Ngom on sabar and Alive Badara Ngom are two of the three percussionists. There are also a pair of saxophonists: Bas Lo Biram on alto and Laaye Sallah on tenor. One of the defining bands of West African pop from the 70s, in a hot performance, not to be missed.




I thought I was pretty well informed on the history of Senegambian music but here is another mind-blowing discovery. A previously unreleased, hence completely unknown album from the leader of Guelewar & Ifang Bondi, Bal Janha. If you love those bands, and I know you do, you will be all over this like white on rice (as Tina Turner would say). Bal came from Gambia and brought Psychedelic rock to the mbalax sound of Dakar. The resulting soul and funk stew supplanted the Cuban sound and led to the dominance of Afro-Manding pop music throughout West Africa for more than a decade. Karantamba was a band he created that became a fertile school for younger musicians in Dakar. This recording was made at the famed Sangomar night club in 1984. The vinyl release has a bonus track (for once) while the 9 cuts on the CD deliver an hour and twenty minutes of pure bluesy, soulful, steaming bliss. The sound is sharp, especially when the "African" trumpets come in, but you get used to that. I thought such trumpets were off-key until I was at a Bembeya Jazz concert with an African friend and when the trumpets started playing he nudged me and said, Now, that's the sound of African horns! Track five, "Titi," changes the mood as it is a highlife number, but it's all good & they go back to the Senegambian rave-up. The last track, "Gamo Jigimar," is an outstanding 12 minutes of musical bliss.




ROYAL BAND DE THIES
KADIOR DEMB (Teranga Beat 2012)

You just know this is gonna be fantastic, right? Royal Band are one of those late-70s, early-80s Senegalese bands that took the old rhythms and cut loose on them with a new energetic sound known as mbalax. Up to now, Royal Band de Thiès was only known in a few cuts on the excellent pair of CDs from Dakar Sound: Their Thing and Latin Thing. I have a copy of their album Dioubou — volume 1 from 1980, from which those four tracks were lifted, and it smokes from start to finish. The early eighties was the era of the Etoiles — Youssou's Super Etoile and Al-Hadji Faye's Etoile 2000 — but we cannot discount other contenders. In 2002 Ted Jaspers issued the Meanwhile in Thiès... CD (Dakar Sound vol 9), which had 6 more tracks from the Royals. Kadior Demb is a set of 11 previously unreleased tracks, now presented in sonic high-fidelity. Once more Teranga's GM Adamantios Kafetzis is on the case. He went to Thiès, a sleepy little backwater that was once an important railhead connecting Dakar to the rest of West Africa, in 2004. He wandered into a nightclub and there singing was Adema Secka, the vocalist who had laid these tracks down 30 years earlier. Kafetzis discovered there were three unreleased albums by the band and also met Mapathe "James" Gadiaga, the other vocalist (also of Super Cayor) who had made a career as a West African salsero. After founding Royal Band, Gadiaga was in Xalam, then joined Omar Pene and Ishmael Lo in Super Diamono. He went to South Africa and gigged with Johnny Clegg and spent time in Paris before returning home to found Super Cayor in 1994. Günter Gretz heard Super Cayor and turned us on to them in two fabulous issues: Sopenté (pam oa 206, 1997) and Embouteillage (Traffic jam) (pam oa 210, 2002), but Gadiago knew if anyone heard the Royal Band recordings they had made in the Sangomar Club in Thiès back in the 70s they would want to release them. He was not wrong. This is essential music. The horn players Jackie (Zaky) Seck on tenor and alto and Cisco on alto sax have distinct voices, almost as recognizable as the perfectly balanced salsero and griot lead vocalists! The line-up differs from the large band listed on Meanwhile, where Issa Diasse is credited with the brilliant guitar solos, Ousseynou Yade on tama, and Aly Penda's trumpet; here we have Racine Aw on lead guitar, and Alioune Mbodjet on tumba (& I presume, sabar) to add the finishing touches to the perfect outing.




MAR SECK
VAGABONDE (Teranga Beat CD [or 2 LP] TBCD018)

It is wonderful news that Adamantios Kafetzis of Teranga Beat is continuing to unearth great previously unreleased recordings by West African artists and present them, fully restored, to our ears. His latest foray spotlights the songwriter/singer Mar Seck who, alongside Pape Seck, fronted the Star Band de Dakar and mentored the young Youssou Ndour. Mar Seck also led Number One de Dakar and you have doubtless come across him on some compilations and less-than-ideal reissues/bootlegs of those bands. I often wonder how people listen to music and why they listen to old music repeatedly. I am not thinking of folks that only have a Beatles and a Beach Boys album in their collection, but the outpouring of facebook gush when someone like Lou Reed dies. Suddenly we get far too much information in a big rush and I get the impression that a lot of "friends" secretly listen to the same stuff over and over. Are they trying to recapture a lost moment? There's also that sense of silly one-upmanship of the "I was into Velvet Underground before they were cool" types. I listened to Transformer enough at the time (on the radio) that I never need to hear it again, so people who seek out live recordings and bootlegs must be looking for something. Hearing old Senegalese music, however, creates in me a kind of false memory, I admit. So it's also a nostalgia for something that can never be recaptured because it was never lost. I never made it to those fabled Dakar nightclubs but I do have wonderful memories of laying in my hammock listening to Baobab's Pirate's Choice over and over. The djembe and sabar ("talking drums") and sax and the scratchy Cuba-meets-mbalax sound wraps me in its musical womb. The subtitle of this disc is From Super Cap-Vert to Number One: Unreleased Recordings 1969-80. Teranga found master tapes from three sessions and cherry picked them to present here. The 1969 session was made at the national radio station in Dakar and is pretty raw and ready. The bass is out of tune: not that this is a problem. They do a Compay Segundo song to open. Seck was 18 at the time and his band was called Super Cap-Vert, because Dakar was originally called Cabo Verde by the Portuguese and the islands off its coast became the isles of Cabo Verde. Curiously their second song, "Sibouten," could be Cabo Verdean. The title song "Vagabonde" is a Cuban bolero, sung in comprehensible Spanish. One night the legendary Star Band came to play their little provincial port town, Rufisque, and his friends encouraged Seck to get onstage and sing, since he knew their repertoire. Medoune Diallo was so impressed he offered him a gig with the band. From 1973 comes a soundboard recording made at the Miami Club with the Star Band de Dakar. There's a coro and the guitarists are more polished, though the bassist is still flat (he must have owned the car!). I was thrilled to hear "Taba yo simo," which is familiar from African Fiesta's repertoire, under the name, "Tabalissimo," sung by Rochereau in 1964, as well as a track from Oscar Calle covered by Nico and Rochereau as "Calaboso." Mar Seck admits to a passion for Congolese rumba. In Star Band Mar joined Rudy Gomis, Issa Cissokho, Balla Sidibe, Medoune Diallo and Barthelemy Atisso who would later achieve fame as Orchestre Baobab, as well as trumpeter Ali Penda Ndoye. When the core left to form Baobab, Mar brought in his old friends, including Yahya Fall on lead guitar and vocalist Maguette Ndiaye, to swell the ranks and young Youssou Ndour joined the band as Mar's apprentice for two years. The last two tracks come from Number One de Dakar, another splinter group that was formed after a fight with the owner of Miami over pay when Maguette and Yahya left. Just as Star Band had been the top band in Dakar in the 1970s, Number One went on to be the top attraction in Dakar throughout the 80s and three of their CDs have been released by Dakar Sound and Popular African Music. This is a great hour of Mar Seck's raspy voice and his salsa-mbalax sound. If you are not collecting ALL of Teranga Beat's issues you'd better catch up.




DEXTER JOHNSON & LE SUPER STAR DE DAKAR
LIVE A L'ETOILE (Teranga Beat 2014)

Teranga set out to bring us great unknown & obscure Senegalese music and quickly moved to the realms of the fantastic: issuing CDs of brilliant, previously unreleased Senegalese music. Clean, clear and an hour and 17 minutes long, this concert showcases the brilliant tenor saxophonist who fronted L'Etoile de Dakar, the mother of all groups that gave rise to so many of the popular bands from Senegal in the 1970s and 80s. Johnson toots his tenor alongside three singers, John Gomis and William and Maīssa Ngom who replaced the departed Laba Sosseh. The repertoire is Afro-Cuban, so there are chestnuts, "Coco Mai Mai," pops up as the chorus in "Para que bueno"; we get "Mayeya (no juege con los Santos)" and "Soy hijo del Siboney," sandwiched around "Something you got" — a wicked Wilson Pickett rave-up. There's no piano or trumpet and a much more laid-back approach to clave than you find in any Cuban music. The band is relaxed, the guitarists having a good time, Dexter chomping at the mouthpiece waiting to get back on top of the mike with a hot solo. He threatens to leave the singers behind with his flights of fancy, but the coro gives as good as it gets. It's a very well run show, though you get the feeling the recording is picking up mainly the vocal mikes so the two guitars are in the back of the room, but that's not a problem since the reverse is usually the case. Here you can hear the guiro, timbales and congas clearly and there's a fair bit of echo on the other instruments suggesting their sound is coming from amps, bouncing off the walls and then coming through the vocal mikes. This show was recorded in 1969 on the eve of the band's departure for a tour to Abidjan, Ivory Coast (hot on the trail of Laba Sosseh who had taken some of the band and gone to Abidjan ahead of them), so they are certain of their chops, even throwing down a couple of boogaloos among the guaguancos. Dexter was born in Nigeria and had traveled and played in many countries before joining the first Star Band in Senegal in 1957. His playing is grounded in Hi-Life and closer to lyrical American jazz than to the brusque honking of Manu Dibango — you can also hear how he influenced Issa Cissokho of Orchestre Baobab, in fact you will hear how the Baobab sound comes directly out of this Star Band sound. He is a powerful presence on these recordings, with a reformed group featuring three singers vying to replace Laba, and some hot young percussionists taking up the challenge also. Confidently commanding all is Dexter weaving that old black magic.




DIEUF-DIEUL DE THIES
AW SA YONE VOL 1 (Teranga Beat 2013)

Afro-Manding jazz, what does that conjure up? Senegalese jamb kickers? Now we're getting somewhere. I am beyond having my mind blown by the Teranga Beat label, now I just pick my jaw off the floor, hook it around my ears again, and put the CD into the player. This latest foray, their fifth, is yet another previously unreleased session featuring a stellar line-up. The Teranga gang have discovered some tapes that were made by Pap' Seck, famous guitarist of the Guelewar band, who also backed Baaba Maal. With him are singers Assane Camara, Bassirou Sarr, and Gora Mbaye. Their traditional melodies succumb to wailing saxophones, psychedelirious guitar and relentless percussion. There are eight tracks, each 9 or 10 minutes long. It's amazing something so creative never saw the light of day until now. The vibe is loose, the four horns (trombone, trumpet and saxes) are in full accord with solid walking bass; rhythmically entwined guitar and organ add layers over the drums: timbales, tama, sabar and congas. In addition to a fine picked lead guitar style, Seck has mastered that clipped fuzztone sustain that was made famous by Robert Fripp on Eno, Bowie & Gabriel sessions. After stints in Guelewar and Royal Band de Thiès, Seck joined Ouza & ses Ouzettes and was instrumental in their hits with Quatre Femmes dans le Vent, but the band members were not happy with Ouza and when Seck decided to leave Dakar and go home to Thiès they wanted to go with him, thus, in 1979 Dieuf-Dieul was formed. Their first recording session was taken to Paris to be turned into an LP but the producer's luggage, including the reel-to-reel tape, was stolen. They made two further 4-track recordings, hoping to sell cassettes and launch a career but the promoters only wanted mbalax and so the group dissolved. This disc presents half of their recordings: the remainder are promised as volume 2. It's vintage but still sounds fresh, even when the chorus launches into "On verra ça," a refrain made famous by Baobab. Noteworthy are the rhythm guitar of Abdoulaye Camara (who also turns on the flanger when Seck is soloing) and the two sax players who add soulful solos. But then, too, the singers are hot and the complex layering of the drummers add so much to the excitement of the project. The group's name "Dieuf-Dieul" means something like good karma or good deeds creating ultimate benefits. Though they were only together for three years we are now able to appreciate their exceptional polished talents after 30 years, thanks to Teranga Beat.




DIEUF-DIEUL DE THIES
AW SA YONE VOL 2 (Teranga Beat TBCD 020CD 2015)

I've been revisiting my Senegalese collection since Cheikh Lo's latest release, as well as the Youssou Ndour concert from the 80s that came out last month on RealWorld. Now we have been inundated with great previously unreleased material from the bright days following independence from France in June 1960. From independence, Senegal thrived under Socialism with the visionary poet Léopold Senghor as president. The country never suffered a military coup or tribal wars and became a welcome venue for visiting acts from North America, Cuba and the rest of Africa, so the music scene thrived. Dieuf-Dieul embodied the local bands' ability to take external influences, such as Afro-Cuban and American jazz and psychedelic rock and incorporate them into their mbalax sound. But what's truly remarkable about them is that they were in many ways an urban legend, because they never released any recordings. Everyone from Thiès would say they were the best band ever, but no one had so much as a cassette to back up this claim. This makes their rediscovery by Adamantios Kafetzis of Teranga Beat even more remarkable: he has now given us two full-length albums by this fantastic group comprising all their known recordings. The band came about when a group of disaffected musicians from Ouza & ses Ouzettes (including the phenomenal guitarist Pape Seck) decided to quit (over money) while playing in Thiès and stayed in town to pick up gigs at local nightclubs. They were augmented by local singers and percussionists and combined the best elements of different musical backgrounds, traditional and modern, into a superb hybrid. They met Bassirou Sarr who was trying to get a band together and shared rehearsal space with him: his energy was infectious so they eventually merged the two groups. These tracks are mostly ten to twelve minutes long, with great guitar and sax solos and a warm earthy feel as they unfold into epic jams. The recordings were made live (I am guessing at Sangomar or another nightclub) in 1980 on a Sony four-track multi reel-to-reel recorder and there are also three tracks from an unfinished 1981 session. Bassirou Sarr is the featured singer (he recorded with Africando in 2013) and he pours passion like lighter fluid onto the smoldering rhythm section of talking drums (sabar) and kit drums. Two other vocalists get one song each. In Casamance they met Assane Camara (then known as Camou Tande) and asked him to join the group. He does a Cuban number "Rumba para parejas," and Gora Mbaye (who had the lion's share of Volume 1) lends his strong griot tones to a traditional song in Wolof. In 1982, unable to get a recording deal, they broke up: some members joining Etoile 2000 and later hooking up with Baaba Maal. In 2014 Pape Seck and the vocalists were still alive, so, in Baobab fashion, there were murmurs of a reunion tour.

SENEGAL 70:
SONIC GEMS & PREVIOUSLY UNRELEASED RECORDINGS FROM THE 70S (Analog Africa AACD 079CD)

When I and my ilk started collecting African music back in the 1980s we never imagined that some treasures, long thought unattainable, would not only be discovered but made available to us. Back in the 1970s while a generation of now legendary bands were performing at the Sangomar nightclub in Dakar, the sound man/owner Moussa Diallo was rolling tape. Adamantios Kafetzis of Teranga Beat, who is devoted to uncovering the great rarities of Senegalese music, transferred these priceless tapes to digital and has identified over 300 songs. Now he has teamed up with Samy Ben Redjeb of Analog Africa to present some of the gems in a compilation called Senegal 70. The mother of many of the bands of the 70s was the Star Band of Dakar, here fronted by Amara Touré (whose legendary 70s recordings came out on Analog Africa earlier this summer), performing the evergreen "El Carretero" (again in a version never heard before). From Star Band's ranks other groups emerged: Le Sahel, Orchestre Laye Thiam, No 1 de Dakar, Baobab, Dieuf Dieul de Thiès, and Xalam. And from that panoply Laye Thiam is represented with three (previously released) tracks, including "Kokorico" which is pure funk, with blues organ, sung partly in English. Baobab completists will be thrilled to discover two previously unreleased and sublime tracks from them, licensed from founder Thione Seck, captured live at the Sangomar nightclub. There is even room for an odd novelty number, "Viva Maravillas" by King N'gom & L'orchestre Perles Noires du Bénin: all I can say is you've probably never heard anything like it before (though at first it calls to mind "Hit the Road, Jack"), even if it is a cover of a Cuban original. It's Beninois salsa but flows well within the Senegalese mix. Le Tropical Jazz performing "Kiko Medina" is also outstanding. The album is a great mix and flows well. If you are mad at yourself for not getting Escale au Senegal or Panorama du Senegal before they went out of print, you have no excuse not to stock up on Senegalese oldies now.

All writing on this page Copyright © 2022 by Alastair Johnston. All rights reserved.