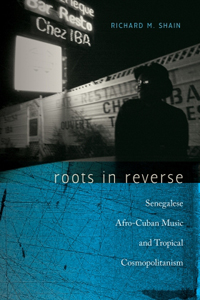 It's important, if you are writing an academic work, to wear your scholarship lightly and keep the reader interested. When academics bring up the Sapir-Whorf hypothesis or other semantic jiggery pokery, I start yawning. You don't have to play down to your reader, but reassure him he knows something about the topic. Get him thinking "I knew this," then bring a fresh perspective to engage him further (If you are a "she" gritting her teeth at my pronouns, I am sorry). Richard M. Shain has done just that with this thoroughly researched and succinctly explained work on a topic dear to our hearts: "Senegalese Afro-Cuban music and tropical cosmopolitanism." In any good scholarly work the story has a parallel subterranean version, told in the footnotes. And it is the quality of the footnotes that make or break an academic work, so when the first footnote to the first chapter reads "Pape Fall, interviewed by the author" you know you can proceed with confidence. I always read the footnotes along with the text and periodically dive down into the author's bookshelf to see where he is getting his material. With only occasional lapses into Academic-speak, Shain eloquently leads us first through a brief history of Cuban music and the evolution of the various styles, from the Danzon with its Haitian currents and veneer of classical sophistication to the rusticity of guajira, the pivotal moments in other styles and the key players, Arcaño (who added conga drums to the line-up), Jorrín (who created the cha-cha-cha when he noticed dancers were out of synch with the mambo), and others. Shain then moves us to Paris in the 1930s, the scene of Le Cabane Cubaine, a nightclub frequented by French Surrealists and expatriate Africans, Martiniquais, etc, where Leopold Senghor developed his theories of negritude: a cultured modern cosmopolitan role for Africans in the world. Senghor would ultimately lead his country into independence, but had a change of heart about the Cuban music he loved. The Senegalese people did not think of it as revolutionary but Senghor wanted to distance himself from Fidel and so he changed Cuban music references in his poetry and writings to "jazz" or more vague suggestions of "rhythm." However for most Senegalese the notion persisted that Afro-Cuban music was their own, evidence of a black diaspora that connected them back to their roots. In the felicitous phrase of John Storm Roberts, "Afro-Cuban music comes home."
The young Senegalese who joined record clubs to socialize and listen to Latin music in the 50s and 60s were asserting their own cosmopolitan modernity in a new way: a "right to difference" that separated them from their parents' generation or what was expected by the French colonists, who viewed the music merely as exotic and not subversive.
Foreign musicians from other African countries, such as Nigerian saxophonist Dexter Johnson were the first to popularize live cover versions of Cuban music in Dakar. The singers followed models like Miguelito Cuní in not cavorting on stage and because the stages were small there was no room for dancers. This way the couples on the dance-floor were the focus and the band was spared the expense of added personnel. Johnson and his Super Star de Dakar (which featured Laba Sosseh on vocals) had a jazz edge but were slavishly covering Cuban popular hits like Septeto Nacional's "No juegues con los santos" and "Soy hijo del Siboney" popularized by Johnny Pacheco. A better integration of Wolof traditional music into the Cuban genre was effected by Orchestre Baobab, another sophisticated cosmopolitan group with members from as far away as Morocco and Togo. But they too fell from favor as a younger generation came up and predictably rebelled against their parents' suave music, opting instead for a grittier sound with more energy and wild drumming and dancing: m'balax. According to Shain the best integration of the Wolof traditions into a Cuban framework was the work of Number One (yet another splinter group from Star Band) of singer Pape Seck and guitarist Yahya Fall. We are fortunate to have shelves of music put out by Dakar Sound, World Circuit, Teranga Beat, Günter Gretz, Sterns, even the pirate Sylla who was a member of the old Latin music listening clubs in Senegal in his youth, but notoriously stiffed many artists he produced. So as with any good book about music we can listen along to the narrative. Teranga Beat, of course, has been most valuable in tracking down unreleased live tapes of these historic bands.
The story of producer Daniel Cuxac and his protégé Aboudou Lassissi is crucial as it prefigures Africando and shows the convergence of African salseros such as Laba Sosseh with New York musicians (of Cuban and Puerto Rican heritage), and to my ears this music is much more vital than the ponderous Africando who were an encuentro without rehearsals or real communication between singers and musicians. I wish Shain had dwelled longer on these Lassissi sessions (released on Sacodis in Abidjan), particularly the personnel and economics (they were gold sellers, not just in Africa and the US but even in Colombia); I have only seen one interview (in Spanish) with Alfredito Valdes Jr the pianist who arranged the sessions. It has been suggested that Lassissi used the diplomatic pouch to bring in large amounts of cash to pay the personnel, so clearly something was going on & inquiring minds want to know. Shain says that according to Cuxac, Laba Sosseh's recording with l'orquesta Aragón was never released which is odd as I have it on vinyl from Cuxac's own label Disco Stock of Abidjan. Shain repeats this along with other points (Senghor abhorred Fidel), throughout the book, perhaps assuming readers may read it in small doses and not continuously.
M'balax, seen as more authentically Senegalese, rose to international prominence thanks to Youssou Ndour who, allied with Peter Gabriel, marketed his image like an American pop star. I first saw him as the opening act for Gabriel on a world tour at the huge Oakland coliseum arena. Senegalese were thrilled that one of their own was achieving international renown. Ndour built a recording studio in order to have more control over the end-product as cheap cassettes began to dominate the market. Before his time, groups like Number One didn't care about marketing tapes and their recordings were often marred by bad notes or flat horns: since their fans knew them mainly from live shows, hearing them on car radios or cheap transistors was not important. In fact only Baobab paid close attention to their "aural image" -- the records they made were polished performances. Barthélémy Attiso said his solos were composed rather than improvised. After the Cuban wave was replaced by m'balax in the 70s and 80s a new form arose, a hybrid known as salsa-m'balax, as performed by younger groups like Super Sabador and Super Cayor in the mid-90s who replaced timbales with traditional Wolof hand drums, the sabar and tama.
Chapter Six of Shain's book analyzes the "nostalgia for decay" that inspired Nick Gold to market first Buena Vista Social Club and then Orchestra Baobab to a world music audience. To achieve this, Baobab was mythologized becoming a "tree without roots" in the same way that Ry Cooder spins a line of bullshit in the lame Wenders' movie about going to Havana and somehow meeting all these incredible musicians living in genteel poverty. It was actually Juan de Marcos González who put them together for an album that was recorded at the same time as BVSC but released later. Cooder's contribution was negligible (he is a talented rock guitarist but has no place in Cuban music) and his son's worthless drumming was another negative factor, but let's not get distracted: at least there was no "Ry Cooder meets Baobab" session. Nevertheless Baobab's music was preserved in aspic and the band was urged to rerecord its old material over and over and not allow the musical innovations of 30 years (which they certainly were aware of through their own practical experience as constant performers, and not forgotten relics as World Circuit depicted them) to seep in.
Shain relates the Africando story, adding some useful first-hand knowledge from his presence at the final recording sessions and goes over the sorry tale of Los Afro-Salseros de Senegal en la Habana, a tour put together by Günter Gretz who issued the results on Popular African Music CD pam 407. Gretz wrote that the engineers would stop the session to correct the singers' Spanish to the point where they gave up and reverted to singing in Wolof! Shain's book ends with a flourish: he draws an arc through "Yaye Boy," the 1978 Pape Seck hit popularized by Africando, from Eddie Palmieri's "Bomba de corazón" which provided the musical hook, through Number One de Dakar (on No 1 de No 1 [Dakar Sound vol 6]), to Africando vol 2, to the champeta remix by DJ Baron Lopez (on African Salsa [Earthworks STEW41CD]) to a charanga reinterpretation by orch Aragón, sung in mock Wolof. A chapter of Afro-Cuban music as it manifest in other African countries such as Congo, Benin, Cote d'Ivoire, etc would have been welcome to add context but perhaps would have stretched the author's plan too far. This book is accessible and engaging and a useful addition to a history of modern African music.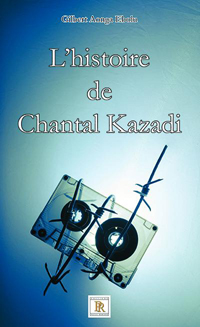 GILBERT AONGA EBOLU
L'HISTORIE DE CHANTAL KAZADI (Les Editions Paulo-Ramand)
Though many rock stars die from their excessive lifestyle, we are particularly saddened when unforeseen tragedy takes away a musician in their prime: Otis Redding was 26 when he died in a plane crash. Another small plane crash killed Buddy Holly, 23, who was flying with Richie Valens and others to a gig. They all died in a thunderstorm over Iowa. Eddie Cochran was 22 when he was thrown from a taxi in England and died; Gene Vincent survived that crash, but died a few years later from a ruptured ulcer. These men were great American singer-songwriters: Redding arguably the greatest R&B singer ever; Holly an influential songwriter. Another great singer-songwriter, whose career was limited to three brief years in Kinshasa in the late 60s, was Etienne "Chantal" Kazadi and his short life and tragic death while still in his teens have been shrouded in mystery.
In my passion for Docteur Nico I have collected as many of his records as I could find, and I listen to them over and over. Like my other musical household god, Thelonious Monk, I always discover new things in Nico's music. From his emergence as a studio musician at Opika, then primary guitarist behind Kabasele in African Jazz, Nico developed a distinct personality as a guitarist, which is to say he was truly unlike anyone else. (Franco once said he wished he could play like Nico. One night in 1963 Nico sat in with OK Jazz at the Congo Bar with Vicky & Kwamy. He played the entire repertoire of the band: something that Franco could not have achieved with African Fiesta.) Nico did not merely embroider the melody, he set off in other directions, coming back for the chorus. Famously he and Rochereau broke away from African Jazz to create African Fiesta but split into two rival factions by the mid-60s. By then the leading band in Kinshasa was OK Jazz which had a habit of swallowing up the competition so that massive talents like the Maquisards were quickly inducted before they could topple Franco. Some singers, like Sam Mangwana or Ndombe Opetum moved from band to band, partly through restlessness (lack of equipment and personnel), partly to get the gigs. Jean Bombenga and Vox Africa was a particular thorn in Rochereau's side and he tried to destroy them through sorcery. Rochereau and Franco were gullible and believed in feticheurs; Nico on the other hand was an évolué, well-educated to the point where he could teach auto mechanics. Someone who knows how to put together all the parts of a car engine to keep it running is capable of arranging and keeping together a big orchestra.
Little is known about the early life and adolescence of Chantal Kazadi so we are fortunate that this book has been written by a novelist, rather than a journalist. Ebolu talked to Kazadi's uncle & classmates to give us the picture of the boy's home life in a Luba village where he played traditional drums and sang, to his classmates' amusement, and dreamed of moving to the capital. He also studied the madimba or xylophone. Although he doesn't yet speak Lingala he can sing several of Grand Kalle's songs, such as "Loboko na litama" perfectly. Born about 1951 he would have been 14 or 15 when he left home, we see the tears beading his mother's cheeks, hear his father's stern admonition about loose women and alcohol. He was not a good student but played the tam-tam, or improvised, beating on a sardine tin and dreamed of being a musician like his grandfather. In the Matonge quarter he heard a band called Super Elégance and was quickly adopted by them and delivered his first song "Bougie ya motema (The candle illuminating the heart)." It was not long until his idol, Dr Nico, heard about the lad and invited him to audition for African Fiesta Sukisa. Nico proclaimed, "We've waited a long time to hear such a tenor, such a rare bird!" Everyone was captivated by his voice, but also by his youth and good looks. He resembled the "Génération Zadio" of the quarter, since he was one of them. Sukisa was back on top and Chantal's second song "Mbandaka" was a massive hit. With backing vocals from Valentin Kutu "Sangana" and Paul Mizele, and the "Hawaiian" or lap steel guitar swoops of Nico balancing his voice, the whole of Kinshasa was swooning to the new sound. "Bougie ya motema" sold 600,000 copies but Nico, taking advantage of the wide-eyed lad's enthusiasm, put his own name down as composer. It is believed this is when Nico created a new "dry" style on his guitar -- even if the guitar was electric -- with deadened strings and a plucking style evocative of thumb piano or likembe playing. That choppy picking style (possibly indicative of xylophone as much as likembe) can be heard in another Chantal composition, "La jolie bebe" also from 1967. They were exploring their Baluba roots together: even their names Kasanda and Kazadi indicated they came from Kasai.
Chantal was a well-built athletic man who remained quiet about his private life as others, like Bovic, bragged about their conquests. Of course he was surrounded by girls. It's odd that he took a girl's name "Chantal" as his stage name but it went with his effeminate manner and high voice. Only hinting that he may have been gay, the author assesses various alternatives: he had an affair with a married woman, or the wife of a soldier or high official, even Lumumba's widow was mentioned. Song lyrics are combed for substantiation.
However, this period of African Fiesta Sukisa, 1967-9, for me is the peak of the band. Gone are the slavish covers of Sonora Matancera or Johnny Pacheco, instead there's a new vigor in Nico's playing and exhilaration in the singing of Chantal and the others. They still play Latin covers but now they are thoroughly reintegrated into Congolese rhythms (e.g., compare "Indicatif African Fiesta" [Vita 104a] sung by Rochereau, which is a cover of Enrique Jorrín's "Kikiriki canta el gallo," with the later version, "Para bailar" [Sukisa 50b]). In concert Chantal improvised, leaving the band to catch up.
In 1968 young Kazadi won the Grand Prize of Culture and Arts, not just as best newcomer but as best singer, beating out many others who were surprised because the contest usually went to established singers in their 40s, and he was not yet 18! Other bands offered him cars -- anything he wanted -- to join them, but he stayed loyal to Nico, and his first anniversary with the band was the occasion of a special concert. His latest song "Sukisa liwa na ngai" was top of the charts, the kiri kiri dance swept the town. After a feast of Kasai cuisine (fish in ginger sauce, fried chicken) the band played for three hours, opening with "Canshita" of Sangana and "Saouda" sung by Mizele. Then Chantal entered the bar: the crowd went wild, especially the groupies, as he launched into "Doris," followed by "Zadio," "Pauline" and "Yaka toyambana." A cake was produced with 5 candles, and Chantal thanked the crowd and went into a short set of traditional songs. To everyone's surprise and delight the band then did five classics by African Jazz with Chantal singing lead, "Felicité, Miwela miwela, Kelya," etc while the beaming Nico and stalwart Dechaud shone on guitars. The older fans were in heaven. Then Nico asked if everyone was ready to the do the Mutuashi? And when they agreed Nico ripped into "Kamulangu" as couples thronged the floor. It was a wild night and they took the lid off with "Biantondi Kasanda" (another folk-derived piece) which closed the concert.
At the end of 1969, riding high, Chantal demanded transparent accounting from Nico. Nico was an autocrat: since he was called "God of the guitar" he didn't have to listen to anyone. He'd quit African Jazz at their peak in July 1963, then fired his allies Roger & Tabu Ley two years later. Other band members grumbled too and suddenly, after a short tour to Brazza where expenses outran their income, Nico fired five long-standing band members for zizanerie ("craziness") ... Chantal decided to leave at this point, sure that, despite his tender years, he could run a band, and so African Soul was created.
Nico railed against Chantal in the press calling him a traitor. Chantal for his part thanked Nico for establishing his career but said he could not go on being exploited. The press took Chantal's side, while Nico continued to lose the plot in interview after interview ranting about conspiracies and evil forces out to get him.
The members of African Soul went on tour, trying to scrape together money to buy instruments, because they now had a recording contract. They reach the town of Kanaga in Kasai, known for shady deals, loose diamonds and eager women. While they are there an armed robbery in a hotel leads to a shooting. Chantal is late for the show, waiting outside the hotel for a taxi when the robbers drive by. They recognize him and offer him a lift to the concert. The police stop the car, find a gun and arrest them all, including Chantal who claims to not know the others. Taken before a judge he says he is a member of Nico's band. An officer is sent to question Nico who, unaware of the circumstances, says Chantal is not part of his band and has not been seen for months. This lie seems to compound his guilt and Chantal is condemned with the other suspects. As in life, Chantal is very private in death. No one knows where his body is. The suggestion is eight prisoners were bound, put in sacks with rocks and thrown into the river.
The book is well written: it has many detours, one into author's rights, much speculation and some very shoddily reproduced photos, but is a valuable addition to the study of Congolese popular music.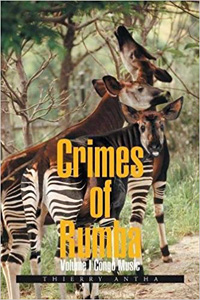 THIERRY ANTHA
CRIMES OF RUMBA (Xlibris Us)
Reviewed by Alan Brain
According to scholarly writing about Congolese music by Manda Tchebwa, Kazadi Wa Mukuna and Andre Yoka Lye Mudaba, modern urban Congolese music or what we know as Congolese Rumba was born in Léopoldville, after the Second World War, out of a combination of several influences such as French music from the movies of Tino Rossi, Ghanaian Highlife music, indigenous Congolese music, an intertribal popular African dance music called Maringa, and Cuban music. This last one came to Léopoldville around the 1940s in the form of a specific series of 78 rpm shellac records from His Master's Voice. Their "G.V." series contained Cuban or Latin songs with rhythms such as Cha Cha, Bolero, Guaracha, Guaguanco, Merengue, etc. Congolese musicians soon fell in love with Cuban music and started playing it. In the beginning, Congolese musicians recorded songs trying to mimic those Cuban rhythms that came with the "G.V." Later, little by little, the flavors of Cuban music mixed with all the other influences and gave birth to a new style, Congolese Rumba.
The main hypothesis in Mr. Antha's book is that, around the 1950s, Congolese musicians started recording Cuban rhythms and incorporating Cuban musical styles in Congolese music, not because they freely fell in love with Cuban music but because they were obliged by the Belgian authorities. According to Mr. Antha, the Belgian administration decided that Cuban musical genres were profitable. So, they forced the Léopoldville music label owners and their musicians to record a minimum monthly quota of Cuban music or face justice. Mr Antha calls these quotas "musical cash crops". Supposedly, these Léopoldville-produced Cuban records were going to be sold outside of Congo to enlarge a particular European record label empire.
This is an extraordinary claim that does not fit at all with the narrative of the already significant body of scholarly work about Congolese Rumba by acknowledged sources of authority. I know personally most of the scholars and journalists that have written about Congolese Rumba such as Clément Ossinonde, Manda Tchebwa, Jean Pierre Nimy, Kazadi Wa Mukuna, Gary Stewart, Maitre Yoka, Alastair Johnston, Ken Braun. None of them has ever mentioned anything remotely similar to what Mr. Antha tries to advance in his book.
Also, and contrary to Mr. Antha's claims, during the 1950s the sales of Congolese records outside of Congo were never significant enough to enrich any record label.
Unfortunately, Mr. Antha does not present any hard evidence to support his theory. There are no official documents from the Belgian administration that support his theories. Nor are there any official documents from the main Léopoldville studio labels (Esengo, Loningisa, Opika) to provide proof for his claims.
To support his theory, Mr. Antha relies on a myriad of testimonies from some of the most famous Congolese musicians ever, such as Franco Luambo, Joseph Kabasele "le Grand Kalle", Tabu Ley Rochereau and Augustin Moniania "Roitelet". Unfortunately for us, there is no way to confirm these testimonies since all the musicians quoted are now dead. The problem for Mr. Antha is that there are many audio and/or video recorded interviews with Franco Luambo and Tabu Ley Rochereau and while some of these interviews are long and exhaustive, there is not even one interview where Franco or Tabu Ley mention what Mr. Antha has quoted them saying. Furthermore, one of the other musicians quoted in Mr. Antha's book was a friend of mine, Moniania Roitelet. I met Roitelet in Kinshasa while making a documentary film. I have spent several afternoons with Roitelet and I have interviewed him on film many times (sometimes for more than 2 hours). He never ever mentioned anything along the lines of what Mr. Antha claims. I actually asked Roitelet several times why Congolese musicians started playing Cuban rhythms? His answer was always the same: "Because, at that time, everybody loved Cuban music in Léopoldville, and the musicians loved it too. So, we started playing it."
For my documentary film, which is about Congolese Rumba, I have interviewed, on film, more than 40 musicians and Congolese Rumba experts, I have even met with the sons and daughters of the Léopoldville studio owners of the 1950s and, again, nobody has ever mentioned what Mr. Antha tries to advance. So, unless Mr. Antha provides solid evidence to support his extraordinary claims, this book advances a false theory that only serves to stain the legacy of Congolese Rumba by making it a byproduct of forced labor.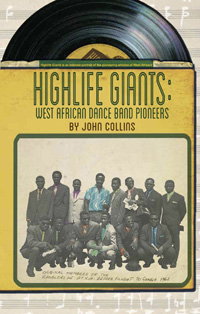 JOHN COLLINS
HIGHLIFE GIANTS: WEST AFRICAN DANCE BAND PIONEERS (Cassava Republic)
200 years ago the English poet John Keats wrote in a letter to his brother in America about the discovery of the Ashantee, a "lost" kingdom in Africa, with gold window frames, a standing army of 100,000 and human sacrifices: "all rather Bluebeardish but I hope it is true," he adds... There certainly was European contact with this kingdom two centuries ago: a combination of visiting sailors and explorers. Then returning Africans from Brasil and the Caribbean in the late nineteenth-century brought waves of musical inspiration. In this engaging book, John Collins sets forth the story of West African Highlife. What makes it particularly compelling is the use of first-hand accounts. The chapters are small and each one is relevant to a particular topic, personality or group of musicians. The book relies on interviews and commentary collected by Collins who grew up in Ghana, started a recording studio and is now a professor of music at the University of Ghana as well as founder of Bokoor African Popular Music Archives Foundation. By interviewing old-timers on the scene, as well as fellow musicians, he was able to trace the story back to the 1920s from eye-witness statements and, far beyond the usual "When Satchmo came to town" stories, fills in a lot of background on how the music evolved and spread. Early colonial dance bands developed out of military drum-&-fife bands all along the West Coast of Africa. By the 1920s some of these, particularly those from the West Indian regiments, were picking up local songs as well as Western music and would even play ballroom music for Krio elite dances. Marching bands with home-made drums and the few brass instruments they could gather soon imitated the military model. These percussion-based "konkoma" groups became a craze in the 1930s created by "school drop-outs and ruffian boys." They even had uniforms with lots of pockets for colored handkerchiefs. The next component was the guitar that came with Kru sailors and swept West Africa between 1885 and 1908. Juju in Nigeria, Makossa in Cameroun and even the dry guitar of Congo all evolved from this style which became known as "palm wine" when it reached the heart of Ghana. The Kru sailor used a thumb and first finger plucking technique on the Spanish guitar that was adapted from the traditional way of playing seperewa, an indigenous instrument.
The name "highlife" was coined in the 1920s when dance bands began playing popular street songs in their sets. Collins quotes a woman who remembers her childhood home overlooked the open-air courtyard of a night club where well-to-do Ghanaians danced in the 1930s. When the band struck up a highlife number the sedate dancers let fly, waving handkerchiefs and "letting their hair down."
During the Second World War Americans arrived in West Africa with sunglasses, records and "soundies" (short music films featuring the likes of Duke Ellington, Glenn Miller, Cab Calloway and the Nicholas Brothers). After the War key Ghanaian musicians went abroad: Guy Warren (Kofi Ghanaba) visited the US to soak up the new Afro-Cuban sound of jazz and London where he got into calypso. After the Second World War Cuban drums were brought into the highlife ensemble.
E.T. Mensah's career is considered in depth. In 1951 his Tempos went to Lagos for a week where their gigs were eagerly attended by Victor Olaiya and Bobby Benson. Further West African tours in 1953 were so successful the Tempos were able to turn professional. Rex Lawson in Nigeria set up his own band to play highlife, including Tempos' covers. Success led to rivalry and ultimately the Nigerian Musicians Union banned E.T.'s band from touring in 1958. However, in 1958 the Tempos made a very successful tour to Guinea, Liberia and Cote d'Ivoire. When Sekou Touré heard them play African music on western band instruments it gave him the idea to create six state-sponsored dance bands, including Les Amazones, Bembeya Jazz and the Syli National Orchestra. Mensah was close to Kwame Nkrumah, Ghana's first president, writing songs for him and playing at his rallies. One consequence of independence however, was increased taxes. There was a beer tax, an entertainment tax, even a concert ticket tax, so that in fact Mensah was forced to sell his club in 1957. But he kept going, constantly forming new bands. In 1961 he was keen on unionization, and ended up as first head of the Ghanaian musicians union. He wanted to protect royalties and managed to double the amount paid by the British record companies from 2d to 4d per sold disc, and also protect wages so there would be fewer defections from bands.
E.T.'s band the Tempos became a revolving door for talented musicians as he only hired the best, but the country was in turmoil after Independence. Starting in 1961 there was a series of right-wing assassination attempts on Nkrumah. Bombs were thrown at the Socialist president during rallies, injuring musicians. So a dusk-to-dawn curfew was imposed. Then bands were forced to play afternoon gigs, or go to nearby countries and play in Lomé, Togo or Cotonou, Benin.
Highlife took off in Nigeria until the civil war (1967-70) when musicians were drafted into the Nigerian army; afterwards Juju music took over. Victor Olaiya's career continues the story in Nigeria, although his started his first band in Birmingham, England while studying accounting. His Cool Cats were the first Nigerian band to score a platinum record. As well as trumpeter Rex Lawson, other graduates of his band include teenagers Fela Kuti and Victor Uwaifo. In 1969 Uwaifo got the first gold disc in Nigeria for "Joromi." His hit "Mammy Water" came from a late-night beach encounter with a mermaid who called out to the "Guitar Boy." He played to her until she floated off: "If you see Mammy Water, never run away." At art school he tried to learn guitar and used color as a notation system. Then he noticed musical rhythms woven in akwete cloth which he interpreted as a new sound. His Ekassa came from a traditional Benin City dance. "Five days a week love," using a reggae beat, earned him his second gold disc.
Like Olaiya, Ignace De Souza's business savvy led to a successful career in band management. As an aside the story of De Souza from Benin includes a fine 2-page exposition of the development of Congo jazz out of maringa music in the interwar years.
Jerry Hansen was influenced by the Ellington "soundies" and V-discs he heard in the 40s. He joined the Black Beats and led the band when King Bruce was absent. In 1961 the group splintered, with Hansen forming the Ramblers International. On a trip to the UK in 1968 they recorded their first stereo album for Decca. In all they recorded 20 albums but successive military governments in the late 70s made life hard for musicians and Hansen couldn't stock his musical instrument store. In 1984 he moved to Washington DC and worked as a security guard for the next 17 years. The political instability led Ghanaians like Kofi Sammy to move to Nigeria which was undergoing an oil boom. We read of many musicians forced into exile due to economic hardship and war. Nico Mbarga fled to Cameroun during the Nigerian civil war. In 1976 his "Sweet mother" sold more than 13 million copies. But this wild migratory pattern had been established by the Alien Compulsion Order after Nkrumah's overthrow in 1966 which expelled non-Ghanaians like Ignace de Souza and his band of Nigerian, Togolese, Beninese and Congolese. Then in 1983 Nigeria passed an Alien Expulsion Order. But by the 80s the youth had lost interest in highlife and favored canned music in discotheques.
There is, perhaps necessarily, duplication of information from chapter to chapter and the photos are murky for the most part, but this book will become an indispensable reference work for enthusiasts of West African popular music. My other criticisms are minor, mainly typographical errors like Jonas Pedro for Gnonnas, but calling Congolese rumba soukous is likely to confuse readers. And note you can still find the accompanying soundtrack on such albums as E.T. Mensah & the Tempos (4CD box from RetroAfric), King Bruce and the Black Beats (also from Retro); plus original artist reissues on the Soundways, Evergreen, Strut, Premier and Original Music labels.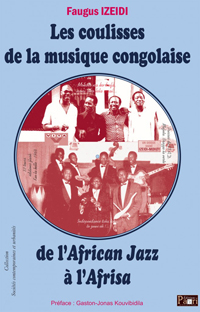 FAUGUS IZEIDI
Les Coulisses de la Musique Congolaise de l'African Jazz à l'Afrisa (Paris: Editions Paari, 2012; 228 pp., perfectbound paperback)
They say living long is the best revenge. It also gives you the last word. Faugus Izeidi is not a household name but he is a survivor. With Rochereau he is the last of the generation of African Jazz, the group that revolutionized Congolese music -- in fact all of African music -- in the 1950s, and brought the reinvigorated rumba to the rest of the world.
A few years ago, in 2009, King Kester Emeneya called him at home in Kinshasa one day and said, Hey old man, get ready. We are flying to Paris in 5 hours. Faugus was not quite prepared but made the plane with the young musician who admired his work and wanted him to arrange songs for his Olympia debut. However on the long journey he lost control of his bladder and on his arrival was rushed to hospital where he was diagnosed with cancer. So he missed the gig, but French doctors saved his life and he decided to spend his recuperation writing his memoirs, which he finished in June 2012. Here it is in 38 brief chapters: a version of the story of Congolese music by someone who actually lived it.
He starts off briefly with CEFA (Compagnie d'Enregistrement du Folklore Africain), who, in 1958, planned to record music from every corner of the Belgian Congo. At that point beguines were arriving from the French Antilles on 78 rpm discs. Two Belgians, Bill Alexandre (guitar) and Fud Candrix (sax), led the way in showing the natives how to play modern jazz. Alexandre in particular showed the guitarists the electric guitar, how to improvise and play solos.
Faugus co-wrote Rochereau's greatest hit "Mokolo na kokufa (the day I die)" -- despite Rochereau's claim to sole authorship -- but also claims to have invented mi-solo guitar, which was a breakthrough sound generally attributed to Nico and his brother Mwamba Dechaud of African Jazz, and later African Fiesta. When he states this as fact in chapter 3 I begin to question his credibility. (After all, Faugus is only mentioned in Michel Lonoh's definitive study of the roots of Congolese popular music, Essai de Commentaire sur la Musique Congolaise Moderne, Kinshasa: Imprimerie St Paul, 1969, as rhythm guitarist of African Fiesta National.) Faugus briefly mentions that Nico and Kabasele made a mess of the cha cha cha, and Rock'a mambo was better at it: "Kallé et Roger avaient compris ce besoin de diversification, après que l'orchestre Rock à Mambo leur avait 'damé le pion' avec les cha cha cha d'Essous et Dewayon, mal interprétés par Kabasele et Nico Kassanda au point que la qualité n'était pas bon." [Kallé & Roger understood the need for diversification after Rock'a Mambo trumped them with the cha chas of Essous and Dewayon; those of Kabasele and Nico were badly executed to the point where the quality was no good.] (p. 23) This is a bold statement and doesn't take into account the fact that instead of slavishly copying Cuban originals, Nico attempted to reinvigorate them with his own Congolese sensibility. (Sadly this is his only mention of Rock-a-mambo, though reading this book in French I realized their name may come from a pun on the word "rocambolesque," meaning "incredible.")
Faugus continues by explaining his position at the heart of the Kinshasa music scene. His elder brother Roger was the scene-maker: he repped groups, helped found a recording company (would eventually head the musicians' union), and played maracas alongside his old pal Kale Jeef, aka Joseph Kabasele, le Grand Kallé. The Kinshasa music scene, it seems, revolved around their living room. Meanwhile, Faugus, who was still a teenager in school, would play on borrowed guitars, imitating his hero Dr Nico, and even managed to swipe his brother's famous maracas to loan to visiting bands. One of these bands desperately needed the maracas to keep the beat, but were contracted to play out of town, and young Faugus went along, essentially running away from home, to bring the crucial shakers and hopefully appear on stage. Eventually he did get to play rhythm guitar and this convinced him he wanted to be a musician, but his attempt to form a band was short-lived.
He hung out across the street from the famous Vis-à-Vis club where the elite bands, such as OK Jazz and African Jazz, performed. These shows were costly but the patrons of the bar across the street could enjoy the music for the price of a cheap beer and no cover. When this neighboring bar's owner decide to start his own house band, Faugus put together a group called Orphée Negro, after the Brazilian film. But on the night of their debut the patron's wife went out into the yard to take a bucket shower. The lead singer followed her to spy on her and hopefully get a quick hook-up. The patron's friends saw this peeping tom and beat him up, throwing him out into the street and the band was stillborn.
Faugus next got a gig with a group called Mexico Jazz and gradually took over as bandleader. The great Tino Baroza paid him the compliment of saying he enjoyed his work from a distance (!) and with diligence he would go far (p. 61). The musicians often slept at his place and even the bar owner's daughter, a good convent girl, fell under his spell and would go home with him. Things came to a head when she refused to go back to the convent and it seemed as though their affair would become public, but Roger, who was a surrogate father in the family, told Faugus to pack his bag, he was moving to another house where he would be working with Manu Dibango. This was in 1961.
Roger had a girlfriend, Marie Josée, whom he had celebrated in song. Manu wrote a song for a Malian entrepreneur named Modibo-Keita and when the two song-subjects met they hit it off. This caused real problems for Roger because the Malian would buy drinks for the house and even order champagne to wash Marie Josée's feet during concerts. (A similar thing had happened to Nico when he had elevated his girlfriend Déesse to celebrity with an early composition and she too had been snatched away by a rich man.) So Roger quit the group, and Brazzos and Clery also left. Eventually Manu's African Soul Quintet, which had gone from soul to funk to the twist, fell apart. Faugus, who had been shifted to bass, longed to return to the rumba. He had an ally in Fracasseur who had been the drummer in Mexico Jazz and now was playing congas for Dibango.
Faugus lays out all his escapades, from his Shandyesque baptism (messed up by the priest), to various rakish affairs, including an incestuous liaison with a girl he didn't know was a cousin. He claims he was offered a position with Negro Succès but turned it down because he preferred the African Jazz style of music to that of the OK Jazz family, but furthermore he was having a secret affair with Bavon's girlfriend. (Of course there's no one alive to corroborate this story. This reminds me of some poets I know who write blurbs for the backs of their own books, and sign them Jack Kerouac, Charles Olson, or Frank Zappa!) In Cameroun, with Manu's group, he got involved with a girl named Marianne and they started a family. However, just before the birth of their baby, he decided to take a holiday in Kinshasa and was drafted back into the ranks of his brother's latest band, African Fiesta, leaving Marianne & child in the lurch. And his mother presented him with a young girl, saying this woman will be your wife (so he had to forget Marie-Rose, the convent girl, also). Joseph Mwena the bassist was suffering from hemorrhoids, so Faugus was called on to fill in. Then Dechaud, who oddly had the same condition, missed a gig, and again Faugus was called up, and fortunately knew the repertoire, though he did not use the open tuning that Dechaud had adopted.
Big brother Roger had written a tune called "Mama Egée," based on a Cuban original. Faugus listened to the original and thought that the lack of piano and violin parts in the Congolese version made it sound thin. Since Manu was not around to add piano he created a riff on his guitar that he thought filled the void. During a live show he plugged in his guitar during "Mama Egée" and started to play the additional part. Willy, the trumpeter, saw what he was doing and turned up his amp. Nico also recognized the innovation and brought him forward to play alongside him, and thus, says the author, the mi-solo was invented.
It seems more likely to me that this mi-solo guitar was the culmination of a long development in African music. Go back and listen to "Masanga" by Jean Bosco Mwenda, recorded by Hugh Tracey in 1952, a key encounter in African music. Yes it's only one man playing but he manages to play contrapuntal melodies simultaneously which was always explained by the influence of the likembe, or thumb piano (which has two voices). However, it's much more than that, Bosco is divinely inspired and picks like a Bach fugitive. For mere mortals to play like that requires two guitars and if they are sympathetic (like say two brothers who learn together) they will be weaving in and out of each other's playing. A good example is "Lolo wa ngai" by Tino Baroza from 1962, heard on Merveilles du Passé Grand Kalle vol 2, where Tino leads and Nico fills in with a great mi-solo (Three years before "Mama Egée"). Vincent Kenis, who is a far greater authority than me, writes: "the principles of the mi-solo guitar were laid down by Dechaud in the late 40s when trying to emulate the Trio Matamoros recordings. He also invented the mi-composé tuning to that end."
In 50 Ans de Musique du Congo-Zaïre (Paris: Presence Africain, 1984, pp. 132-3), Sylvain Bemba writes that the "Djangophile" Jerry Gérard joined the Bantous in 1964 to play midway between lead and rhythm guitar. "This mediator is called 'mi-solo' in Brazzaville, as well as in Léopoldville where the style was immediately adopted, where one spoke of the median guitar." He goes on: "In L'Afrisa, for example, Michel Mavatiku played this role between Pierre M'Bumba alias Attell (the soloist) and Denis Lokassa (accompaniment), before distinguishing himself in OK Jazz from 1975-6. Bazeta Pierre aka 'De la France' played the same part in African Fiesta between the two brothers Kasanda Nico and Mwamba Dechaud." (My translation.) There is no mention of Faugus anywhere in Bemba's work.
Things went swimmingly with African Fiesta for a couple of years. They traveled to Brussels in Summer 1964 to record as there was some urgency to get the new sound on vinyl. Rochereau, Nico and Faugus rehearsed constantly, almost in secret, to perfect the material. The debut of the mi-solo guitar part can be heard on "Café Rio" and "Mama Egée," says the author. But then a problem arose. Nico was taken with a Cuban pianist he met and therefore dispensed with Faugus' services. Faugus spent the day in a café across the street from the recording studio. The other musicians left one by one, until Jeef Mingiedi, the trumpeter, told him, You'd better go in there, Nico is having a melt-down. The pianist was trying to get Nico to play E flat minor 7th (the black keys on the piano!), but Nico couldn't read music. Faugus saved the day.
But right then the three back-up singers, Mujos, Flujos and Fotas quit the band. Paul Mizele would soon join and after him Pablito (aka Pamelo Mounka'a), but trouble was brewing. Faugus says it was because of ethnic differences (Nico & his brother were Luba; Roger, Faugus and Tabu Ley were Yanzi), but mainly (I think) because Roger drove a flashy car and had a fancy lifestyle whereas the rest of the band were struggling to get by. Nico thought Roger had sold songs to ASL in Kenya. (A glance at Tim Clifford's database confirms at least two titles, but many more after Sukisa was formed.) Roger stated that he had licensed the tracks to Fonior, and everything was above board, but Nico believed Roger had profited by this; even his brother Faugus wondered why Roger had the sole rights to all the music?
But African Fiesta was not a collective: the three founders, Roger, Nico and Rochereau had the final say, and when Roger and Rochereau decided to break from Nico they continued to control the group and its interests. Faugus noticed this and strongly objected, but went along with his brother. They recruited Guvano, a young guitarist who idolized Nico, and closeted him in Roger's office to learn the repertoire of the band.
The story of African Fiesta National reads like a burlesque Macbeth. With Roger mostly absent, Rochereau was running power plays to secure control of the musicians. According to Faugus, Rochereau had not minded the arrival of singer Kwamy in the earlier group but became very paranoid about Bombenga who had replaced him in African Jazz and Sam Mangwana, who came and went as he pleased, to the extent that Rochereau hired a West African feticheur to cast spells on the others. This seemingly led to disarray in Bombenga's Vox Africa and brought Mangwana back to the group for their trip to Expo '67 in Montreal. However, Mangwana soon left, taking Guvano and other members to form Le Festival des Maquisards. But every accident and even a death or two were attributed to Rochereau's witchcraft, leading to extreme paranoia in the ranks.
Even Roger and Rochereau were at odds, but had to maintain peace as the group was falling apart. They had a gig to play at a wedding but Rochereau was a no-show. The patron threatened to cancel their contract and play records instead, but they spotted one of their devoted followers, Ndombe Opetum, in the crowd and asked him to fill in for Rochereau. He knew the words and passed the audition brilliantly. Faugus realized that just as he could fill in for Dechaud in the old band, this new kid could cover for Rochereau, so the lead singer was not indispensable. They had a tour of West Africa lined up. Things went well until they got to Upper Volta and the promoter disappeared with all the takings leaving them high and dry. Rochereau had a plan: They got on the train from Ouagadougou to Abidjan and started playing their songs, unplugged. Soon people from all the other cars came to hear the famous Congolese hit-makers, to laugh and dance in the aisles, so the conductors couldn't get through. The conductors stood at the back of the crowd enjoying the music also, unaware that the musicians were traveling without tickets.
There are many rich stories: from a sordid account of the death of Bavon, to the triumph of Tabu Ley at Olympia (where he forgot to thank the band or acknowledge the fans, but instead ran around yelling "I've won! I've won!" like a kid), for which the old crooner fired Mwena, his long time acoustic bassist, for not being lively enough, and brought in an electric bass and trap drummer in order to create a "James Brown"-style excitement, and of course the Rocherettes (who would ultimately be his downfall) were to enliven the show. My favorite anecdote is about the Chadian head of state who promised the band thousands of French francs (10 million CFA francs) and instead gave them 500 monkeys (if I read that right!). The upshot is, after every triumphant gig, Roger and Rochereau were getting bigger cars and throwing money at mistresses while the band was being evicted from hotels for non-payment of bills. But they were also being summoned by Mobutu which sounds really ominous and added a new level of threat that Rochereau could hold over them if they asked for their backpay. When the disgruntled rhythm section (Seskain, Lokassa and Philo Kola) attempted to record their own album to generate some income, Rochereau used his political connections to have the Philips studio closed down and the staff expelled from the country!
Eventually Faugus was deemed a traitor and kicked out. He attempted to put together another band, Fiesta Populaire, but Josky and Bopol left with his ideas and started the very successful Orchestre Continental, he says. He had groomed Bopol, Madilu, Caen Madoka and many other famous musicians for stardom, but none of whom it seemed, wanted to be in his band.
All life stories have the potential to be picaresque, those of musicians perhaps more than other folks'. Faugus has had some "rocambolesque" adventures, from wild romances to being on a tour to Uganda when the plane caught fire. This book is an important first-person account of the history of Congolese music and gives us new (mostly unflattering) insight into the personalities of Roger, Kale Jeef, Nico, Rochereau and others. But then, are guitar-players the ones with the most reliable memories? Tabu Ley is still alive but in poor health. I believe Fracasseur and Paul Mizele are still living among those "originals" mentioned here, and I hope someone is getting their memoirs on paper.
The production of the book is pretty slack for such a high price (25 euros plus shipping): poor typography, cheap paper and the historic images are mostly jpegs found on the internet and converted to blurry mush. For English readers the definitive work remains Gary Stewart's Rumba on the River (London: Verso, 2000); nevertheless, devotees of the Congo sound will find this biography a useful adjunct to their library.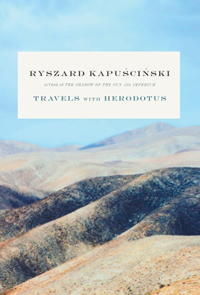 Ryszard Kapuscinski
TRAVELS WITH HERODOTUS (Knopf)
It's sad to get news from a dustjacket. I eagerly grabbed the latest book by Ryszard Kapuscinski, perhaps my favourite contemporary writer, but no sooner had I opened it than I learned he died in 2007. I had always somehow imagined I would run into him somewhere and have a great conversation with him. Anyway I tore through it, recklessly. Now I will start over on his first book. TRAVELS WITH HERODOTUS covers familiar terrain, that is in terms of his life's work, stories you may have caught in GRANTA or the NEW YORKER about his early days as a reporter. In the 50s and 60s he was the only foreign correspondent for the Polish Press Agency, so was constantly being sent to Iran, Congo, China, or wherever there was a revolution or coup going on. He has a wonderful style of writing, very poetic for a journalist, but modest and full of keen observation. Whether he's describing snow and tramcars to Nigerians or detailing how he is in another fine fix, having been arrested as a spy and sentenced to be shot, it's all gripping.
I don't know how relevant this is to a music blog (He does describe seeing Louis Armstrong perform in Khartoum before a stone-faced crowd in a very engaging passage), but I think anyone with a passion for music of other lands also wants to go there and experience it first hand. I know I do. If I am in Africa, India, Haiti, or Brasil, or even Chicago or LA, I am thinking, Where's the music scene?
Kapuscinski's shelf is quite modest but every book is rewarding:
Another Day of Life (about the civil war in Angola: Cuban soldiers defend Shell oil platforms from CIA-funded South African mercenaries!)
Shah of Shahs (about the fall of the Shah of Iran)
The Emperor (scenes of terminal life at the court of Haile Selassie)
The Soccer War (a collection of shorter pieces: the title is about an actual war that erupted between Honduras and El Salvador after a world cup qualifying game)
Imperium (magisterial study of the break-up of the Soviet Union)
The Shadow of the Sun (RK covered 27 revolutions and coups in Africa. Gripping stuff!)
Here's a passage from IMPERIUM, where he stops to talk to a small girl called Tanya in Yakutsk, Siberia, about relative coldness:
"One can recognize a great cold, she explains to me, by the bright, shining mist that hangs in the air. When a person walks, a corridor forms in this mist. The corridor has the shape of that person's silhouette. The person passes, but the corridor remains, immobile in the mist. A large man makes a huge corridor, and a small child -- a small corridor. Tanya makes a narrow corridor because she is slender, but, for her age, it is a high one -- which is understandable; she is after all the tallest in her class. Walking out in the morning, Tanya can tell from these corridors whether her girlfriends have already gone to school -- they all know what the corridors of their closest neighbours and friends look like. ...If in the morning there are no corridors that correspond to the stature of students from the elementary school, it means that the cold is so great that classes have been canceled and the children are staying home. Sometimes one sees a corridor that is very crooked and then abruptly stops. It means --Tanya lowers her voice -- that some drunk was walking, tripped, and fell. In a great cold, drunks frequently freeze to death. Then such a corridor looks like a dead-end street."
Compare that to Charles Dickens' descriptions of fog & mud at the opening of Bleak House and you will agree that here is another great writer worthy of the name.
At the end of TRAVELS WITH HERODOTUS we get an insight into what connects Kapuscinski with the ancient Greek: "But how could Herodotus, a Greek, know what the faraway Persians or Phoenicians are saying, or the inhabitants of Egypt or Libya? It was because he traveled to where they were, asked, observed and collected his information from what he himself saw and what others told him. His first act, therefore, was the journey. But is that not the case for all reporters? Is not our first thought to go on the road? The road is our source, our vault of treasures, our wealth. Only on the road does the reporter feel like himself, at home."
It's this rare passion to keep moving on and looking and recording that unites Kapuscinski with Herodotus. Most of us, truly, would rather sit home surrounded by our familiar things. Kapusinski didn't mind where he lay his head as long as Herodotus was under the pillow.