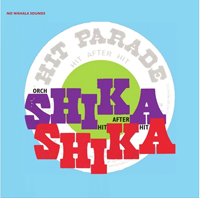 ORCH SHIKA SHIKA
HIT AFTER HIT (No Wahala Sound)
It's odd how music can get under your skin, become more than earworms, turn into an obsession. This, I suppose is why so many of us collect records and buy more and more albums by the same artists even when we have heard all they might have to say. Then the day comes when you realize you don't need more than a dozen albums by, say, King Sunny Ade or Thomas Mapfumo, and decide which ones to keep and which to purge, then the sentimental reasons why you liked them in the first place start to pour in and you are back where you started.
In Summer 1983 I was sitting at the bar of Thompson's Falls Lodge, a tourist spot in Kenya, drinking a White Cap. My companions were out hiking around in the heat. Idly sitting there, I saw a hand-written note pinned to the bar: "45s 10/-." This is not new math but a clear indication of a find. I asked and the barman pulled out a shoebox from under the bar, containing well-worn 45s that were rejects from the jukebox, some having obviously been played to death. "How much for the whole box?" I ventured. Ten shillings each, he replied, unperturbed. So while I nursed my beer to room temperature I explored the contents. First I pulled out all that were in Lingala, then I looked for dance styles I knew such as rumba or cavacha. Shika yeye -- what's that? Then the labels, ASL? sure. TPOK Jazz, have to have that. Sadly I couldn't afford all of them but took a dozen, regardless of condition and the fact the barman was still unwilling to negotiate. I was overlanding, so wouldn't be able to play them for months, but didn't want any more damage, so wrapped them securely and buried them in my backpack.
As you've probably gathered this was one of those watershed moments in my life. But so were many other occurrences in the next 6 months as I pretty much followed the course of the White Nile to Alexandria. After turning down an offer to go into a tropical disease clinic in England for testing of my malaria-like symptoms, I got back to America in time for Christmas and my friends -- who looked VERY melanin-deprived under artificial light -- were dancing in a crazed and extremely jerky manner to the Talking Heads. I was no longer able to hear anything interesting in that. Home alone, I put on "Shauri Yako" by Nguashi Ntimbo and suddenly found myself in tears. Something in me had changed irrevocably: I had found my soul music. I no longer needed to cling to my youth and the progress of "New Wave" music and German Industrial Noise. Now I had a new quest: to get to the bottom of this new sound that completely engrossed me.
There's a New Yorker cartoon making the rounds of social media, where an old grandpa has his kids on his knees and is saying, "So the Yardbirds begat Cream, and Spencer Davis Group begat Traffic, and thus Blind Faith was created..." I know, I know, they left out Family and John Mayall, but the point is that there are definite threads running through the bands we love that fan out in many directions.
One of the most thrashed singles in my trove was "Tika na lela" by Lovy & Orchestre Shika Shika. Behind the layers of snap, crackle and pop lay one of the purest, sweetest ballads ever recorded. (A completely restored version is on the new LP.) And who was this band? I had heard Virunga live in Nairobi and they had a similar vibe. I started searching, pretty much in vain, for information or more from this band. In 1991 I discovered Songa! magazine, put out by Phil Bunce in Billinghurst, Sussex (that's whitest England in case you are wondering). It had an article on Shika Shika and another of their songs "Amba" included on a cassette that came with the magazine. The cover featured a cropped photo of the singer with the intriguing name Monimambo Jim. Like me, Bunce had been bitten by the bug of Shika Shika. (Nick at Natari still has copies for sale.)
In a dry ethnographic journal in the university library I found an article about Monimambo -- a pan-Kongo trickster spirit! It was not until the advent of [echo voice:] ¡¡¡¡Cyber Space!!!! that my explorations made any headway. I had discovered a genre of music that I decide to call "Congo in Kenya", created, naturally enough, by expatriate Congolese bands such as Virunga who had relocated to Nairobi. Like my youthful explorations into the roots and branches of Alexis Korner's blues band (Cream, Rolling Stones, Graham Bond, John McLaughlin, Dick Heckstall-Smith -- did I lose you yet?), I started trying to plot the movement of the members of these Congolese bands and found threads running through them: this turned into a book-length opus which you can find in the above link. But remarkably, I managed to track down surviving band members. The singers of Shika Shika had all died, but the guitarists were alive and well: one was in Canada, one in Kenya, and one in... Minneapolis, Minnesota. Through this latter, Siama Matuzungidi, I managed to piece together the story of the band, and their offshoots. This led me to other bands: Moja One, Les Jaca, Bana Moja, Bana Ngenge and on and on. But behind it all was my passion for Shika Shika. I also met a collector with the same bug who somehow had better connections to good copies of the music, but I was not jealous as he was also generous to a fault.
As my webpage grew I thought it might be a good idea to share the music -- not just scratchy MP3s passed from cel phone to cel phone or flung into cyberspace for pirates to gobble up, but properly remastered songs with contextual notes. A friend who is a music copyright lawyer suggested I put together at least ten albums and launch a label. So I started on that project, even made a booklet and a cloth box for the CDs, then Stern's issued their two CDs of Moreno & Moja One, compiled by Doug Paterson, which were far above anything I could muster: he even found brilliant unreleased tracks from master tapes! Well, I thought, it's time to launch Shika Shika on the Muzikifan label. I wrote to the Kenya Musical Rights Society and asked them if they could put me in touch with the heirs of Jim Monimambo, Moreno Batamba or Lovy Longomba. Oh, that's us! they said, You pay us and we will take care of it. Right.
To make a long story even longer, No Wahala Sound has been issuing some of this Congo in Kenya material on vinyl (Nairobi Calling; Kenya-Congo Connection), and asked me for photos from my webpages. Then they asked about the Shika Shika project. I am thrilled to say this classic album, compiled from 45s on the Hit Parade label, is now out. There are five tracks on here, each is 9 minutes long. They have been restored to crystal clarity by the "Bwana Mkubwa" (big chief) Doug Paterson. "Tika na lela" will leave you weeping. The others will get you onto the dance floor. And then while you are sitting collecting your breath, you can read the breath-taking liner notes by an authority on their music (your humble servant) PLUS, in addition, thanks to my good friend Jerome Ogola, you can also sing along in Lingala and Kiswahili, as well as understand the lyrics, which are presented in English for the monoglot audience. I am thrilled to announce the publication of this album, and hope it's only the first of many more fruitful collaborations.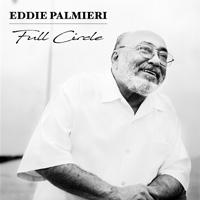 EDDIE PALMIERI
FULL CIRCLE (Uprising Music)
With the recent tragic death of Jerry Gonzalez, trumpeter, conguero and bandleader of the Fort Apache Band, we have to start totting up who's still standing among the pioneers of Latin jazz. Fortunately, some of them are on this album. Jimmy Bosch on trombone, Nicky Marrero on bongos and Nelson Gonzalez on tres are still turning it up behind the pianist and renowned moaner, Eddie Palmieri. Nicky has been with the band since the early days (1969), back then Eddie's brother Charlie showed up on the Hammond organ to torch their rendering of "Vámonos Pa'l Monte" which is reprised here in two versions to open and close the set. Other tunes like "Muñeca" from 1964, "Azucar" & "Oyelo Que Te Conviene" from 1965, and "Lindo yambu" from 1969, are still key parts of the repertoire and the band knows what to do with them. Younger players like Cuban refugee Yosvany Terry on sax, and the bassist, Luques Curtis, jump in with seasoned players from the mainstream jazz world like Gary Smulyan on baritone and Conrad Herwig on trombone. Ronnie Cuber, another baritone, like Herwig from the Metropole Orkest, appears. There's no lack of energy, the whole thing blasts off, like they got on a bandstand and tried to levitate it as they are wont to do in performance. Another bongocero, Anthony Carillo, doubles the pleasure on the percussion alongside Little Johnny Rivero on congas, switching to cowbell when he wants to press home his point. After 60 years of performing Eddie Palmieri still continues to improve.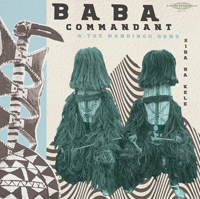 We have had quite a few reissues from Burkina Faso over the years, from Oriki, Mr Bongo, Analog Africa, Savanahphone, Popular African Music (I still keep the Bobo Yeye box set, with its album of photographs by Sory Sanlé, close to the action), but this is the first new recording I have encountered since Amadou Balake's In Conclusion, which came out from Sterns in 2015. It's a modern take on traditional Mandingue guitar music of the 70s and is the most exciting new album I have heard in a while. "Commander Dad" (Mamadou Sana), the lead singer, plays electrified ngoni which is now familiar to us from the Malians. There is also guitar, played by Issouf Diabate with panache, while the solid energetic rhythm section of bass and drums brings a funky touch. I can hear balafon in here too as a metronomic continuo in some tracks. The band's roots are in the sound of the classic Sahelian bands Super Biton and Kanaga de Mopti but you also detect the influence of the Rail Band which towered over West African music throughout the 1970s, especially in the few delightful unwinding guitar solos. Tracks like "Keleya" also suggest the guitarist listened to Yves Wernert's work at Studio Bogolan for the atmospheric tone he imparted to classic recordings by Issa Bagayogo and Mamou Sidibe.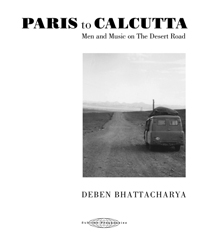 DEBEN BHATTACHARYA
PARIS TO CALCUTTA: MEN AND MUSIC ON THE DESERT ROAD (Sublime Frequencies SF112CD)
This 4-CD set and hardback book chronicles a journey made in 1955 when Deben Bhattacharya drove from Europe to his home in India, stopping along the way to record local musicians. Reversing the journey of filmmaker Tony Gatlif's masterpiece Latcho Drom, it shows a kaleidoscopic picture of the Bedouin, gypsies, and other lesser-heard musicians along the route. In 1958 Bhattacharya made an LP compilation (necessarily compressed) from his recordings, but this is the first time the full tapes have been released. In an interview with Guitarist magazine in 1993 Frank Zappa cited that 13-track LP, Music on the Desert Road (Angel Records), with having a huge influence on him. Robert Millis, the man behind Indian Talking Machine, edited the release. Sublime Frequencies, along with Dust-to-Digital, are making considerate and considerable contributions to the preservation of lost treasures of ethnomusicology for future generations.
Deben was a Bengali poet who learned English, Hindi and Sanskrit. He went to England, not for a degree, but to pursue his musical education. He subsequently wrote books about the gypsies and the Bauls, wandering "madmen" singers of Bengal. He promoted Purna Das Baul and the Langa clan of Rajasthan in concert. He was an expert on Indian classical music and in London recorded local Indian performers and sold the recordings to the BBC. With a little capital advanced by EMI for future recordings, his tape recorder and an old Bedford van, he set off overland for home, planning to record Muslim and Hindu music on the way. The driver was a young architect he knew who wanted to go to Chandigarh to meet his hero Le Corbusier (Not surprisingly when they arrived the architect was in ecstasy while Deben was appalled by the Western suburban orderliness of the place and how un-Indian it is). The van was both a home on the road and furthermore the battery could power the reel-to-reel deck. The last disc of recordings in West Bengal are truly lovely.
Outstanding moments are the tar solo by Shapoore Delshadi, recorded in Tehran. Another Iranian, Eskandare Ebrahimi also rips out a stunning improvisation on his setar. Staying in the former British Consulate building in Meshed, Iran, Bhattacharya set up his equipment:
"I had no idea that we would be spending any time in Meshed. But I had got used to changing my plans according to the whims of the road. What else could I do since my mission was to seek for people who improvised music? It always happened that way. If I arrived with letters of introduction, plans, time tables and so on, nothing else would happen. No one would come, not even a braying donkey! Whereas, if I simply arrived, in would come processions of musicians with drums, cymbals, strings, flutes, songs and dances. And as I pushed my battered little microphone right inside their mouths, their songs and dances reverberated through my veins. They sang not only for me but also for the moment which became alive, charged with sound. They improvised and if you were sympathetic, a sharer of sorrow, they expected you to improvise too."
In his career, Deben released over 80 albums of folk music. This distillation gives a taste of the young man embarking on his remarkable journey.