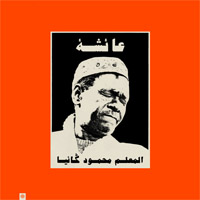 MAALEM MAHMOUD GANIA
AICHA (HiveMind)
It's only posthumously that Mahmoud Gania's work has gained wider appreciation. While available in Morocco on tapes from Tichkaphone and other labels, there have only been a few CDs released outside his homeland, and now here's a second LP of his music from Hive Mind. Gania's music may be very repetitive, but it grabs you by the vitals. His up-front bass-like 3-string Guimbri thuds and pumps while the percussion clacks relentlessly. The krakrebs sound like horses galloping across cobbled streets, but is this a well-known sound in Morocco? I guess it is. And galloping into your imagination, Hive Mind brings us another wonderfully dreamy set, perfect for late night contemplation. It is Gnawa ritual music, with call and response vocals, guaranteed to get the mystics gyrating and moaning along. The Gnawa were brought to Morocco as black slaves so are stateless and landless people who sing about "Sudan," meaning, not the modern country, but black sub-Saharan Africa from whence they were brought. They make a rhythmic and direct appeal to various saints and God, not to mention the prophet Muhammad, crying out for hope, redemption and spiritual grace. The lyrics are presented in the booklet, with translation, which is a plus, but quite often turn out to be simply "A bangara bangara / A bangara bangara / A bangara bangara / A bangara bangara," which may not even be comprehensible to initiates. Gania worked in many musical contexts: alongside jazz musicians who sought him out (even if they couldn't communicate with him verbally) or in weird hybrid world music mixes, such as the psychedelic cassette you can find on the "Moroccan tape stash" blog, but what he does best is this all-night trance music perfectly captured here.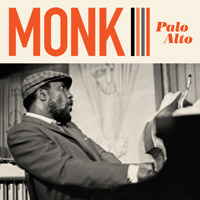 THELONIOUS MONK QUARTET
PALO ALTO (Impulse/Legacy)
It seems that about once every year or so a previously undiscovered album by one of the jazz greats, such as Monk or Coltrane, comes to light. I gave up being a Monk completist after the rediscovered soundtrack to Les Liaisons Dangereuses surfaced. It was so hyped in advance: an actual film soundtrack! wow, this might be up there with Elevator to the Gallows by Miles Davis, but then it was just Monk rehearsing a standard set, and a huge let-down. So I passed on the weirdly spelled Mønk, and held off on the Coltrane Blue World. But then the latter turned out to be fantastic, and now this newly discovered Monk Palo Alto high school gig from 1958 is also a formerly lost gem.
But don't expect anything startlingly new. It was a good night: Monk is in fine form. I can't believe this is the whole show -- it's been honed down to 47 minutes of essential Monk -- four tunes plus his outtro music "Epistrophy" and a coda. In his career, starting with Coleman Hawkins in the 40s, Monk accompanied the finest tenor saxophone players of the post-War era, John Coltrane and Sonny Rollins, both of whom grew in his band. But mostly he was accompanied by Charlie Rouse, who fits the bill perfectly. Rouse doesn't showboat, he understands the music, he plays relatively straightforward solos, reading the charts, and lets Monk do the far-out stuff.
In 1968 Monk's career was winding down. His label, Columbia were not happy that he kept re-recording his own tunes, wanted him to try the Beatles songbook to spice things up. "Eleanor Rigby"? Maybe, "Yellow submarine"? No way. Actually I have massive respect for Monk as a recording artist: he wrote about 60 tunes and while he did record them over and over, and they formed his key repertoire, they evolved. Also, he always threw in a Tin Pan Alley song, like "Sweetheart of all my dreams," "Lulu's back in town" or "Tea for two," to show how he related to other's phrasing. This is very instructive. Furthermore, can you really see him standing next to the piano like Lee Liberace and saying, Now, for a special treat, we take you back to one of my classics, "Round Midnight"! His first two Riverside albums were all covers: the brilliant set of Duke Ellington which announced Monk with a bang, and a follow-up The Unique Thelonious Monk, which showcased Gershwin, Fats Waller, Rodgers & Hart. It would have been great to have a whole album of Harry Warren, or James P. Johnson material, but I am not complaining.
In the snippets of Teo Macero you see in the various documentary footage of Monk, the producer comes across as a buffoon who is indulging his pet bear without really trusting him. Monk's last album for Columbia, Underground, contained new music and appeared in 1968. That album won a Grammy -- for the cover art, not the content, and the cover led to the foolish notion that Monk had fought in the French Resistance during World War II. Monk did not go on a promotional tour, as you would expect, instead he went into a long depression that kept him silent for the rest of his life, with the exception of a single date at Chappell studios in London in November 1971. In 1968 in fact he had a seizure and was misdiagnosed by doctors. He missed recording dates which meant he went into debt to the label, which was why he needed to play a long stand in a friendly spot like the Jazz Workshop. He lived another 14 years but even as his fame increased, so did his isolation. Columbia filled the void and the demand for his work by issuing live gigs, such as Live in Tokyo (from 1963) the It Club, and the Jazz Workshop (1964) sets.
But he was alive and well when a kid from Palo Alto contacted his manager to see if he would play a gig at the high school. As the quartet was making a trip out for a three-week stand at the Jazz Workshop in San Francisco, they thought it would work out fine. And then, as luck would have it, the old janitor was a music buff and had a recording setup (aside: my uncle worked at Ampex in Palo Alto, developing tape recording technology in the 60s). The janitor said he would tape the gig if the school got the piano tuned. Tickets were $2 but no one bought advance tickets figuring it had to be a hoax. Then on the night of the gig, the band arrived in the high school parking lot (driven down by a student, the bass sticking out the window) and there was a rush to get in and hear them. Everyone is having fun, Ben Riley and Larry Gales, the rhythm section, swing hard and this may be the last time we hear the "classic quartet" as they became known, in top gear driving form. It's the same band who freshly assembled were recorded live in LA at the It Club on Hallowe'en 1964, and the next night, and then again the following two nights in San Francisco at the Jazz Workshop in 1964, so you can compare the versions to those, if you want. Well, apart from the opener which is a lovely 7-minute take of the ballad "Ruby, my dear." One of Monk's first compositions, he wrote it for his first girlfriend when he was a teenager. There is a resounding "Well you needn't," followed by a solo "Don't blame me," which is so sharply recorded you can hear Monk's shoe on the floor adding his two-step invisible organ pedal percussion. This is a classic of his solo style: womping stride chords in the left hand and death-defying whole-tone runs in the right against a lop-sided rhythm. His sense of time was unique, imagine you are swaying from side to side and your arms are swinging unconsciously by your side, hanging loose. The audience is attentive and digging it, they applaud the bass solo by Larry Gales in "Blue Monk," then go nuts for Ben Riley's drum solo before the resolution. It's all over too quickly, and then applause flares up and down as there's a solo taste of "Sweetheart of all my dreams," which sounds like the piano is being wheeled off stage, and a final comment "We have to hurry back and get to work..."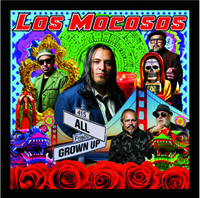 LOS MOCOSOS
ALL GROWN UP (OneRPM)
San Francisco Bay Area group Los Mocosos have reunited after a 15 year hiatus and created a great grooving Rock-en-Español album recapturing Low-Rider glory days. One of many Mission District garage bands formed in the wake of Santana, Malo and many others, they covered the evergreen "Volver volver" as well as Herb Alpert's "Lonely Bull," so there's a Latin beat to their sound but its more funk-rock than salsa, more Sly Stone than Tito Puente. Their first single off the new album "United we stand" exudes a great soul sound reminiscent of Curtis Mayfield. Their lyrics have moved toward rap rather than singing, but the sound is still classic with Farfisa organ, pumping horns, rock guitar and bongos. In the decades since they last played together, individual members joined Latin Soul Syndicate and the Hip Spanic Allstars, but mainly were writing music for TV shows like The Sopranos and Desperate Housewives. Also Mexican-American music evolved with the likes of Ozomatli and Café Tacuba finding new directions. The key players Happy Sanchez (bass), Victor Castro (trombone) and Shorty Ramos (sax) worked with different vocalists to find the right sound. They brought in Santana percussionist Karl Perazzo, and the overall production values are really tops. Twenty-two years ago they were the snot-nosed brats, now they are all grown up.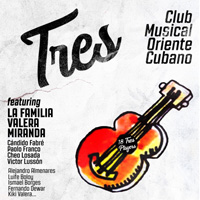 CLUB MUSICAL ORIENTE CUBANO
TRES (3 Sound Record)
This disc came out in Italy at the end of 2019. I was just listening to Familia Valera Miranda again, after their youngest, Kiki Valera, put out a smoking album last month, so it was nice to find an adjunct disc with a line up including Cándido Fabré, Victor Lussón, Cheo Losada, and Alejandro Almenares as well as Kiki and his family. Once again we slip into the warm neuron bath of classic Cuban son and some beloved grooves, starting with "Yo soy el Tiburon (I am the shark)." The totally crazy idea behind this compilation was to set up dates with the best eighteen (18!) tres players from Santiago in eastern Cuba and give each of them one number for their best shot. Duo los Compadres and Nico Saquito provide the repertoire for the next two cuts. It's wall-to-wall classics. Track 4 cracks me up: it's "Hang on Sloopy," sung by gravelly voiced Candido Fabré and featuring legendary Alejandro Almenares on tres. It's a ridiculous corny song in the classic 1-4-5 chord progression, but since Arsenio Rodriguez recorded it in 1966, it's become part of the Cuban tres repertoire. After more modern songs by Henry Fiol and Oscar Hernández we get a serving of "Arrolla Cubano," written by María Teresa Vera, performed by Alendi Reynoso and sung by Luife Boloy, both new to me. There's great muted trumpet on this by Raony Sánchez. I did not known the catchy kitschy "Via Cuba" and a little digging tells me it was a hit in Belgium for Los Chakachas in 1965. The next noteworthy tres solo is Aliandis Mora on "Mambo Guajiro" by René Touzet, sung here by Cándido Fabré. The only flat note is the producer, Paolo Franco, insisted on singing lead on five tracks. When you have vocalists of the calibre presented here, this was a grave error and real chutzpah: one of his friends should have persuaded him to resist. Sure he loves the music and picked up the bar tab, but he should have stuck to playing guiro and singing coro.