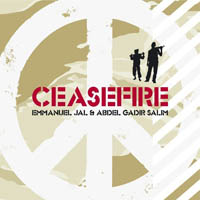 ABDEL GADIR SALIM & EMMANUEL JAL
CEASEFIRE (Riverboat Records TUG CD1038)
The old meets the new, and Northern & Southern Sudan are united, briefly, in this fine offering. Abdel G. Salim is one of the old-guard Sudanese oud players from even before the civil war. That war put an end to most of the music in the country and is still going on in the worst display of international ineptitude in the face of genocide since Rwanda. Salim suffered more than being silenced when he was stabbed by some shithead fundamentalist (a tautology: aren't they all?) who wanted to wipe out music in Khartoum. Emmanuel Jal is one of the child soldiers press-ganged into the Liberation army on the other side of the conflict and trained to kill by the age of 8. Children have no fear and make ideal soldiers, as the various fighting factions in the world have discovered. After a failed assault on Juba, thousands of these child soldiers set out to walk to the Upper Nile region they had started from but most perished on the way. Hunger, thirst, disease and animal attacks led to cannibalism & the decimation of their ranks till only a handful made it back. During a ceasefire, when he was 11, Jal met an international aid worker from UK who snuck him in her baggage to Kenya and saw that he was enrolled in school (Her story is soon to be a "major motion picture" starring Nicole Kidman -- I kid you not!). Jal has grown up a bit and turned rapper and his songs are about his experiences. He is now a spokesman for the campaign to stop the recruitment of child soldiers but it's rather a moot point.
The Merdoum All Stars, Salim's band, add their funky sax and guitar to the young rapper's songs while his posse, the Reborn Warriors, get to throw down during the Merdoum pieces. (Merdoum is a 6/8 beat from Western Sudan's desert.) The result is not chaos but a great mix around the central theme of "Peace." The opener (on the pre-release sampler I got to review) "Aiwa (Yes)" is a strong blend of rap over a thudding backbeat that reminded me a little of On-U Sound but overlain with atmospheric flute, xylophone and arabic bass rather than reggae bass. The first two tracks flow well together like a mini hip-hopera, but then we arrive at the familiar terrain of the Merdoum All Stars: accordion, hand-percussion and soothing vocals. Just when you get mellowed by the Merdoum kings, Jal drops his big one on you: track 6, "Gua," which has already appeared on the ROUGH GUIDE TO SUDAN, and went to Number One on the East African charts in September 2004. The word means "good" in Nuer and "power" in Arabic. The rapping here in English is less appealing as it sounds like Jal's been taking voice coaching lessons in Compton and consequently is patently phony: his Nuer and Kiswahili sound a lot more authentic. But the sound is mighty catchy. A great encounter and a ray of hope for Sudan.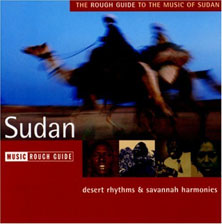 ROUGH GUIDE TO MUSIC OF SUDAN (RGNET 1152 CD)
You've probably heard my tales of my trip through the length of Sudan, south to north, in 1983. I think about it every day when I wash my face in cold water. I love cold water, though I took it for granted for the first 30 years of my life -- I even preferred warm water! But after being lost in the Nubian desert for a week I never took water for granted again. You've probably heard me rambling on about naked nomadic stone-age tribesmen, about being attacked by Toposa bandits (goatherds with AK47s), about drinking Juba dry after Sharia law was imposed & we found the last stash of beer at Unity Gardens, about buying pot in a leper colony, or being delirious with malaria on a barge gliding 1000 miles up the White Nile, and about finding ancient ruined temples half-swallowed by the shifting sands. I suppose I am in danger of becoming a boring old fart with this saga. One full moon night in the bush I heard people chanting by the river and, despite my terror of crocodiles, went down there with a cassette deck to record it, only to discover it was the frogs and insects making such a great sound. I heard sporadic snatches of folk music but, other than a week in Khartoum and Omdurman (where I went to dervish dances), wasn't in any town long enough to hear an organized concert. The civil war was just breaking out then so music was not on folks' minds. It was a conflict between the controlling Muslims in Khartoum and the black Animists in the south, but let there be no mistake, the discovery of oil in the Sudd was the big issue. Building a refinery in Juba and then trucking it to Kenya for sale was the obvious approach. This would revive Emin Pasha's cultural dream of Equatoria. But the Muslims in government weren't going to let that happen. They wanted to build a pipeline through the swamp for 1000 miles to Khartoum and refine it there and then another pipeline out to the Red Sea to add it to the wealth of their Arab brothers. Chevron and Texaco were all too glad to side with the corrupt repressive government when the rebels attacked. (Why is it you can count on the USA to be on the WRONG SIDE of ANY conflict?)
The sounds of Southern Sudan are still the tribal sounds you'd hear on Hugh Tracey recordings, but most of the music on this Rough Guide is the Egyptian-influenced orchestral stuff from the North, further reinforcing my belief that it's just a matter of time till the country (welded together by the French and taken over by the British) splits apart. The outstanding track on here, in fact the standout hit, is "Gua" by Emmanual Jal. He's the child soldier who recorded this on his school holidays in Nairobi. It went to Number One in East Africa and is damn catchy. Rough Guide is about to launch a solo album by him. It's a simplified rap rhythm with lyric chorus and feels East African rather than Arabic. The rest of the album fits right in with your Ethiopiques set and your Egyptian cassettes from the souk in Aswan. Setona, one of the few women singers on here, has a strong band and stands out with the ringers, Abdel Gadir Salim and Abdi Aziz el Mubarak, the two artists you're most likely to know. Joseph Modi is another standout with a rare track from a forthcoming release recorded in Canada. His gruff voice and balafon patterns are reminiscent of Chimurenga music from Zimbabwe. This is a well-balanced and entertaining CD, a solid addition to the canon.