Ever since my first concert -- Bo Diddley and Chuck Berry, back in the 1960s -- I have seen many bands perform live. The Stones, the Who, the Kinks, the Animals from England; in America I have seen great acts from Toots and the Maytals to Morris Day & the Time, from Zappa and Beefheart to James Brown and his Famous Flames. From Africa I have seen Sunny Adé, Fela Kuti, Empire Bakuba, Sam Mangwana, Quatre Etoiles, Papa Wemba; most of them more than once. But if you asked me who were the hottest live band I ever witnessed, I would instantly tell you the Makgona Tsohle band. But wait, you say, who are they? They toured behind Mahlathini and the Mahotella Queens and tore up the stage in concert. I saw their show at Slim's in San Francisco and drove down the coast to Santa Cruz to catch them the next night. They were in the parking lot of the club, having just done the sound check when I got there, so I went up to tell them I was a fan. You drove all this way? they asked, incredulously. I saw them on every tour after that, with Simon Mahlathini and also, after his death, backing the Mahotella Queens. Back in the day, with West Nkosi, they created South African sax jive. This is an instrumental album, along the line of Booker T & the MGs or Tommy McCook and the Skatalites and they do indeed cover R&B and ska sounds on here, as well as their own rough & ready Zulu jive, called Mbaqanga. Some enterprising soul dug into the Gallo archives to find uncollected tapes by the band in their early days so these dozen tracks constitute their first album, though they appear in several guises. The album appeared in 1970 and has been pressed again in a limited edition of 400 copies. West Nkosi plays sax, Marks Mankwane is lead guitar, Vivian Ngubane plays rhythm, Kid Moncho plays organ and the ultra-tight rhythm section is Joseph Makwela on bass and Lucky Monama on drums. They should be well-known as the hardest working band in show business, but maybe this album will get them some more credit for the tsunami of music they blasted forth from the townships 50 years ago.

IBRAHIM KHALIL SHIHAB QUINTET
SPRING (Matsuli Music MM118)

2020 was a bad year and now winter is upon us with its short days and long cold nights but we have Spring to look forward to! And like a Spring breeze fluttering the daffodils, here comes an airy waft of warming South African post-bop jazz. Matsuli have a good track record of reissuing lost gems of South African music but this one scores high on both counts: not only was it lost but it is a diamond. I suppose the cornerstone of South African jazz piano has to be Abdullah Ibrahim's work and this indeed recalls him in patches (especially on the title cut), but it also evokes the Americans Errol Garner and McCoy Tyner. Yes, this group reminds me more of the classic Trane quartet than Abdullah Ibrahim's outfit. Like Abdullah Ibrahim, this Ibrahim Shihab adopted Islam and changed his name from Chris Schilder. The tenor sax player, Winston "Mankunku" Ngozi, is indeed a Coltrane acolyte as is clear on his version of "You don't know what love is," which Trane recorded in 1962. He also admired Wayne Shorter, and Horace Silver and covered the latter on his solo album Yakhal' Inkomo, recorded contemporaneously with this. Here we are in 1968 when Shihab's quintet spent three months touring from their base in Cape Town. It was good they were road-sharp because they only had two hours in the studio to cut this disc, which means everything was done in one take. The album was pressed but an ignorant studio executive destroyed the master tapes, causing it to become a lost gem. Thanks to Matsuli it has been lovingly restored and can be appreciated by fans of classic jazz, no matter the country of origin. "Mankunku" shines radiantly, but the piano is wonderfully lyrical and the young rhythm section rock solid--all of them were in their early 20s. It's one album to put on repeat.

THE DOLLAR BRAND TRIO
PLAYS SPHERE JAZZ (Honey Pie Records LP008)

It's interesting to hear the earliest, oft-forgotten recordings of some artist, in order to get a sense of their progression. I had always thought Abdullah Ibrahim's earliest recording was the 1964 Duke Ellington presents the Dollar Brand Trio: the story being that someone dragged Duke to a little after hours club in Zurich and he was blown away by the genius kid at the keyboard. That early album on Reprise was dedicated to Ellington (who hooked him up with his label) and had echoes of Duke, but also included "Brilliant Corners" by Monk and a tribute to South African saxophonist Kippi Moeketsi. However this 1960 South African release was recorded before Brand went into exile. (He also made a quintet recording later in 1960, with Hugh Masakela.) Brand got the nickname "Dollar" because he was always buying American jazz records from GIs, though few people were really into American jazz in Cape Town in the 1950s. His grandmother had a piano and sometimes he would wake up the house in the middle of the night with a thunderous "Take the A Train." By the mid-60s Brand had moved to New York and was subbing for Ellington in the Duke Ellington Orchestra! Ironically it was after his move to America that he began to incorporate African themes and elements into his music. In 1977 Brand became a Muslim and changed his name to Abdullah Ibrahim. By the time of "The Pilgrim" (1977), "The Wedding" (1978) and "The Mountain" (1986), Ibrahim had developed a rolling left hand arpeggio, involving a root-fifth-tenth run (for which you need big hands) and he himself was being copied by other pianists (for example the Köln concert of Keith Jarrett, as I have said before). Here in his earliest recorded work as a pianist, Brand shows us what he learned from Monk as well as Ellington. There's also Blues, and churchical rolling crescendoes. The second side, particularly, has a great sequence of Monk's "Misterioso" followed by Tin Pan Alley evergreen "Just you, just me," (which Monk also covered, and remade as "Evidence") and ends with a swinging "Eclipse at Dawn," an original composition. The effect of this LP is it leaves you wanting more, or starting it over.

ROUGH GUIDE TO CAPE JAZZ (RG1399LP)

This was a real let-down. Rough Guides have been doing well lately (especially their remastered Blues compilations) and then this thuds flat with barely 36 minutes that nowhere begins to tell the story of South African Cape jazz. It evolved independently of the rest of the continent and ranks alongside Dutch jazz (Misha Mengelberg, Willem Breuker) or French jazz (Hot Club, Barney Wilen) as a parallel strain to American jazz. Father Huddleston, Philip Tabane, Spokes Mashiyane, Dollar Brand, where are they? Sure, the Manhattan Brothers and the Skylarks have been anthologized before, but there's definitely room to revisit them. Basil Coetzee, saxy sideman to Dollar Brand, and Cape Jazz Band are familiar but the others come across as easy listening on a dinner jazz channel. Turns out this is a Mountain Records sampler, drawn from one label, which is why it has a homogenized sound and doesn't really explore the dynamic range of Cape Town's jazz scene. There is a vaguely ersatz Cape feeling when accordion and funk bass enter "The Dance of our fathers" by the Cape Jazz Band and pianist Ebrahim Shihab does a reasonable impression of Abdullah Ibrahim on "Give a little love." "7th Avenue" by guitarist Jonathan Butler is familiar: maybe it's "Cast you fate to the wind" variations. I think I know the melody from an Abdullah Ibrahim record. It's mellowness is quickly replaced by the dated synthesizer lead on "The way it used to be" by Pacific Express. I know Jan Hammer was big in his day (June 2, 1972), but I am not rushing out to listen to him now. It's a fact that a lot of really exciting jazz was released in South Africa during the apartheid era and Matsuli music of London is doing the best job of bringing it back to our ears. Maybe Rough Guide would consider a Matsuli sampler to remedy this mis-step.

South African music is unlike the music from surrounding countries because it evolved differently. There are indigenous sounds but the main thrust is jazz, which came from the US and Europe (Hot Club de Paris) in the formative years of modern music, so there is no trace of Cuban son montuno, cha cha cha or James Brown. Of course there are exceptions, and Bulawayo jazz from what was Southern Rhodesia, the gateway to South Africa, featured prominent alto sax players, and there were dance bands all over colonial Africa but as singers were in danger of censorship, instrumental music had a strong foothold in the southern tip of Africa from the 1950s onward. In 1964 sax-player Dudu Pukwana, who had started out playing alongside Dollar Brand and Chris McGregor in little clubs, and his band the Blue Notes went to Antibes in Southern France to play the jazz festival (alongside acts like Ella Fitzgerald) and chose not to return home. After touring France and Switzerland in a van the renegades ended up in London and got gigs at Ronnie Scott's so decided to stay in the UK. They were undoubtedly lean times for the musicians but they managed to express joy in their grooves with Dudu riffing memorably over the Township Swing melodies. Five years later Dudu recorded his first album in London, which was released only in South Africa. The reason for this was British jazz fans were into the Acker Bilk sound which was known as "Trad" and based on Dixieland (reactionary New Orleans-style music that pretended BeBop never existed). The market for Township Jazz & Swing in the UK was non-existent. The feeling is relaxed but most of the songs fade at the three-minute mark when you know they could stretch out longer. (Included are three takes of the opening cut "Pezulu." Actually both discs lead off with this song and I think one of them could have been ditched, since there is also an alternate take on the second set, showing a different attack, but you know, completists.) Despite having broken up, the band is reunited for this session, with Teddy Osei on tenor, Mongezi Feza (probably) on second trumpet and McGregor on piano. Dudu and producer Joe Boyd flew to South Africa to sell the album to a label there, and Dudu picked up the latest hot-selling album which included several tracks by the incredible Makgona Tsohle Band supporting Mahlathini and the Mahotella Queens (under a variety of names). Back in London, Pukwana went into the studio for another session which vanished (until now) and included Richard Thompson of Fairport Convention on guitar (he was on the same label), trying hard to imitate the inimitable Marks Mankwane, one of the creators of the mbaqanga sound on that imported disc, "Good Luck Motella." Yes, good luck with that Dickie! The second set, firmly in the mbaqanga style also has vocalists, again trying their damnedest to imitate the M&Ms. Chris McGregor is probably the pianist though the identities of the other musicians remain a guess. However it is known that while in London Dudu often gigged with Ghanaian and Nigerian musicians which would explain the percussion on these sides. He also drank heavily so it was sometimes hard to get him into the studio in a fit state to perform. The reason the second disc languished was Joe Boyd had hopes of redoing some of the sax solos, but as they are presented here, it is a wonderful window into South African jazz of the 1960s.

In 1999 Busi Mhlongo's Zulu plaint topped the charts and proved women can do it as well as, if not better than, the men. "Yehlisan'umoya Ma-Afrika" kicks off this disc with that wiry incessant acoustic guitar calling us to the dance floor (familiar from the Earthworks comps we devoured 30 years ago), thrashing trap drums, bomping bass, and a murmur of discontented pennywhistlers (channeled via a Korg synth). The synthesizer also plays a marimba-like pattern and there's loads of echo on the voice: things not associated with Zulu choral music, though the odd vocal click and familiar women's chorus make sorties. Add flanger to the guitar and melodica to the backing and you are ready for track two, though now I can hear it clearly, I am beginning to feel the marimba is real and not a keyboard. Busi was a big star in South Africa, being the first woman from Durban to reach international fame with her modern take on traditional "Maskanda" beats (the roots sound of Zulu migrants), but sadly she passed away in 2010 aged 62. This is a very engaging album and if, like me, you missed it first time around you get another chance to catch up.

Christmas 1980, not so long ago for us geezers, but the Apartheid regime in South Africa was still in control and so fans flocked to the tiny landlocked Kingdom of Lesotho for a concert with the two biggest South African musical stars, who were living in exile, Miriam Makeba and Hugh Masekela. Their music had become pan-African (Makeba lived in Guinée while Masekela moved to New York where he enlisted some African-American funketeers to back him). 75,000 showed up for their own equivalent of Woodstock, a social event of great cultural significance. Get up, stand up, fight the power: the concert was so loud it could be heard in the white enclaves across the border! But for technical reasons they couldn't get a good enough feed to record it. So this album was recorded a few days later in a smaller auditorium and fewer than 600 copies were pressed for local distribution. The secret weapon is pianist and arranger Don Blackman (Earth, Wind & Fire, Parliament/Funkadelic, Roy Ayers). There's fine sax from Rene McLean and other sidemen came along from the bands of Sonny Rollins and Weather Report. Masekela of course sings (now and again) and plays trumpet. This was his regular band that played at a black artists' club in New York but none of them had ever visited Africa before. The repertoire is geared towards his hits, including "Stimela," but opens with a previously unheard (at full-length) version of O. J. Ekemode's "Ashiko." They cover two tunes by Caiphus Semenya, another expatriate, including the elegant "Part of a whole," with a great rapid-fire horn solo from the leader. It's very tight, and the bassist, Victor Bailey from Weather Report churns the funk. Bobby Broom, guitarist with Art Blakey, Miles, Dr John and others, steps up to take the lead on South African pianist Hotep Galeta's "Sister Fania" which takes up all of side three. We end with the full-length version of another hit, Makeba's "The Healing Song," with a sustained elegant groove from Blackman's piano while the horns punch in and out as the tune swells and recedes like the tides.

BHEKI MSELEKU
CELEBRATION (Matsuli MM112)

The recently rediscovered Coltrane recordings which came out as Both directions at once got me back into listening to that classic quartet with McCoy Tyner, Elvin Jones and Jimmy Garrison. This reissue of pianist Bheki Mseleku's album as band leader fits right into the set with that sparkling gem: Bheki is certainly comparable to Tyner on the ivories. He also does a fair Coltrane impression on sax. Alice Coltrane was so taken with him at the Newport Jazz festival that she gave him one of Trane's mouthpieces! Born in Durban in 1955, Mseleku grew up in harsh times. Uniquely, the South Africans adopted American Jazz as a model while other African countries were pursuing funk and pop as well as their indigenous music. Partly this had to do with the Apartheid government which scrutinized every lyric for double entendre that could be construed as criticism. A quarter century earlier as most African countries achieved independence from their colonial overlords, new nationalist governments were expunging Latin and other influences from their music and encouraging bands to look inward. But even jazz with its black identity could be seen as a form of resistance. This album was recorded in 1992 which is so recent you have a hard time thinking of it as being still the bad old days for South Africans, but those old white boys have a way of hanging on till the end -- just look at the US congress and senate. Also surprising to me is that it was issued in England on World Circuit, but by then Bheki had established himself internationally as a talented pianist and recorded with not only Elvin Jones, but Pharoah Sanders, Joe Henderson and Charlie Haden. In the 1980s Mseleku lived in exile in Sweden so was able to pursue music, but was on hard times and suffering from mental disorders. A stint in London changed his fortunes and a residency at Ronnie Scott's led to his meeting Steve Turre and his band and drummer "Smitty" Smith who was playing with Dave Holland. After three nights at the Jazz Cafe with members of the Jazz Warriors (Steve Williamson on alto sax and Jean Toussaint on tenor) the ensemble cut these four sides, now reissued, for the first time, on vinyl. While it's hard to play "like" Coltrane, with his incredible technical mastery of the instrument, you can emulate what he did which was to try to lose himself in the music in order to achieve spiritual transcendence or bliss. Coltrane famously paid tribute to Sonny Rollins by saying one of his solos was "Like Sonny" and here we hear the band channeling the supreme tenor saxophonist, so you could say it's "Like Johnny."

I'M NOT HERE TO HUNT RABBITS (Thevitalrecord/Piranha PIR3165LP)

This is a vinyl release that overflowed (overflew?) the LP and so comes with an extra album available as a download. Many people were amazed by the guitar antics of one "Ronnie" which racked up over a million views on youtube and concomitant facebook shares. One sees this androgynous figure smiling and slapping on a guitar: not playing it in the traditional fretted manner but over the top of the neck, with wild gestures. There are of course many ways of playing a guitar as long as you achieve a melodious result (easier in opening tuning). Between the era of the 1950s, when Hugh Tracey roamed Southern Africa with recording equipment and today's instant feedback loop of youtube, there have been many other efforts to capture local guitar music from these parts. In the 1980s John Lwanda, a Malawian doctor, issued cassettes and CDs of wonderful guitar bands he had found on the Pamtondo label (His CDs of Jivacort Kathumba and Kasambwe Band are not on discogs, but i have a problem with discogs: whenever i go to enter a NEW artist they reply, Sorry, cannot post: this act is not in our database...). Following in Tracey's footsteps, Michael Baird gave us Zambia Roadside and other bush recordings in the 1990s, on Sharp Wood. Botswana is a pretty remote place, home to both the Kalahari desert and the Okovango Swamp, neither a real tourist destination (despite the potential draw of The Gods must be crazy!) In 1885 Britain annexed the region, probably thinking it was mineral rich. The local chief said, Bet you want the land! so the brits called it Bechuanaland. (In the interest of global harmony I'd better admit I just made that up, in case someone decides to enter it into Wikistupedia as fact. Sheesh.) There are 11 tracks on the LP and 8 more for download. Without the distractions of youtube you can hear what's going on. There's a solid right thumb bass line thwocking away in a four-chord round, loping chords quite like South African gumboot style, and hoarse vocals, again reminiscent of the neighboring Township music or Zulu Jive. The overall effect does take me back to the 80s when I was passionately into the music of Mahlathini, Mahotella Queens, Soul Brothers, Amaswazi Emvelo and other South African acts. I was such a groupie I followed the Makgona Tsohle Band around on their California tour. Here though it's mainly solo guitar and vocals, but with the rhythm carried on effectively. There's not a lot of variety on side one, despite there being many artists on here, however the lyrics are translated so you can tell what each song is about. Side one ends with a different instrument, a one-string segaba, bowed by Oteng Piet. He is self-taught liked most of the musicians on here and seems like one of the most literate people the producers encountered. He worked as a miner in South Africa and speaks a pidgin dialect as well as English. Now he is a schoolteacher, craftsman, builder, musician and a herder. Side two takes a different approach with more experimental guitar on "Tika molamu" and "Gladys" by Sibongile (who has five tracks included) but then there's an awful drum machine and organ song by Annafiki Ditau. After this the sections get stronger but oddly the best material, in my opinion, is in the "rejects" or bonus downloads, not included on the album. The booklet is not effective. I am not a fan of primitive (sloppy/bad) graphic design used to suggest folksiness in music or elsewhere. The color choices, magic marker titling, and collage art are pretty weak. All the photos are moiréed which is not cute, but irritating. This doesn't help promote this rather fine collection of traditional Southern African music.

HUGH MASEKELA
MASEKELA 66-76 (Wrasse354)

Hugh Masekela, who died last year, was in many ways the Colin Kaepernick of jazz. This may seem a backward way of putting it, but Kaepernick, for those who don't know, is an American quarterback who cant get a game because he decided to kneel rather than stand during the national anthem before football games. He led his team the 49ers to the Superbowl, he has won peace prizes for his quiet protest against police murder of innocent blacks, but no team will touch him. Masekela was a world-famous South African jazz trumpeter who spent half of his career in exile in the USA but no one seems to have his records. Now Wrasse has rectified the problem with a 3-disc retrospective drawn from his vast catalogue. Because of his exile he often teamed up with other African, rather than South African musicians, so there is a pan-Africanism to his records. After a stand at the Shrine in Lagos in 1973, Fela introduced Masekela to Hedzoleh Soundz in neighboring Ghana, and they became his backing band for a fertile period, producing the best tracks included here (the second half of disc two and first half of disc three). Another Ghanaian musician, drummer Guy Warren and Nigerian saxophonist O.J. Ekemode also appear on his sessions. Jazz was his first love and Masekela collaborated with the Crusaders and pianist Larry Willis. But like Manu Dibango, he was known for one hit, even after the big wave of African music hit Europe and the USA in the 80s. The period covered by this set includes his earliest North American recordings, when he was involved in the Civil Rights struggle, and also the recordings he made after moving to West Africa when he found the USA as oppressive as South Africa (where he had been arrested for breaking the pass laws). After "Grazing in the Grass" became a gold disc, labels clamored for more easy instrumentals but instead he expressed outrage at the Vietnam war and the white oppression of blacks in the US and narrowly avoided jail on a pot possession charge. The main drawback to the compilation is Masekela's singing, which is really bad. Yes he had something to say but he could have easily found someone to voice his lyrics instead of his awful declamations on songs like "What is wrong with groovin?" or "Mace and Grenades." When Larry Willis joins in vocalizing on the otherwise excellent "Salele mane" my reaction is, Don't encourage him. After "Grazing in the Grass" Masekela's biggest hit was "Stimela" which appears on CD for the first time. It was recorded at the end of a US tour with the Hedzoleh Soundz musicians, joined in the studio by Joe Sample on piano and Stix Hooper of the Crusaders. Their cover of "Night in Tunisia" is more a tribute to Miles Davis' electric band than to Diz, but shows you where they were at.

OKAY TEMIZ / JOHNNY DYANI
WITCHDOCTOR'S SON (Matsuli Music)

Matsuli step outside their normal Azanian comfort zone for this package, the latest installment in their growing collection of fine jazz reissues. This rare album came out in Turkey in 1976. It's expressive, experimental and above all engaging. The invisible catalyst is American avant garde trumpeter Don Cherry. Johnny Dyani had gone to London from his native South Africa in 1964, still in his teens, as bassist for jazz group The Blue Notes with Chris McGregor and Dudu Pukwana. After five years Dyani decided to try his luck in Copenhagen and ran into Don Cherry who was performing with a Turkish drummer, Okay Temiz. The three soon formed a trio and toured Europe and America from their base in Stockholm. They recorded with Abdullah Ibrahim on piano in 1970 and 71. From a teenaged student of hard bop, Dyani had absorbed Cherry's idea about global music, involving all styles and any influences, whether Chinese, Turkish or from elsewhere, including South African folksongs and rural music that Dyani could bring to the mix. He and percussionist Temiz had forged a bond that also led to their explorations with other South African, Turkish and Swedish musicians in a variety of configurations. The culmination of their search for a successful mix between jazz and folklore led to a trio with Mongezi Feza of the original Blue Notes, who was also well-versed in the marabi music of the shebeens back in South Africa. Sadly Feza was committed to a London hospital where, neglected, he contracted pneumonia and died. In 1976 the surviving duo had a residency in Istanbul and decided it was time to record their ideas: side one would be the Turkish side, and side two the South African side, with invited Swedish and Turkish musicians improvising live. On the traditional Turkish tunes, Saffet Gündeger features on violin and clarinet. Recorded in two days, this album fulfills the aims of two inspired performers and, though they are not present, the spirits of their brothers in music, whether Cherry (via his tune "Marimba [Mother of music]") or Abdullah Ibrahim (whose influence can be heard in Dyani's piano on here), are represented. It's a remarkable journey and a truly great rediscovery.

BLACK DISCO
NIGHT EXPRESS (Matsuli Music)

Matt Temple has a dream and that is to share his love of the classic albums of his youth in South Africa with the rest of the world. Through Matsuli Music he has published some incredible rare and near-forgotten treasures of Cape Town jazz and this latest is a real gem. Black Disco, despite their name, were a jazz group inspired by the Philly soul sounds of artists like Teddy Pendergrass and Timmy Thomas (not to mention the O'Jays ... OK, I won't mention the O'Jays). They are an instrumental group, primarily, with Yamaha organ to the fore. Because of censorship in those dark days of apartheid most groups didn't bother with vocalists and even then, song titles could get them in trouble. Black Disco had to abandon the original title of this 1976 album, "Black Discovery," and Sipho would joke, "Does this bass line feel colored enough?" Along with Abdullah Ibrahim, Chris MacGregor and others, Pops Mohamed was a key figure in the bridge between jive music and the American jazz popular in South Africa during the apartheid era. Even with my limited knowledge of South African music I can tell this is a stellar line-up: Basil "Mannenberg" Coetzee on tenor sax and flute and Sipho Gumede on bass. I don't know Peter Morake the drummer but he is solid, while the spotlight shines on Pops Mohamed on organ. This disc comes from the era of Soweto Soul and Bump Jive, as well as the progressive jazz espoused by Malombo, Batsumi (reissued on Matsuli) and Abdullah Ibrahim, but is much more akin to the sweet sounds of Marvin Gaye and a late-night laid-back groove. Side Two kicks off with a soulful cover of Edwin Hawkins' "Oh happy day," and circles around "Why can't we live together?" on the outstanding (beautiful, moving, etc) "Echo on the Delay." Considering the political upheavals going on outside Gallo studios, it's a very mellow album! There's also a joyous buoyant groove to "Supernatural love," and nary a slack track on the front or the back. Pressed in a small original release, and issued with little fanfare right before the Soweto uprising of 1976, this is a great find.

ROUGH GUIDE TO SOUTH AFRICAN JAZZ (Rough Guide RGNET1341)

Remember the World Cup back in 2010? South Africa, right? The noise, that noise -- vuvuzelas! It was so abominable, like angry locusts, it blotted everything out. And there's a track on this new comp by pianist Bokani Dyer with that title, fortunately not featuring the irritating horn but rather good sax players. But there's more to South African music than bullroarers: there's a big slice of jazz that seems to take its main reference from late 40s American music, pre Be-Bop, combining taut soprano sax with acoustic guitar and sweet melodies. We kick off with African Jazz Pioneers (now in their third generation) who give a good idea of this sound. But the South Africans also have their own riffs and rhythms, notably kwela (usually performed on a penny whistle), which is a lively bomping 4/4 shuffle, evidenced here by Kippie Moeketsi. He was known as "Bra Joe from Kilimanjaro" when he was a sideman with the towering figure Dollar Brand. Brand, like many others, went into exile. In Switzerland he was discovered by Duke Ellington who launched his international career. After converting to Islam Brand became Abdullah Ibrahim. His former collaborators often complain about him but he is a monster pianist (yes he has big hands too), and especially impressive as a solo performer. And you can hear his influence on the next generation, like the aforementioned Bokani Dyer. There's another style of music familiar to listeners which is slower and sounds like country music because it is heavy on the "one." Cape Town guitarist Errol Dyers' "Dindela" from 1999 gives us an example of this. This historic roots of South African jazz have been uncovered and promoted by Matt Temple at Matsuli Music in London and one of his rediscoveries, Batsumi, is revived again with "Emampondweni," one of the outstanding tracks on here. Another is in the appearance of musician-in-exile Ndikho Xaba with the single "KwaBulawayo" as performed by The African Echoes. Since the original Malombo is missing from this compilation, I am hoping Matt will be the one to put out a new compilation of Philip Tabane's Malombo, which in my limited view best exemplifies the experimental and fusion sides of South African jazz. Ibrahim, of course, is here with a live version of his "Soweto," a gentle "Cast your fate to the wind"-type groove that nevertheless has muscle and shows clearly why he ranks close to Ellington as a composer/performer/bandleader. Sax on here is uncredited but I think it's Carlos Ward. And Ibrahim's earlier sideman in the free jazz movement, the late Zim Ngqawana, gets us close to vuvuzelas with his harmonica, Melodica and assorted squeaky toys on "Ebhofolo (This Madness)" which, despite the chaos factor, has strong elements of Pharoah Sanders in the tenor horn.




THE SOUL JAZZMEN
INHLUPEKO (DISTRESS) (Matsuli Music MM107)

Africa is a huge place, so when waves of influence sweep across it from outside they only impact relatively small areas. Louis Armstrong took his trumpet to Ghana in 1956; in 1971 Wilson Pickett performed there as part of the Soul to Soul review. Three years later James Brown tore it up before the big Ali-Foreman fight in Kinshasa. But one country remained largely immune to Western pop influences and that was South Africa, which remained apart in many ways. It was white run long after the others attained independence, exported vast quantities of goods to the rest of the continent and came under increasing scrutiny from the global community as its evil slave-like mechanism became more apparent. To prevent clever double-entendres in popular songs from subverting the system, instrumental music was about the only thing tolerated by the state, so naturally jazz held a major place in the musical mix. And it is not unusual to hear it called "defiantly modern" given the social and political climate at the southern tip of the great continent. In the late 60s the great American tenor player John Coltrane had died, but Dexter Gordon, Johnny Hodges, Pharoah Sanders and other post-bop heroes were still in the ascendancy. This album fits right into a set of those greats. The musicians came together at Soweto's jazz workshop and the tunes were composed by pianist Tete Mbambisa, and tenor saxophonist Duku Makasi, backed by Big T Ntsele on bass and Mafulu Jama on drums. There are five originals and a cover of "Love for sale." There are no noticeably South African rhythms; it could easily be an American jazz outfit. There is only a hint in the title "Dollar the great" that this is from South Africa. The title, "Distress," is a humorous reflection on the state of things, not that the band were in pain, only the producers were harassing them about the cost of studio time. Fortunately they were well-rehearsed (despite the original liner notes' suggestion they were hungry and once they had been fed and given a glass of booze, poured their hearts out in the recording) and were pleased to lay it down with a live feeling and no overdubs or re-takes. Like Monk they felt the spontaneity was lost after the first shot, so they were happy with the result, but the record company dropped the ball and the album disappeared. Not even the musicians could find copies for sale, so it has long been truly a lost gem of South African jazz and only now in this lovely, heavy vinyl reissue from Matsuli, do we get to appreciate the fine grooves therein.

NDIKHO XABA AND THE NATIVES (Matsuli MM105CD)

I've been listening to a lot of Ellington and Abdullah Ibrahim lately. The Ellington because I saw a crazy and compelling French film called "Mood Indigo" that featured his music and even soundie clips from him. The Ibrahim because I was digitizing my 7 early LPs (when he was Dollar Brand) and bringing the Ellington touch to jazz piano in his native South Africa. When people say how much they love the Köln Concert of Keith Jarrett, I ask if they have heard "The Pilgrim" by Ibrahim. It encompasses all of Jarrett's ideas in one majestic piece, and is the source of that walking tenth in the bass Jarrett glommed on to. This brings me to another South African pianist, Ndikho Xaba. As his band is called The Natives I assumed it would be Zulu Jive, but it is actually jazz, in the mode of the Art Ensemble: slightly "out" but with a serious intent. Xaba moved to the US in 1969 and teamed up with African-American sidemen to create his band. Matsuli is a label you probably know from the Electric Jive blog, which keeps unearthing rare treasures from South Africa. Periodically they turn one of their finds into a vinyl or CD reissue, so this is the fifth of their discoveries. Recorded in 1971 while the leader was in political exile in the USA (The American release comes from Foothill Blvd in Oakland: the old stomping ground of the Black Panther Party!), it is a beautiful, complex and moving suite of music that was certainly progressive by the standards of 1971. It needs to be put alongside Coltrane's "Kulu se mama," though the line-up is quite different. Coltrane had Juno Lewis on hand-drums and conch shell but otherwise it was a standard jazz line-up (though I think Pharoah was probably shaking his jingle-bells by then); the Natives include bullhorn, seaweed horn (!) and other percussion. During their existence, the Natives performed at a "Free Angela Davis" rally at Malcolm X Unity House, 1553 Fulton St, San Francisco, and had a three-night stand in San Francisco, opening for Sun Ra. The first track, "Shwabada," is over 12 minutes and very impressionistic: an etherial call to the ancestors. It is not until the 4th track, "Nomusa," that you get a South African feeling in a bluesy groove with Plunky rocking out on soprano sax. Cool vibes bring this down to earth. The last track of the album, "Makhosi," fades out on a wild percussion jam. The CD has two bonus tracks, taken from a single released by Xaba as African Echoes. These show the impact of the Crusaders, or Tower of Power, as the band became part of the Bay Area groove. In 1972 Plunky formed the Oneness of Juju and moved back to New York. They reunited one last time to perform with Malombo in May 1974 at a gig at the East in Brooklyn. Definitely one for the jazz fans.




SPIRIT OF MALOMBO
MALOMBO JAZZ MAKERS, JABULA AND JAZZ AFRICA 1966-84 (strut)

Long-time fans of African Jazz will recognize the name Malombo and associate it with Philip Tabane. In the 80s Günter Gretz launched one of the great series of recordings: his aim was to find a characteristic album of each style of African music or, if one didn't exist, to create it as a compilation. He brought us Sam Mangwana jamming with members of OK Jazz, Etoile de Dakar, Balla et ses Balladins, Orchestre Baobab, Sweet Talks and many other essential recordings that delighted and informed us. Each of these became treasures that followers of his Popular African Music label prized above most others. For his 13th release he compiled Man Phily from 4 albums and a cassette recorded by Philip Tabane and his Malombo Jazzmen. American Jazz only took root in South Africa; the influences in other parts of the continent were Cuban music and later R&B and pop. And South Africa had rich indigenous traditions. Mbube originated in church choral music (with gospel and blues elements) as exemplified by Ladysmith Black Mambazo; Kwela (pennywhistle) music was played on the street with home-made instruments; a musical style that mixed traditional and modern forms (under apartheid) was Mbaqanga which had a huge international impact with the fabulous tours of Mahlathini and Mahotella Queens. Jazz, in its more stately way, issued forth in wonderful recordings by Dollar Brand (Abdullah Ibrahim). Tabane formed his first group in 1961 with himself singing and playing guitar, backed by Julian Bahula on the hollowed log drums that gave the group its name. Oupa Monareng replaced Bahula on malombo drums and then other percussion instruments, in addition to bass and flute, were added. In 1988 an eponymous album was reissued by Kijima Records in London. This new release on Strut follows the other thread of the story. The original Malombo drummer, Julian Bahula, left Tabane with flautist Abbey Cindi after one year and created the Malombo Jazz Makers. Though they won festivals and recorded albums they received only small change from Gallo records for their efforts. Both bands with the Malombo name brought Hilda Tloubatla of Mahotella Queens into the studio to sing on their records (featured here on "Hleziphi," which sounds like a Zulu ballad, and the uptempo "Jikeleza"). The political significance of jazz with African drums was not lost on the audience as, of course, overt anti-apartheid lyrics would mean imprisonment. The skin-covered drums were made from hollowed-out baobab roots and Bahula would hide ANC documents inside them when they toured! The heat was on though and eventually Bahula fled to London (touring with a white group) & stayed there until the end of apartheid. Fortunately other expatriates including saxophonist Dudu Pukwana and a big group of ANC activists were also there to help promote the band and the cause. It's a mostly mellow album, better when Cindi plays sax rather than flute, to my ears. Few of the songs rise to the abstract genius of Tabane's "Hi Congo," "Ki Kgale," or "Phamba Madiba," but the good news is Strut are planning a sequel featuring the other branch of Malombo.




VUSI MAHLASELA
SING TO THE PEOPLE (Ato Records)

I try to cover all bases here at Muzikifan, but run up against a wall when it comes to most South African music. Back in their day I loved Soul Brothers and, of course, Mahlathini and the Mahotella Queens. But this kind of folky ballady music makes me think of Graceland. At the time Graceland appeared in the 80s, I played it to death. I was glad some of the talented South African musicians were getting to go on a world tour, even if it was just supporting Paul Simon. And Simon is a great songwriter, up there with Randy Newman and Carole King as America's finest living etcetera. But the Graceland concept was a bit weird: Simon's urbane slick lyrics about "angels in the architecture" bore no relation to the music he was fronting. When he tried to come up with something relevant it was "diamonds on the soles of their shoes," which was really hideous considering the situation of workers in South Africa's mines. With the passage of time these lyrics seemed more and more anachronistic. This new album sounds like Graceland, through no fault of its own, but I can't appreciate it. It was recorded live in South Africa: the band is superb, I just can't get into the lyrics, despite Vusi's mellow baritone.




SOTHO SOUNDS
JUNK FUNK (Riverboat TUG DD1066)

Something tells me Hugh Tracey would have dug this. A group of Southern African shepherds who make music in the tiny landlocked kingdom of Lesotho. They sing acapella, or accompanied by home-made instruments -- weird one-string fiddles, guitars made from tin cans and bicycle brake cables, plastic tub drums, thunking washtub bass. It's recognizably South African, especially the vocal style and the melodies, and the instruments are suitably scratchy and creaky to counteract the sweetness of the singing. Riverboat continues to do a good job of unearthing great roots music from around the world. Maybe the Riverboat explorers could sail over and unearth some of the great music lost in my iTunes download folder. I am sure they won't be disappointed. Sotho Sounds' songs are about everyday things, though since the band played in England they have a piece called "Something to think about," which is a response to the perennial greeting, "How are you?" It's not funk so the name is a misnomer, instead it's poppy and fun. "Jo! Kelishapa" has wonderful bird calls & whistles on it, over an insistent one-string fiddle and gravelly vocals.




There's not a lot of South African music reviewed on this website: not that I don't like it or listen to it, but since I started the site in the post-Mbaqanga era there are no discussions of the great albums of Mahlathini & Mahotella Queens or the Soul Brothers that thrilled me in the last century when I was also into Zulu Jive and the older Township Jazz. A slight dilemma I faced when putting together my AFRICAN TOP 50 page in 2004 was to include things I really thought had longevity but also nothing that would be impossible to find (even though many of my selections are now out of print). I went round and round about Mama Cristina by Trio Aka from Angola and Malombo by Philip Tabane and Malombo, both excellent albums, but devilish hard to find (& only on vinyl) 7 years ago. In the end I dropped them for more accessible titles. Tabane is different from most South African jazz in that he uses traditional instruments, and, like Malombo, Batsumi could play ersatz Ellington or create something new. South African jazz musicians reference American jazz, and that makes them audience-friendly, whereas unknown groups who don't claim lineage to Monk, Parker or pre-Bebop styles are more adrift in the great unclassified bins of "World music." Matt Temple of Matsuli music is from South Africa and he is dedicated to the music of the Southern tip of the vast continent. Here he has rescued Batsumi's 1974 album from oblivion and restored it for our ears. It's a fine selection of music: mellow jazz, with soulful sax & flute solos, great classical-tinged piano, rooted in solid bass and traditional drumming. The two long tracks on here, "Lishonile" and "Itumeleng" are spacious suites with a lot of freeform interplay and inspired playing. The shorter tracks are more like tunes that were rehearsed and polished before laying them down, but present a really accomplished group that we need miss out on no longer. (The vinyl LP sold out in less than two months but is available as a FLAC download from Matsuli Music.)




PUTUMAYO PREVENTS SOUTH AFRICA

Some labels [name withheld] get pissed off when I give a proper critique to their recordings and they take me off their list. This is the price of being an honest reviewer. Others take it in stride. Readers tell me I cannot criticize egomaniacs and expect them not to take a huff and write me off. But you wouldn't be reading this if you thought I was just another promosexual* who says everything is groovy in order to get free product and regurgitate flarf about the latest wonder from the Sahara Sands, Cabo Verde, or wherever. We have standards here at Muzikifan. I have given Putumayo a lot of knocks over the years (mostly about their godawful cover art), and praised them when they have scored big-time. Jacob their main A&R man is a good soul. So I got this new Putumayo plays South Africa comp in time for the World Cup and I think it is really weak. It kicks off with the Soul Brothers, who really know how to kick it out, but instead of passing upfield and driving into the penalty box, it goes all limp-wristed and flowery, like Oscar Wilde in a coal mine. OK, you say, so it's mellow ... or jazzy ... but no, it's not, really. Niba van der Spuy's "Beautiful feet" is pathetic! Come on, guys. Where is the sax jive, the kwela, where's mbaqanga? We need Mahlathini -- not Pat Metheny! Where is Malombo? Check out "Phamba Madibe" by Philip Tabane. Look at that great series Earthworks did, The Indestructible Beat of Soweto: what a landmark! South African music has not changed that much since Gallo ruled the roost & Mahlathini & Mahotella Queens tore up the townships. Sure there was a revolution and the blacks took over the government, but you would not know this from the music, apart from the obvious invasion of crappy hip hop influences. South Africa always had more affinity to American jazz anyway. Think of Abdullah Ibrahim, or Hugh Masekela. But with the World Cup on our doorstep we need some excitement... like the Makgona Tshole band! or Zuleliphezulu, found on Soweto Street Music (on Audiotrax), or Jo'Burg City Stars' "Groovin jive." Too dated, you say? Then why do why have Miriam Makeba on here? She was dated then!@ The only time she was interesting was when she moved to Guinée. Who is this Phinda? Mahotella Lite? And you promise us kwela and jive but give us crummy reggae covers like Zoro. Then it ends all pious with Soweto Gospel Choir. Christians: yuk! Why didn't they boil the fershlugginer missionaries like in the movies? Do you think people want M.O.R. music from Africa? What is this ... the rainbow nation? I'd like to buy the world a Coke? How much is the tab for that? Does Coke have any nutritional benefit? Buy a Mahlathini album instead to celebrate the World Cup in South Africa.
[*Credit to Robert of Round World who coined the term "promosexual" to describe Tower Records' reviewer J. Poet back in the day....]




AMAMPONDO
AFRICAN CLASSICS (Sheer SLCD148)

This CD came out in 2008 and I just found it while cleaning up & moving my CDs. Established in Cape Town in 1978, the group plays folk music of Southern Africa. Originally focussing on their own Xhosa roots, the group expanded to included pan-African, Brazilian and Cuban rhythms in their sound. This compilation is drawn from their early 21st century work for the MELT label. Airto Moreira and Changuito drop in to jam on some of the tracks. They try out various traditional African instruments and even add in some modern ones like brass wind instruments and accordion. It's sort of what the Art Ensemble of Chicago was trying to be in their "out" moments. Too bad the two groups never got together. On the other hand it's great Amampondo got to jam with Changuito because there's a great African groove underlaying the master timbalero & it fits perfectly. Some of the xylophone tracks remind me a bit of Hukwe Zawose's outfit. The mouth bow reminds me of the Kalahari bushmen, there's vocals reminiscent of Xhosa & Zulu jive, so there's a lot of diversity and it's sequenced like a little safari into the savannah and back to the townships of Cape Town.




LESOTHO CALLING
LESIBA & SEKHANKULA MUSIC (Sharp Wood SWP 033)

When I first put this on I was taken aback -- I thought it was an Art Ensemble of Chicago album, then I remembered where those cats were coming from. This is real bush music, as in Burning Bush, Lick a Bush, Fermez la Bush, all of that. If you were in the bush in Lesotho and heard this instrument, the Lesiba, you might think it was a big insect getting ready to pounce. Lesotho is a kingdom in the highlands of South Africa. The intrepid Michael Baird went in the footsteps of Hugh Tracey to find out if anyone still played this instrument which is a woodwind with an unique organic sound, suggesting ancient culture. It is a metre long with a feather mouthpiece and a vibrating string, like a jew's harp, attached. The sound is buzzing, polyphonic, wonderful. The second instrument on here is the sekhankula which is a musical bow played by young boys who herd sheep. But it doesn't sound like any other African lyre: in fact it sometimes sounds like a brass instrument! The musicians compose topical songs about their lives. There's a squeezebox to round out the selection, but the lesiba is the striking sound on here. After editing and recreating the legacy of Hugh Tracey for us, Michael Beard has taken the logical step of continuing the legacy. HUGH TRACEY LIVES! This is a phenomenally good album. I imagine Steve Reich, Philip Glass and Kronos will be all over in a year or so, but before they spoil it and it turns trite and trendy on us, check out some pure African roots music.




GOLDEN AFRIQUE VOL 3
(Network 495115)

I recently purged my Southern African LP shelves and weeded out stuff I no longer care about. So that I wouldn't have seller's remorse I ended up listening to everything and burned a few CD compilations of favourites. I kept the Earthworks compilations, a few gems of Soweto Jive, Mahotella Queens & Soul Brothers. Now here is what the intrepid ears at Network consider worth preserving from that vast trove of musical riches. Gallo began recording in South Africa almost 80 years ago, so it's no surprise the album starts with the well known "Mbube" (aka "the Lion sleeps," aka "Wimoweh") recorded in 1939. I am pleased they remembered Donald Kachamba from Malawi & his pennywhistle group. Sipho Mabuse's "Jive Soweto," a catchy dance number from 1981, was an international hit. There was a brief time (after Paul Simon's GRACELAND) when South African pop started to make it as far as California and we were fortunate to see Sipho, West Nkosi, Ladysmith BM, and of course Mahlathini and Mahotella Queens in concert. I have already waxed lyrical about the Makgona Tshole Band but it's still amazing to hear them: so light and fleet-fingered. There's no Spokes Mashiyane or Dollar Brand, but they have been anthologized before. I suppose they had to include Miriam Makeba: it's the weakest track on here, just a bad R&B jam, but at least it ain't "Malaika." The Cannibals, up next, are the surprise entry, and turn in a pleasant mbaqanga groove, followed by another choice cut from the Soul Brothers. Letha Mbulu and Hugh Masakela are also gratuitous inclusions, like the programmers are running out of ideas. So we move to the second disc.

There's a whole new area to explore with the fresh folkloric sounds of Zimbabwean mbira music. Then the flanger and horn chorus and the big hollow Shed Studios sound signals the arrival of the Four Brothers and continuity as the finger-picking guitar style relates to the mbira patterns. It's a rather light touch on Zimbabwe, Mtukudzi rather than Mapfumo and the usual suspects, Devera Ngwena & Jairos Jiri Kwela Band, with their "Take Cover" (which has been anthologized before) standing out. Then we lurch to Zambia with Dolly Rathbane doing a New Orleans blues. The Network take on South Africa is excellent, spanning as it does the earlier styles which can be found on compilations such as TOWNSHIP JAZZ 'N' JIVE (Music Club50041) and the Earthworks INDESTRUCTIBLE BEAT OF SOWETO compilations which create a broad picture of the scene. But it's a little compressed: Tanzanian has to share a disc with Zambia and both deserve broader treatment. Tanzania has been well-served by previous compilers. For the record the best are VIVA ZIMBABWE! (Carthage CGLP4411, New York 1984), MAUNGIRA ZIMBABWE (Teal Records TEL2008 1985), ZIMBABWE FRONTLINE (Earthworks/Virgin 1988), AFRICAN SUNSET (CSA Records CSLP5000, London 1988), and two albums on Discafrique: TAKE COVER: ZIMBABWE HITS (AFRI LP01) & GOODBYE SANDRA (AFRI LP05 1988). In addition, of course, there's the incredible Hugh Tracey archives which have given us that great Bulawayo jazz recently unearthed, as well as the ZAMBUSH series on Sharp Wood. And, if you can find them, there's John Storm Roberts' compilations on Original Music: AFRICAN ACOUSTIC FROM THE COPPERBELT (OMA112) and on CD: THE TANZANIA SOUND (OMCD018) and AFRICAN ACOUSTIC: SOUNDS EASTERN AND SOUTHERN (OMCD001 1988, drawn from the Hugh Tracey archives). To dog the fled horse a little further, Zambia was well-served by Mondeca records (I still see those in the used bins) and compilations on WOMAD and Earthworks, but those are doubtless out of print now.

This set (particularly the first disc) is a well-sequenced, exemplary compendium, worthy to stand alongside its two Francophone predecessors. I am wondering what's next: East Africa in the form of Kenya and Tanzanian dancebands, or perhaps Taraab, or maybe a jump to Lusophone connections? There's thousands of miles of bush and bad road to go but certainly some great tunes to get us there.




I've been lamenting the dearth of good music from South Africa for some time and now I'm cheered by JAZZIN' & JIVIN' that shows what jazz musicians are up to down by the Cape of Good Hope. Pops Muhammad is here, doing an "Mbira Jive," along with some other artists who are new to me. Moses Talwa Molelekwa has a nice touch on the piano, hoving between Abdullah Ibrahim and Monty Alexander, with a solid drum and bass groove reeking of reggae on "Down Rockey Street." Zulu Jive meets funk on Barungwa's "Abongcono." The guitar reminds me of Philip Tabane at first but then it expands into a large sound with organ, electric guitar, and studio effects. Sipho Gumede is much sparer on "African Wedding" using just drums and voice. "Scamtho" by Vusi Khumalo kicks off like Average White Band and keeps rocking. In contrast, the mouth-organ and guitar intro to "Amagoduka (Migrant Workers)" by Zim Ngqawana is pure Zulu jive. There's even mouth percussion. One track show a different approach and that is Gathering Forces' "Space Time," featuring Darius Brubeck and Deepak Ram. The latter adds Indian flute. The arrangement is a little too Weather Report for my taste but it doesn't spoil the album. More Western jazz influence can be heard on Spector M. Ngwazi and N. Shezi's "Ngiyabonga Themba," which leans more to ECM than Ellington. The final cut, "Song for Doc," shows the blending of Zulu drums and vocals with Western jazz in a mellow melding.




VARIOUS ARTISTS
JIVE NATION (THE INDESTRUCTIBLE BEAT OF SOWETO VOLUME 5) (Earthworks STEW34CD 1995)

The hits literally keep coming on this fine compilation of pounding jive music from South Africa where pennywhistle street music meets rock and roll. Not content to replicate the winning formula of the earlier volumes in this series, compiler Trevor Herman has dug out some great obscure talent like the Tiyimeleni Young Sisters and Makhubela & Nkhohlwani Girls who add eerie vocal harmonies to the solid, wind-up-your-waist rhythms.

Of course there's the familiar bubbling dance groove of Mahotella Queens laid over the gutbucket stomp of Makgona Tsohle (the hardest working band in show business), the squirreling, squelchy organ of the Soul Brothers, and the sweet strains of Abafana Benkokhelo. By now Herman knows exactly when to hold his fire and when to throw the knock-out punch. Even if you have the other volumes and think you have this scene covered, you'll be surprised at the freshness of this set. Your neighbours will hate you for it.




KAMPI MOTO AND GEORGE PHIRI
ACHA MASIMANGO (Sheer Sound SSCD 060)

It's hard to find good new releases from South Africa unless you go to the source. From Sheer Sound comes more groundbreaking stuff that shows how alive the music scene is in South Africa. Among their latest crop, ACHA MASIMANGO by Kampi Moto and George Phiri grabbed me immediately. Neither musician is originally from South Africa: Moto was born in Congo and cut his teeth musically in Zambia where he had a hit in the seventies. Phiri was born in Malawi and has lived in Zimbabwe and South Africa where he continued to develop his guitar style. The pair have fused two of their traditional musics: Mashasha is a ballad tempo used to accompany slow-moving dances from Congo (helpful in relieving stress!) and Manganje is a popular Malawian dance used during festivities and ceremonies. The fusion results in a laid-back groove that has lots of rhythmically effective interplay in the background. There's sax and synth but the predominant sound is acoustic guitar and percussion and the whole presents a very mellow slice of the evolving music of South Africa.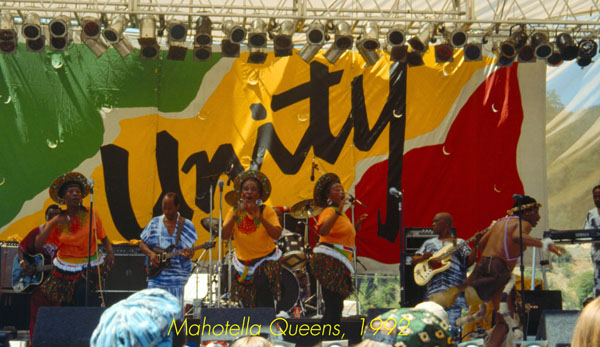 BEST OF MAHLATHINI & MAHOTELLA QUEENS (Earthworks/Stern's)

In South Africa, the gut-bucket, kicking sound of the Makgona Tsohle Band is still, after 25 years, the fiercest thing to come out of Africa, and one of the strongest traditions that resisted the Zairean influence. Though it enjoyed brief popularity with the spurt of enthusiasm from Paul Simon's patronage, this sound has not gone away and only gets better with age (unlike Simon). Far from a blip on the world beat dance floors, Mbaqanga is a tsunami of sound that won't quit and shows no mercy. BEST OF MAHLATHINI & MAHOTELLA QUEENS is a superb collection drawn from their last four albums, bottom-heavy bass and drums (by the aforementioned M.T. band) provide a real dance workout.

When I first saw them perform a few years ago I felt like a teenager at Shea stadium experiencing the Beatles for the first time: I was hysterical! If you already have their albums, or want more, try the INDESTRUCTIBLE BEAT OF SOWETO VOLUME 4, another gem in one of the most consistently great anthology series in popular African music, with Kwela, Zulu jive, pennywhistle and accordion tracks.




VARIOUS ARTISTS
BRINGING IT DOWN/SOUTH AFRICAN SAX JIVE (Trojan TWLP002)

Having bankrupted fans with his obsessive repackaging of the gems of ska and rocksteady, Trojan's Steve Barrow now turns his sharp eye to Soweto with four albums of township music of the 60s and 70s leased from Gallo, the pioneer South African recording company. One entitled simply TOWNSHIP is a sampler of the different styles, which showcases wicked fiddle playing and establishes the shuffling James-Brown style guitar as a basic thread in this music; the other two focus on Spokes Mashiyane's Kwela or pennywhistle music and accordion jive. I opted for the raw urgency of the sax jive album. Mbaqanga is stomping music that sticks to the soles of your feet; anyone who saw Mahlathini and the Mahotella Queens on tour in 1989 has blisters to corroborate that. Their band, the Makgona Tshole Band are the link to these historic recordings. It's odd that Gallo hasn't cashed in on the Zulu fever started by Paul Simon's first hearing a tape by Marks Mankwane, but when you realize they paid the musicians no royalties and only a couple of dollars per session you figure they don't understand where the South African gold is really buried. No musicians are listed or even perhaps known, only the producer is credited. Two of the terse titles in English are particularly telling: "Permit," and "Gig 74." Instrumental music is considered safe under apartheid because there is no likelihood of lyrics having hidden political meanings and creating problems for the record companies. Like other upbeat music recorded under oppressive regimes, there is a manic intent, a deadly seriousness behind the joyousness that lifts this music out of the ordinary.




SHEERSOUND PRESENTS THE AFRICAN CONNECTION PART II (Sheer Sound)

Jazz is alive and thriving in South Africa. From the Sheer Sound label comes a batch of new releases showcasing music that superficially sounds like its North American counterpart. Start with the sampler SHEERSOUND PRESENTS THE AFRICAN CONNECTION PART II and you might want to check out individual albums by some of the artists on here like pianist Paul Hanmer, guitarist Errol Dyers or singer Gloria Bosman, who collaborates on her first solo album with both Hanmer and saxophonist McCoy Mrubata.

After four mellow jazz tracks, Mrubata's "Phosa Ngasemva" is the first clearly South African piece, recalling the work of Chris McGregor or Dollar Brand (Abdullah Ibrahim)'s longtime collaborator Basil Coetzee. A big ensemble branches off to solos and I'm a sucker for a good trombone rant. It goes beyond Zulu Jive into pan-African jazz. The versatile Mrubata toured the US with Hugh Masakela in 1993 (that was a memorable tour) and backed Lucky Dube on his album TRINITY.

Errol Dyers is an acoustic guitarist from Cape Town. Though predominantly South African jazz, his music shows touches of gospel and Latin music. Paul Hanmer, who gets two cuts on the sampler, also has a solo album from Sheer Sounds called PLAYOLA. Again Abdullah Ibrahim is invoked in his piano playing, but you could do a lot worse (indeed Keith Jarrett built a whole career out of one memorable Dollar Brand riff). As a classically trained pianist, Hanmer writes out the music for his accompanists and uses a classical lineup including violins, viola, cello, marimba, cor anglais and clarinet.

As the sampler album progresses the more familiar South African drum patterns and parallel sax lines emerge. Bheki Khosa's "Ngoshanaphi" is a Soweto classic and the vocals give it away even before the band kicks in. But Gito Baloi throws you off with "Tiamo," a salsa jam in Portuguese that features steel pan as a lead instrument! Baloi is from Mozambique and has toured with Mzwake Mbuli, the great dissident poet, and also collaborated with Kenyans, Zaireans, Ivorians and even Frenchmen. This atypical track smokes.

My favorite cut is the acoustic track for percussion and xylophones, "Luvuoyo" with vocals by Heshu Beshu from their forthcoming album.




SUTHUKAZI AROSI
UBUNTU (Sheer Sound SSCD067)

A more familiar South African sound can be heard on Suthukazi Arosi's UBUNTU. She's backed by guitar, bass, accordion, sax and drums. There's zulu and jazz influences (Stimela and Abdullah Ibrahim come to mind as well as Malombo and Makgona Tshole band) and a touch of good old R&B, soul and funk. All in all this is a good blend of traditional and modern sounds.




ZIM NGQAWANA
ZIMPHONIC SUITES (Sheer Sound SSCD072)

I put on Zim Ngqawana's ZIMPHONIC SUITES while listening to some older jazz and it worked perfectly. Forget for a moment it's a new issue from Southern Africa, it has a lot in common with classic American jazz of the 70s. I hear Roland Kirk, Pharoah Sanders, even Leon Thomas in this. The obvious parallel is to the early work of Abdullah Ibrahim with Carlos Ward. Zim is a horn player (saxes and flutes) working with a piano, bass and drums. It's a consistent album and sets a mellow mood. Of all African musics, South African has been most closely parallel to gospel and jazz traditions of North America, ZIMPHONIC SUITES is well-sustained, ballad-like and beautiful.
CONCERT REVIEW
photos copyright © 2004 by Alastair Johnston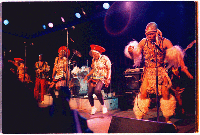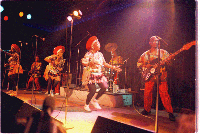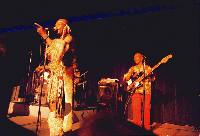 MAHLATHINI AND MAHOTELLA QUEENS IN CONCERT
at Slim's, San Francisco, 29 June 1989
It's called the Indestructible Beat of Soweto, a sound that won't quit. It's a mixture of Zulu Jive: repetitious sea-shanty accordion, elastic zooping bass lines, and crisp drumming, with vocal harmonies to rival the best acapella quartet singing.
In Europe, this conglomerate talent is compared to the Beatles and sells out stadiums, so the capacity crowd at Slim's was really fortunate to see them in an intimate club setting: the group responded well to the crowd and we were ecstatic. Slims's has rapidly become a prime force in the breaking down of musical barriers in presenting "roots" music to the Bay Area. I have recently caught superb performances by the Fairfield Four and the Five Blind Boys there. The so-far marginal area of African music is ripe for more exposure as the Bay Area catches on to Africa mainstream artists like Youssou Ndour and Salif Keita or more esoteric ones, like Philip Tabane and Malombo. The failure of the American audience, and particularly the black audience, to cotton on to much African music is usually attributed to the language barrier. But how often can one make out the lyrics in a rock concert anyway, unless one has sung along with the record often enough to memorize them, and, in that case, how much more difficult could it be to memorize a phrase in Zulu or Sotho? But even this last barrier is falling as Mahlathini and the Queens have incorporated English lyrics into many of the songs on their new joint album, PARIS-SOWETO, released late last year on the Celluloid label.
Mahotella Queens have been together for 25 years. They are a well-practiced machine. When I saw the reformed Shirelles last year I thought their voices had improved, but they had a crummy pick-up band and desperately needed new material to regain their old vigour. The Queens continue to record new material and are lucky to have a wealth of talented collaborators. Much of their material is written by saxophonist and arranger West Nkosi or guitarist Marks Mankwane. They also collaborate with Simon Mahlathini who adds his deep resonant voice to their soaring harmonies. Some of the harmonies do seem to be religiously-based, as in gospel choral singing, but the raucous beat batters all pretense at piety. And when the rumbustious grannies, Hilda, Mildred and Nobesuthu hit the stage, any attempt at pop analogy dissolves in sweat.
In addition to fine singing, the spectacle is something to behold. The singers leap about in an endless array of stage moves, goading each other to more exhausting moves. The aerobic gyrations of the audience were mild in comparison. Dressed in traditional Zulu beaded mini-skirts with more modern leopard-print leotards and large hats, and adorned with beads and jewelry, the three Queens bounded from one end of the stage to the other. Even during the more ballad-like songs, the complex of hand gestures and back and forth steps was rigorously worked out. Mahlathini, "the Lion of Soweto," in an appropriate leonine manner, let the ladies do most of the work, but constantly shook himself and leaped in the air so his arm and leg fringes of goat hair and skirt of pelts waved vigorously. During one number, where the ladies rushed back and forth, grabbing mikes and freezing in statuesque poses, they moved over so that Mildred had to grab Mahlathini's mike. Not missing a trick, the old lion shook himself fiercely and slid forward, James Brown-style, onto his knees and grabbed the sax player's mike which was only three feet off the stage.
During the 100 minute set, which included most of the PARIS-SOWETO album, as well as some of their South African hits, like "Thokozile," and songs going back to their 1975 album, ON EQHUDENI MOUNTAIN (rereleased on Earthworks in 1984), the Makgona Tsohle Band never let up for an instant. Spurred by the furious drumming of Lucky Monoma, and rooted by the stellar bass playing of Joseph Makwela, the guitar interplay of leader Marks Mankwane and Sipho Madondo (a fine singer in his own right who, due to the embarrassment of riches on stage, didn't get to sing), one got a clear insight into the engine that keeps the indestructible beat, or Mgoashiyo, moving. Arranger West Nkosi was able to stretch out on his own instrumental "Stokfel Jive no 2," reminiscent of the Boyoyo Boys' horn-driven beat. A keyboard player, who doubled on accordion, layed down some riffs but was largely lost in the mix. (Am I only the only person who thinks all local clubs mix the volume to the pain threshold?)
After a brief instrumental set, where the guitarists had fun mocking the complex dance steps, the singers returned, in new costumes, with renewed vigour, and, blowing whistles to punctuate the music, sang a tribute to the bass player, who seemed to be transported to a higher plateau, soloing all night long.
The audience yelled "Yebbo," which apparently is Zulu for "Bravo," and joined in on the chorus to "Kazet," without really understanding what they were singing. As the singers exhorted each other, the audience reached fever pitch and a night of live music passed into legend.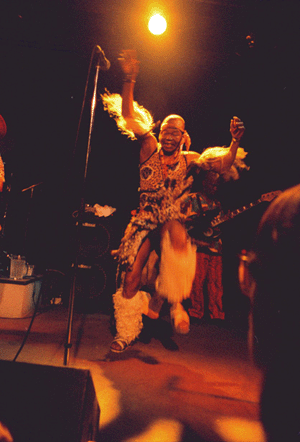 REMEMBERING MAHLATHINI
The Mahotella Queens are back. And Mbaqanga is back on the American pop charts!! How can that be? you ask. Well it's a little convoluted: Aaron Carter, the latest teenage heart-throb marketed with deadly intent through music videos, has a cover of "I Want Candy" sitting at No 4 on the Billboard chart. (As an ethno-whaddyamacologist it's my painful job to know these things, but I have to say it's no worse than the Bow Wow Wow version from 20 years ago, that was a cover of the Strangeloves' song.) Bow Wow Wow was spawned by Malcolm McLaren after hearing the Mahotella Queens. Not content with one mbaqanga rip-off group, he also created Adam and the Ants who used the same rhythm. If the Mahotella Queens ever heard Bow Wow Wow's "See Jungle" they certainly didn't comment, or call their lawyers -- it's a note-for-note rip-off of their "Umcolo Kawupheli" (heard on SOWETO NEVER SLEEPS). They were busily taking the world by storm themselves.
The new album from the Mahotella Queens SEBAI BAI (Indigo label, distributed by Harmonia Mundi) is a finely crafted production. The songs alternate between acapella and accompanied which creates a pleasant rhythm. Songs are sung in English and Swahili as well as Zulu and Xhosa. There's a reggae current and hints of mbube. It's solid with nothing too unexpected -- though their latest comeback is a little of a surprise. The three Queens that we've known and loved for 15 years were themselves replacing four or five Queens who comprised the group in the mid-sixties. In some ways their new recording is a swan song to their career because without Mahlathini, the Lion of Soweto, groaning in counterpoint to their sweet harmony, there is an empty space in their music. They have pumped up the mbaqanga sound once again, with a line-up of young musicians (including trumpet and accordion for variety) and there is a lot to be said for this album, but ultimately it is about the loss of the three men at the heart of their music: West Nkosi, producer, arranger and sax-player, guitarist and composer Marks Mankwane, and of course the great Mahlathini, all of whom died last year.
It must have been early 1986 when Mahlathini and the Mahotella Queens first played San Francisco. I knew they would be good, having seen videotapes of them performing in Europe, but I wasn't ready for how dynamic they sounded in concert. The band tore it up while the middle-aged singers bounded around the stage like teenagers. The choreography was zany and it was a riot to see these hefty South African ladies shaking their bums in grass skirts and the wiry Mahlathini pretending to be attacking invisible targets with a spear. They even wore campy leopard-print shirts. Although the club has a strict "No photography" policy, I had an instamatic camera in my pocket and fired off a dozen shots of high speed film without flash from the edge of the stage. The concert was the highlight of the year and I was so impressed I decided to drive down to Santa Cruz next day where they were to play at the Makumbé and catch them again. I got to the club in the afternoon and there were Marks Mankwane, the guitarist, and Joseph Makwela, the bass-player, sitting out front on a wall. Their bus was parked in the lot and they had just done a sound check. I offered to buy them a beer, which they declined but we hung out for a few minutes chatting in the parking lot while I got their impressions of America. I told them I had come down from San Francisco to see them again, which pleased them. That night they brought the house down, interacting more with the audience & making me think they had eclipsed the Famous Flames as the hardest-working band in show business.
A year later when they came on tour again, Fred Hill arranged to interview Simon Mahlathini and West Nkosi on the African Music Show. I was working as Fred's sub at the time and got to run the board and meet them. On the way from the Phoenix Motel Fred stopped at a liquor store and asked Simon if he would like something to drink.
-- Madooz, growled the groaner.
-- Pardon me? replied Fred.
-- Madooz... Madooz Rosé.
-- Oh, Mateus Rosé', said Fred, catching on.
-- And some Seven-Up. That was their drink of choice: rosé wine with Seven-Up, which Fred dubbed a Zulu Cooler.
Of course we questioned them about Paul Simon's GRACELAND as we both felt that Simon had capitalized on their music. But they were grateful. He exposed our music to the world, they said. Now everyone listens to South African music. I asked them to autograph my picture disc of their Art of Noise collaboration that shows them in their colourful Zulu garb.
-- You like this? they asked.
-- Well, it's not your best work, I ventured.
-- It's not great? asked Mahlathini, crestfallen.
But I think secretly they agreed. I showed Mahlathini the photos I had taken the year before at Slim's. He thought they were great and asked to keep them. I was surprised they meant so much to him. Now looking at the pictures for the first time in 14 years I see that you get a definite sense of the intensity of their show from all the movement and the tight choreography. There's the phenomenal bass-player, Joseph Makwela, holding it down like a rock, and guitarist Marks Mankwane quietly controlling everything. I even got a shot of West Nkosi playing sax.
We knew Mahlathini was in poor health. Still, on subsequent visits to the Warfield, Zellerbach, and Reggae on the River, he managed to do his Lion dance as the women made fun of him. It was quite incredible to see the high-kicks and leaps of this frail man with a weak chest. West stopped touring and his spot was taken by Teaspoon Ndelu, a virtuoso on the pennywhistle. The Makgona Tsohle band ("the band that knows everything") continued to demonstrate incredible strength and versatility with their simple power trio lineup.
But already in the early eighties the jive sounds of South Africa were being encroached on by Western pop. Brenda Fassie and others emerged as more popular with the hometown audience. The mbaqanga sound the Queens had pioneered in the 60s still sounded fresh to outside ears and this small group of talented singers and musicians did a lot to spread the word from South Africa beyond that still-racially divided country. After a few years whirling around the world the group had to rest up again. The Queens were grandmothers now, and Mahlathini was sick. Last year Nkosi, Mankwane and Mahlathini all died and it seemed like the end of an era. The new album is a poignant reminder. The last song which addresses the loss of the three is very touching and a fitting close.