A BRASS BAND COMPILATION
(Liner notes for a hypothetical CD)

| | |
| --- | --- |
| Back in the 1970s, Tower of Power asked the musical question, "What is hip?" but cautioned, "What is hip today might well become passé." I don't know if brass bands were ever truly hip, but their popularity seems to be cyclical and currently there's a lot of interest in brass bands in movies and CD releases. Accordions had a long road to respectability. It was really only through music of other countries filtering through to Western consciousness that Lisandro Meza from Colombia and Luis Gonzaga from Brazil became well-known accordionists. Le Zagazougou from Ivory Coast proved beyond a shadow of a doubt that accordions rock. | |


Always playing deejay, I assembled a range of my favourite brass and wind recordings from around the globe into a pleasant seventy minutes of music. I tried to stay away from vocals or bands that had anything besides percussion with the horns, but other than that there were not any criteria for inclusion other than I dug it. I start with an Efe pygmy prelude to a long funeral ritual, invoking Tore, the spirit of the Ituri rainforest in the northern Congo where the pygmies live (or lived when this was recorded by Didier Demolin in Autumn 1987). There are eight mai horns which are hollowed-out tree roots, making this truly roots music! They are backed by kuce drums and a piece of split bamboo hit with a stick.

Banda El Recodo de Cruz Lizarrága are a brass band from Mexico who have achieved international fame. They play popular tunes from all over Latin America, including Son and Bolero from Cuba, Cumbia, Salsa and of course Ranchera. I first heard their version of the Son-prégon perennial "El Manicero" at a Cinco de Mayo festival in Oakland where the sound system had a deejay with tons of reverb on his voice like on Mexican radio. I bought that album (EN VIVO DESDE PARIS, FRANCIA) and then another live album by them called HISTÓRICO that includes a wild "popurrí" of "Popotitos (aka Boney Maroni)", "La plaga (aka Good Golly Miss Molly)" and "La tierra de las mil danzas (Land of 1000 dances)"! So right away I have broken my stricture against vocals, but this track will start any party jumping.



In Africa brass instruments were largely introduced by missionaries who used them for church fanfares before they had bells or organs. This also accounts for Methodist hymns forming part of the repertoire. Fanfare de Tiassalé from Ivory Coast often performs through loudspeakers from a moving truck, like the trio electricos of Brazil. "Bonoudi 100%" was included in the anthology MASA MUSICS FROM AFRICA on Label Bleu from France.

More akin to American Jazzmen in their musical sensibilities are Gangbé Brass Band from Benin. "Ajaka," a song about social injustice, takes it down to the percussion and vocals but the brass returns in a jazzy contrapuntal break, with stop-time trumpets against a romping bassline played by James Vodounnon on euphonium. The four trumpets, sax and two trombones are well orchestrated and lay a lyric bed down for the muted trumpet of Aristide Agondanou, clearly a Miles Davis acolyte.



Brass instruments often travel with armies and end up in the hands of locals. Jaipur Kawa Brass Band comes from Rajasthan. India has been rich in brass bands since the days of the British Raj in the mid-eighteenth century and each state has its own style, including music adapted from folklore. The rajas of Rajasthan were frequently at war with one another so needed martial musical accompaniment for their campaigns; today their main rivalry takes place on the polo fields. The bands are an essential parts of weddings (because they can play louder than the traffic without electricity). Although all of the instruments come from the Occident, there is a unique way of playing that makes this undoubtedly Oriental. This group was hand-picked from the best Rajasthani bands by Hameed Khan, who is also musical director of the folk troupe Musafir, Gypsies of Rajasthan. "Moriya" asks, "Why do you call your beloved with sweet plaintive notes in the middle of the night, O peacock? It only awakens my pained heart."

Europe's strongest brass tradition is undoubtedly gypsy or Rom music.

In 1995 Emir Kostunica's film "Underground" featured a soundtrack of Balkan brass bands. The hottest track thereon came from the "fastest trumpet in Guca," which belongs to Boban Markovic (& is actually a flugelhorn). Guca is the annual festival of gypsy music, a sort of Serbian Woodstock that draws 300,000 annually to hear brass music, drink slivovicz and eat boiled cabbage. Boban's orkestar has won the golden trumpet (the battle of the brass bands) five years running. The festival can be heard 20 kms away! Devotees can get a hearty helping of Guca on a double CD set from the German label Network, called GOLDEN BRASS SUMMIT, drawn from 40 years of archival tapes. It opens with four selections from Boban Markovic's Orkestar.

Koçani Orkestar are a Romani family band from a Turkish-speaking part of Macedonia (in former Yugoslavia). Their sound has been described as a fusion of an Ottoman military band with western jazz. They began to tour after being featured in the film "Time of the Gypsies" and have achieved success under the direction of their stellar trumpeter Naat Veliov. There's a great roiling staccato beat underlying some of their tunes which are often in unusual metres: 7/8, 9/8 and 11/8. (Dave Brubeck's ground-breaking jazz album TIME OUT was the result of his trip to Turkey at the suggestion of his teacher Darius Milhaud, where he encountered gypsy brass bands playing in these time signatures.) "Agoniya," Koçani Orkestar's version of the popular Arabic tune "Ya Rayah," is drawn from their album GYPSY MAMBO.

Banda Once de Enero typify the sounds we associate with Latin-American holidays and street parties. They play the type of music that B. Traven (or maybe Ambrose Bierce) would have heard, but theirs is a uniquely Colombian style, where the bands are called Banda Papayera. I found them on the soundtrack to John Sayles' film "Men with Guns." To create a pan-Latin feeling, music from different regions on the Caribbean was included on the soundtrack. It worked brilliantly, thanks to the selection of LA deejay Tom Schnabel. "Fiesta en Corraleja" starts like a wild roundup and you can hear whinnying as the members yell encouragement to one another. Again there is a distinctive bassline keeping things loping along at a nice canter.



I grew up hearing brass band music: military bands and colliery bands were always playing "Land of Hope & Glory," "The New World Symphony," or other light classics somewhere in the background on the soundtrack of my childhood. Grimethorpe Colliery Band are best-known of the English coal-miners' bands. They played on a Hovis bread commercial that became the basis for a satire on how tough it was in the old days ("-- Bread? You had it easy? We lived on coal dust!"). Before they were the subject of the very entertaining 1996 film, "Brassed Off," they performed the soundtrack to the 1977 Disney movie "Escape from the Dark," another period piece set in Yorkshire. "Brassed Off" strikes close to home for the band because the colliery was actually closed in 1992 and the band faced dissolution. One of the highlights of the film is Tara Fitzgerald's arrival with her flugelhorn and the stunning and terse rendition of the second movement of "Orange Juice" -- more accurately the "Concierto de Aranjuez" by Rodrigo. The flugelhorn solo is played by Paul Hughes. The arrangement is a far cry from Gil Evans' take which can be heard on Miles Davis' SKETCHES OF SPAIN.



Banda Municipale de Santiago de Cuba are also a state-supported band, and a quarter century older than Grimethorpe's pride. Their first album appeared almost a century after they were formed -- quite a gestation period, but it was worth the wait: every piece on their debut album is a perfectly turned gem. From among the riches I chose "Chan Chan," a Francisco Repilado composition popularized by the late Compay Segundo. This arrangement for the 40-piece orchestra is light and humourous and conjurs up dancing pantomime horses.

Lester Bowie's Brass Fantasy was a great excuse for some superb jazz musicians to play around with a different repertoire. Taking time off from his relentlessly avant-garde Art Ensemble of Chicago, Bowie assembled his all-star brass band for a series of albums that covered jazz, funk and pop standards in a refreshingly original way. Hearing Bob Stewart work out on a reggae bass line on tuba is a joy. I once met Vincent Chancey at a party in New York and asked him what he did. I am a jazz French horn player, he replied. Gee, there's not much call for that unless you are in Lester Bowie's Brass Fantasy, I said, idiotically. Well, I am, he smiled. Although it's twice as long as any other cut on this compilation I wanted to include a strong representative from North America and it's hard to justify excluding The Dirty Dozen or other well-known New Orleans acts. Al Dubin and Harry Warren hit big with the musical scores for Busby Berkeley's "Gold Diggers of 1932" and "42nd Street" and wrote many delightful hits of the Tin Pan Alley era. Their "I Only Have Eyes for You" will never be the same after this brilliant take from Lester and his men.

Much is made of the connection between American jazz and African music, but then ethnowhaddyamacologists are always trying to make a point. Since Ali Farka Toure personally told me (in the mid-1980s) he'd never heard of John Lee Hooker, how can I doubt him? The current flows both ways. Listen to Chopin's "Mazurka opus 7, no 1," and tell me Frederic wasn't listening to New Orleans piano. And before you exclaim, That's the most absurd thing I ever heard, look at the dedication: "A Monsieur Johns à la Nouvelle-Orleans" -- an ancestor of Doctor John who toured Paris no doubt.

But it's unlikely that the Banda Linda horn players from Central African Republic ever heard of Steve Reich, though it's a sure bet he knows of them. The appropriately named Banda people's polyphony is central to their ancient traditional music: each musician has a horn of different pitch and has his own rhythm. The horns are tuned pentatonically with five notes in each group (highs, mid, lower, bass). The music slides in and out of loops. (Duke Ellington and Anton Webern also explored this type of looping polyphony in their work.) The higher notes are played on antelope horns with side mouthpieces, the lower notes are played on tree roots hollowed out by termites. It's trancelike and evolves organically. The piece included accompanies the initiation of young girls, played by Ongo Trogodé or horns from the village of Trogodé.

In Satyajit Ray's debut film masterpiece "Pather Panchali," there is a village festival which features a rag-tag brass band who play snatches of old British marching songs completely off key. Their version of "It's a Long Way to Tipperary" is truly remote from its origin, but it's a charming reminder of the decayed colonialism which had recently been lifted from Bengal. New Bharat Brass-Band of Bangalore are a typical wedding ensemble who play popular filmi tunes in fanciful costumes. The barât is the bridal procession which is noisily accompanied by such a band. Well-to-do families of course want an ostentatious performance. The band precedes the bridegroom along the road to his in-laws, playing usually for two hours, enduring traffic, loudspeakers from shops, drunk guests and fireworks. This band is remarkable in that its members comes from different castes: Hindus, Christians and Muslims. While they don't read music they are good at improvising and following the rhythm. The euphoniums play the bass line while the clarinet solos. "Chumma Chumma" comes from the Hindi film "Hum," and was recorded on their tour of Europe.



Not entirely anomalous, the Bollywood Brass Band are a group of largely British musicians who started playing in parades and carnivals, were called on to play Indian weddings in London, and soon found themselves enthralled by the repertory of Hindi film hits. Bollywood Brass Band's take on "Urvashi urvashi (Take it easy Urvashi)" from the film "Humse hai Maqabala" starts with a sound like ravening crows and soon explodes as a Brazilian axé drum corps comes crashing in. (This not-so-weird-as-it-sounds juxtaposition is a result of Bollywood Brass's playing in carnival parades between other bands and realising that they fit right in, or more likely that you couldn't escape the axé rhythm!) The arrangement by trumpeter Will Emblis features a soaring soprano sax by Sahra Moore, the group's gifted leader, who carries the part normally given over to the eerily high women's voices on Indian film soundtracks. The music is written by the prolific yet imemensely creative A.R. Rahman, who, with occasional lapses, has provided some of the most memorable songs on recent Hindi films.
"Orquestras de frevo" are brass bands that generate fervour. Surdu or large drum and tambourine are added to the traditional brass line-up. During carnival at the begining of Lent in Brazil, small brass bands parade through the towns with a huge following of revelers as they repeat their theme songs endlessly and the spectators do the frevo dance: a hopping acrobatic move like you're standing on hot coals. Vassourinhas de Olinda come from Pernambuco in Northeast Brazil. We hear their theme "Vassourinhas," which I've also heard played by small bands in Salvador da Bahia. Such melodies travel around and remain perennial favorites for decades.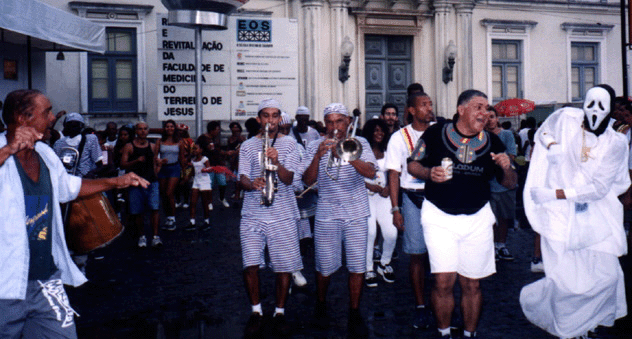 In 1993, PAN Records in the Netherlands put out two CD anthologies of brass band music from around the world. Volume 1 dealt with Asia; volume 2 with Africa & Latin America. From the latter I selected an unusual cut from Surinam: the Baas Mal Orchestra performing "Granmama Aisa," a song dedicated to Mother Earth. What struck me at once is the structural parallel to "El Manicero (The Peanut Vendor)," the Cuban musical chestnut that I find popping up in quotes in the oddest places.
Stray and incongruous quotes are one of the hallmarks of jazz improvisation, from the obscure to the ludicrous, you'll find horn players as diverse as Tommy McCook of the Skatalites and Latin trombonist Papo Vasquez throwing in "A-tisket a-tasket" one minute and "Perfidia" the next. The second-line New Orleans bands are great at playing a continuous medley, sliding from tune to tune in a game of follow-the-leader as a soloist takes up a new theme. Detouring from the bayou I opted instead for Les Misérables Brass Band performing a traditional Mayan piece! They started as a klezmer band and got together to try their hand at brass arrangements of Hendrix, The Beatles, and assorted world music. They joined David Byrne for his "Knee Plays" score and also had Lester Bowie as a guest before he started Brass Fantasy. Part of the popularity of brass band music today must be due to them.
As I think laterally, I plumped for the spry "Hora Lautareasca" by Fanfare Ciocarlia, with guest Costel Vasilescu on muted trumpet, for a gypsy reprise. These gypsies come from the Carpathian mountains on the Romanian border. Their album IAG BARI has several guest artists and a great array of gypsy musical styles, and even the latin tinge of "Moliendo Cafe" done as a fandango. "Besh o drom (Keep walking)" will strike you as familiar at once, because it was the basis for one of Nino Rota's memorable themes in the movies of Fellini.
My passion for brass band music was stirred by an Italian release in 1996 called, yet again, BANDA. This banda were Italian students at the Conservatory of Music in Bari who had the great film-composer Nino Rota as their teacher. Traditional Italian opera arias were best known in the era before phonographs by brass ensembles who would go through the country as strolling buskers, or be located in small municipalities. But other than Easter Week processions, the traditional Italian banda had died out. La Banda Cittá Ruvo di Puglia are a recreation of this type of ensemble and their album is a lovingly rendered collection of Bizet, Puccini and Verdi hits. A second live disc in the album shows them with their hair down, accompanying visiting firemen like Willem Breuker, as they play longer contemporary compositions. I felt Puccini's "Nessum Dorma" was the perfect way to end this little trip around the horn of brass.
Thanks to Joey de Vivre, DJ IJ, David Meltzer, & Duncan McNaughton for input.
ROUND THE HORN PLAYLIST
1.

Efe Pygmies
excerpt from music for the Tore ritual


1987 (Fonti Musicale Traditions du Monde fmd 185)





2.

Banda El Recodo de Don Cruz Lizárraga
Popurrí


from HISTÓRICO: BANDA EL RECODO EN VIVO (FDCD-80726 1997)





3.

Fanfare de Tiassalé
Bonoudi 100%


from LES SACCADES Ambiance Bonoudi (Showbiz Abidjan MC 6/97)





4.

Gangbé Brass Band
Ajaka


from TOGBÉ (Contrejour CJ009 2001)





5.

Jaipur Kawa Brass Band
Moriya


from FANFARE DU RAJASTHAN (Kardum KAR 077 1997)





6.

Koçani Orkestar
Agoniya


from GYPSY MAMBO (Yeni Dunia Muzik 3051632 1999)





7.

Banda Once de Enero
Fiesta en Corraleja


(Sonolux 1997; from MEN WITH GUNS soundtrack)





8.

Grimethorpe Colliery Band
En Aranjuez con tu amor


from BRASSED OFF (RCA Victor 09026 68757 2 1996)





9.

Banda Municipale de Santiago de Cuba
Chan Chan


from FANFARE CUBAINE (Musique du Monde 927242 1998)





10.

Lester Bowie's Brass Fantasy
I Only have Eyes for You


from I ONLY HAVE EYES FOR YOU (ECM 1296 ECM Records, Germany, 1985)





11.

Ongo Trogodé
Dangayé


from CENTRAL AFRICA: BANDA LINDA HORNS (Musique du Monde 92712-2)





12.

New Bharat Brass-Band
Chumma Chumma


from INDE: FANFARE DE MARIAGE (Musique du Monde 92590-2 1992)





13.

Bollywood Brass Band
Urvashi Urvashi


from RAHMANIA! (BOL CD2002)





14.

Vassourinhas de Olinda
Vassourinhas


from ORQUESTRA DE FREVO (PAN 175CD 1999)





15.

Baas Mal Orchestra


Granmama Aisa
from FROZEN BRASS #2 AFRICA & LATIN AMERICA (PAN2026 CD 1992)





16.

Les Misérables Brass Band
El Dios Nunca Muerte


from MANIC TRADITIONS (Northeast Records, NR 5004CD 1990)





17.

Fanfare Ciocarlia
Hora Lautareasca


from IAG BARI (Piranha PIR-1577 2001)





18.

La Banda Cittá Ruvo di Puglia
Nessun Dorma


from TRADITIONAL ITALIAN BANDA/BANDA & JAZZ (ENJA ENJ93622 1996)

Linked at left are more brass band reviews, but see also the reviews of Bollywood Brass Band under Filmistan; Gangbé Brass Band under Benin, and the load of Gypsy brass bands reviewed in the Gypsy Brass section.