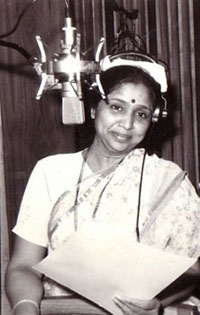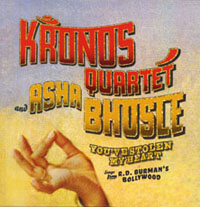 ASHA BHOSLE WITH KRONOS QUARTET (plus two)
Yerba Buena Center for the Arts San Francisco, 22 September 05
I've never been a fan of Kronos Quartet. They seem to be a rudderless ship grasping onto whatever world music trend is in the air & trying to cash in. But they finally reached out to Bollywood, added instruments beyond four fiddles, and most importantly, hired the world's greatest lead singer! The audience, many of them South Asians in their finery, arrived promptly to discover that the first half of the program was a new piece by Terry Riley for quartet, squeaky toys and tape loops, so we dozed fitfully through an interminable suite with special effects that alternated between vapidity (quotes from the "Sugar plum fairy" and "Siberian sleigh ride") and profound dysharmonic sawing. After a brief intermission it was time for the main attraction. The tiny resplendent Asha walked out to the appreciate crowd of about 1000. Asha was dressed in sparkling white: a sari with spangles woven into it, white beads at her wrist, white pearls tying back her black hair and only a large coral pendant to set it all off.
She said, "I've been performing for 63 years and for the first time I am really nervous." You could see why: she usually sings with a slick 150-piece orchestra and here were four Americans, a Chinese woman, and a tabla player attempting to do "R.D. Burman's most difficult songs," (as she said). But after she relaxed and the group warmed up, it was bliss. There were a few logical problems with sound effects so they did resort to a rhythm track on one or two numbers, but Wu Man on the pipa (a 4-string Chinese lute), who was outstanding, doubled for various plangent strings and even a psychedelic sitar. Hank Dutt, the viola player, also doubled on keyboard, mostly a Farfisa whirr in the background. Asha blew her nose as she explained how sad some of the songs were and then complained of the cold SF weather! She had a great degree of comic timing for one so nervous. She also joked with the audience in Hindi, then explained that she would only talk English -- although she didn't really know how! Gradually she warmed to the crowd, and the sextet. They got over their nerves and tackled a complex array of Bollywood favourites from Asha's repertoire of 15,000 songs. They even performed the hauntingly lovely "Mera Kuchh Samaan" with its high floritura -- the story of her life, as she said in introducing it.
She left while the ensemble worked out on "Mehbooba Mehbooba," the wild gypsy number from SHOLAY (the Indian version of a spaghetti Western), with Wu Man jamming on the pipa. This was followed by another song originally sung in Bengali by her late husband, R.D. Burman, "Nodir pare utthchhe dhnoa" -- a song about a person seeing smoke across the river and realizing it is their lover being cremated. Lead violinist David Harrington introduced it by saying he imagined it could only be a cello solo and this was a great way to introduce the newest member of the quartet, Jeffrey Zeigler, who was making his debut tonight (in addition it was the premiere of their four-stop tour with Asha -- UC Los Angeles, Carnegie Hall, New York, and Barbican, London, are the other venues). The ambient sounds (elephants, lightning, birds) were again on a tape. It might have been better to skip the attempt to slavishly recreate the originals and work with what they had, and allow a wider latitude for improvisation. On the originals Asha sings to a polished orchestral track so wasn't quite ready for the ad hoc-ness of some of it. There was a jerky start to "Chura Liya" (with which they opened): I was afraid their lack of rhythmic fluidity would ruin it, but they got into it by the second number, thanks to the metrical foundation of tabla player Debopriyo Sarkar (Zakir Hussain's understudy, who was sadly undermiked).
The sound was miked for "classical" so you couldn't hear the bass distinctly (the cellist plucked his strings: he should have used a double bass) and the bottom end was weak for most of it, but finally Asha started belting it out like a rocker, her stamping foot causing tidal ripples to billow up her gown. The years melted as she piled it on like a teenager for the 1971 "Hippies-come-to-Katmandu" classic "Dum Maro Dum (Have another toke)," and Hu Man sang the "Hare Krishna Hare Ram" chorus (or seemed to -- it may have been on tape, because she also pretended to lipsynch the deep male voice singing "Monica, oh my darling!" on the encore). "Koi aaya aane bhi de" was the most complex piece and one which she had never sung publicly before, she said, because of the difficult arrangement. (The chorus is a nursery rhyme sing-song which contrasts with the varied attacks of the instrumentation.) Wu Man was the most spirited player though each of the Kronos got to solo at least once (all of them reading from sheet music). Sarkar also doubled on congas for "Mehbooba" which was in a sense his solo, though John Sherba got to play the "out" violin part.
For Asha, you could see it was also a real challenge, having to adapt to this small combo of quirky talented foreigners, but she put all her youthful zest into "Piya tu ab to aaja (Love come to me now)", the encore, with its excited panting contrasting with her girlish innocence. It's said that Asha got her start in playback singing when the producers needed a natural laugh and the singer they had hired couldn't deliver. Asha, hanging around the studio, was able to laugh properly on cue and got the gig. Appropriately she ended the show with a girlish laugh. Was it nervous relief?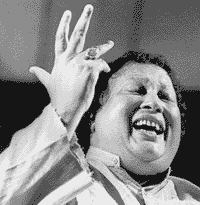 NUSRAT FATEH ALI KHAN & PARTY
IN CONCERT at the Scottish Rite Temple, Oakland, 6 June 1992
Nusrat's first North American tour came about after his successfully appearance at WOMAD in England and the release of his MUSST MUSST album from Peter Gabriel's RealWorld label, featuring a deadly remix of the title cut by Massive Attack, in 1990. The tickets were pricey: starting at $35, they went up to an astronomical $200 for sponsor circle seats. I was trying to figure out how to come up with the funds to buy a ticket when I got a call from Cheb I Sabbah, the deejay and promoter. How would you like to be an usher for the Nusrat show? he asked. You'll get in free that way. -- You bet, I replied. All I had to do was wear a white shirt, black tie, black pants and black shoes. I got to the event early with some of my fellow ushers (deejays and music buddies). We took tickets and showed people to their seats: simple. There was a hush as the lights went down. We all lined up expectantly at the back of the room. Cheb I Sabbah appeared and pushed us toward the front, Quick, he said, take those front row seats! No one had bought the $200 tickets and he didn't want it to look like a failure on his part, so suddenly we were promoted from "ushers" to "sponsors". (Needless to add we were the only non-Asians present.) From the moment Nusrat appeared the place went nuts. I didn't know that simple music -- harmonium and voice with handclaps -- could generate such fervour. Everyone was dressed in their finery right down to shoes that curl up at the toe, like some kind of Arabian Nights fantasy. A succession of large men in blue gowns danced onto the stage to shower handfuls of dollar bills over the heads of the band. It was intoxicating. They did "Allah Hoo" and all my favourites. We sang along to "Musst Musst" hearing the dub in our heads, blessed to be present.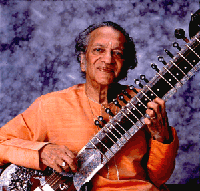 RAVI SHANKAR
IN CONCERT Zellerbach Auditorium, UC Berkeley 19 September 2003
Forget Manu Chao, forget Salif Keita. At 83, the single most recognizable world music artist is a modest soft-spoken genius with a twinkle in his eye and magic in his fingers. His life has been spent in music. In 1930 at the age of ten he went on a world tour with his brother's dance troupe. There is a Pathé Marconi newsreel that shows what was then truly exotic music and dance hitting Paris. The young Ravi with a shock of black hair is about half the size of his sitar. They lived near Segovia and the virtuoso guitarist dandled the youngster on his lap. The troupe next took America by storm and in Hollywood some famous actress (Mabel Normand?) wanted to adopt him. After being exposed to so much at such an early age, young Shankar became an ascetic and withdrew into serious study with his guru, multi-instrumentalist Ustad Allaudin Khan. After years of isolated study he re-emerged and established the National Chamber Orchestra as musical director of All India Radio. He was already in his forties when the Beatles discovered him in the mid-sixties and soon after he embarked on his career as India's ambassador of the sitar, appearing at Monterey Pop and Woodstock. He wrote scores for the Apu trilogy of Satyajit Ray and the Oscar-winning epic GHANDI. He has recorded more than sixty albums, been knighted by the Queen of England, and served six years in India's upper chamber of Parliament. With advancing age he tours less frequently, but continues to teach.
In the last five years his now-22-year-old daughter Anoushka Shankar has emerged as his brightest pupil. She has won many awards and now tours with her father, opening the show and dueting with him. This show at Zellerbach Auditorium was different. While it was a homecoming for Anoushka, who grew up in California, she had injured her wrist and couldn't play. But the show must go on and baba did the honours. With Tanmoy Bose on tabla and two of his students sitting at the back of the stage playing tenor and bass tamboura, he started into an evening raga, his traditional opening number. During the alap he had trouble with his tuning (his sitar had been tuned by Anoushka who sat beside him) and seemed out of sorts. Anoushka fiddled with his bridge and moved the mike away from him when it started feeding back. It didn't bode well, but the second number, translated as "The Ardent Bachelor" turned up the heat and soon Ravi was off in cloud nine, bending and plucking the strings and showing there was no trace of arthritis in his octagenarian hands. Anoushka counted out the beat with her right hand on her knee and, as it was a complex (to Western ears) ten-beat raga (3-2-3-2), this aided my understanding of where the "one" was, which helped me grasp what was going on. At the end of the first hour he said apologetically to the packed house, "If you are still here after the break I'll do something special."
The second half of the show was dubbed "Rangeela Pelau" or "A Colourful Mix" by Shankar who brought out a second tabla player, Arup Chattopadhyay. The two tabla players traded licks to the delight of all while Shankar invented musical ideas and quoted snatches of folk tunes. He forgot that Anoushka wasn't playing to back him up and it was really a thrill to hear him unaccompanied with two exceptional tabla players, each with a unique style, taking turns prodding him onward. In India, he explained, concerts last for hours. He didn't realize we would gladly have sat there all night.