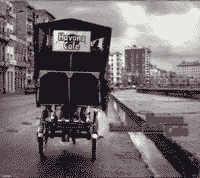 BARBARITO TORRES IN CONCERT
at Slim's, San Francisco, 12 May 1999
Imagine you just put on your favourite music, imbibed your favourite mild intoxicant, lit some candles and got into a warm bath (remembering first to unplug the phone). You lie there thinking, "What could be better?" Well, for one thing you could have your favorite music performed live -- assuming you have a big enough bathroom. Thus it was on 12th of May when Barbarito Torres and his group took the stage at Slim's at 8:15 p.m. The clavé player clocked the beat and the musical machine clicked into gear, seamlessly, as if you had just pressed "play." I closed my eyes and let the musical bath soak my neurons. Within the span of eight bars I woke up, thinking, "Who can I call?" I looked around at the sparse crowd in attendance, many of them I knew as the cognoscenti of local radio who got in free. What a shame: Slim's puts on the best Latin show possible in the most intimate setting -- table seating, great acoustics, etc -- and there's no one there to appreciate it. In fact they'll probably hesitate to book this act again, but someone else will add the magic screamer to the flyers: "As heard on the Buena Vista Social Club" and pack the house with Berber-jewellery-wearing, public-television-subscribing, BMW-driving Berkeley Hills types.
Now I have nothing against the lifestyle of those folks, but I frown on the fact they own exactly one Cuban CD: THE BUENA VISTA SOCIAL CLUB. They go to the record store and look under "Ry Cooder" in the rock section to see if there are any more Buena Vista albums. If they decide to take a chance on Ry's collaboration with Ali Farka Touré instead, their musical horizon shifts 4000 miles east. It's all just "global" to their ears, and they couldn't distinguish Guaguanco from Ouagadougou. If you were to tell them that off the top of your head you could name five albums that were similar in style to THE BUENA VISTA SOCIAL CLUB but musically superior, they would think you were mad. -- It couldn't be that good or they would have heard it. The fact that this CD out-sold all the other Latin CDs of 1998 combined is further proof. If you had the vision, you could go to Havana and round up a bunch of musicians and claim they were the janitorial staff from the fabled club and make a killing: "They swept the floors, they washed the windows, they were outside looking in, but now they've come to play and they're inside looking out, etc." Hype will sell anything. Especially to pseudo-hip people.
But I digress. Barbarito Torres, for sure played on the first Buena Vista album. He's not as famous as Compay Segundo or Eliades Ochoa, but you can see his laoud in a photo on the inside back cover of the Buena Vista booklet and hear him name-checked when he lights into a stinging solo on the second cut. If you can pay attention during that awful busy movie, you see him visiting his luthier. The laoud (it's related to the lute) is a big mandolin, and sounds like a tres only it has twelve strings instead of six. The value of Ry Cooder as a catalyst has meant big bucks for World Circuit to put out some more really top-notch Cuban music, and a higher profile for the old-timers who finally get the recognition they deserve and can now do solo tours and albums like Barbarito Torres' phenomenally-great HAVANA CAFE, just released domestically on Atlantic.
Though the lute is an unusual instrument in Cuba, it fits in where the tres part often goes, Torres's lute playing is beyond comparison. As testament to that, almost any Cuban album of note from the last twenty years that has lute on it, features the playing of Torres. Sure, he has some shtick, like playing behind his back like Jimi Hendrix, but basically this is about the music and his septet, featuring family members and friends is a finely-tuned machine.
On stage they played cuts from the album and mixed in classics from the repertoire of Santiagueran Son. On "Charandon" you could hear the musical bridge to Jamaican Mento with its loping beat. Then they tackled Compay Segundo's classic composition, "Mentiroso." At the back of the stage stood a nervous-looking bald, skinny white guy fiddling with the valves on his trumpet. I decided he was either playing "air trumpet" or his mike was not on, but knowing the generally superb engineering at Slim's, I assumed he was having a touch of stage fright. It was Benny Lynch, a fusion jazz musician who has played with Eddie Palmieri and was brought in to make a musical bridge between Cuba and America, but the band seemed to be shutting him out, or perhaps they were not following a playlist. By the third number he began to feel comfortable and added some classic-sounding "Lonely Bull" fills during the outro.
The old chestnut, "El Manisero" came next and the band swung it for 32 bars then geared up for a scorching jam and Benny showed us his chops. I collect versions of this tune (or did until I had filled three cassettes), but I have to say this was pretty definitive! When they went into my current favorite Cuban song, "Lagrimas Negras," sung by one of the two lady percussionists, I could feel tears rolling down my cheeks (though I couldn't tell what colour they were).
At this point they brought out octogenarian vocalist Pio Leyva. He was wearing two-tone bucks and a red beret, very jaunty and full of shtick. The audience was too blissed-out to be roused up into a call-and-response number and you could see Leyva thinking to himself "I'm dying up here!" He sang the head of an Italian aria. People applauded, so then he sang the opening bars of "Guantanamera" and also got a response: he stopped and took a bow. It was a fake-out, like the Bonzo Dog version of "I left my heart (in San Francisco)" and everyone was laughing. Then he went into "Corazon del Chivo" a classic Son de Oriente, and didn't stop. In fact, when the band stopped he kept going, there was a few moments that sounded like Dub as the drummer and guitarist recovered the beat and then they wound it up tight a second time. You could tell it was not rehearsed and as Lynch began to come forward more and more and add jazz trumpet riffs, the band, in particular Torres and his lightning laoud playing, responded with equally impressive riffing. I don't remember if Leyva sang his most famous song, and his own hit, "Maracaibo," but he must have. I was floating in my hot tub of bliss again.
Leyva went off and we got to hear the tres player, who was also a fine vocalist, sing "El cangrejo no tiene na'." More musical goofing followed as the band played around with some dissonant chords and for a second I thought they were going to do "Turning Japanese," but as it turned out they performed a number which was called "El Chino," or "The Chinese."
Next to be featured was the strikingly handsome bassist who sang a bolero in the style of Beny Moré. It was that good, and the arrangement and harmony were flawless. Torres' band were fully inside the sound, filling Slim's with their perfectly articulated parts so that the audience was also inside the music. It was an incredible experience. I began to realize that Torres' own band are far superior to the Buena Vista Social Club. Partly the problem is in having too many icons in the BV band. It's great that these people are finally getting recognition in their 80s, but it was sufficient to have Pio Leyva (who was featured on the Afro-Cuban All Stars album) as an example of a legend, and let the band show their stuff. Torres' group is not a package of geriatric former stars creating ersatz mambo and rumba, but a vital organic whole, keeping the musical heritage of the beleaguered island vital.
The second set was just as magical as the first and it was an evening I didn't want to end. Things wound down with a ballad and some of the more vocal audience members starting yelling for "El Cuarto de Tula," a song made famous by Cuarteto Patria. I didn't think they'd do two ballads in a row but the band looked at one another, checked the key and proceded to tear it up. A few people danced, but most of us were too astounded by the musicianship and engrossed in watching the band. My friend Lulu, who had started giving a standing ovation at the end of each song, began yelling for "Guantanamera!" I tried to rein her in. "Come on, I remonstrated, we don't want to hear that old chestnut," but it was that kind of night. Pio Leyva came up to the mike and with a twinkle launched into it for real. I have never heard this song performed live and I doubt if anyone else could have taken such a corny number and turned it so flawlessly from a ballad into a rave-up. In fact it was their very ability to throw it all down on the outros of the ballads that made this band so appealing. From a slow opening the temperature rose gradually as the song went into jam mode. My favorite example of this on the album is the brilliant "Pensando en ti." The evening ended with the humorous "Chan Chan," a song about a train, complete with Cab-Calloway-like mouth percussion and lots of percussion solos. Needless to add I went out the next morning and bought a copy of the album and have been playing it non-stop ever since.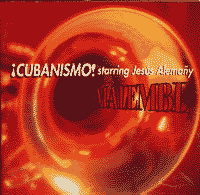 CUBANISMO IN CONCERT
at the Fillmore, San Francisco, July 1999
Cubanismo sold out two nights at the Fillmore auditorium and showed that they have evolved in their four short years together into one of the most consummate live bands in any genre. While they predominantly play salsa and other forms of Cuban popular music, including guajira, guaracha, mambo and son montuno, they also encompassed reggae and bebop. They demonstrated their ability to turn a huge ensemble around, switching tempo and style in the middle of a tune. On their standard repertoire, they extended many songs so just when you thought it was over, they sailed through a bridge, the horns and keyboard stopping, leaving the palimpsest of percussion to keep the tempo rolling. As soon as the audience's surprise had subsided the band kicked in again at the top and gave us a repeat of the screaming outro, or segued into another song. Pianist Ignacio Herrera was the mastermind behind the changes, calling out key changes and solos to the members, but his own solos were so flamboyantly pyrotechnic and atonal they left me cold.
Cubanismo has added new horn men, and sadly virtuoso tres-player Pancho Amat has abandoned them, but they still have the old guard. At one point I thought the spirit of Ginger Baker had entered timbalero Emilio del Monte -- or maybe it was the combined ghosts of past Fillmore drummers -- as he did a stunning contrapuntal solo that belied his apparent age. Jesus Alemañy is a consummate bandleader, adding brilliant trumpet solos, singing coro and modestly directing the band without being a spotlight stealer. Most of the time the focus was on the vocalists. The greatest joy was hearing Rolo Martinez whose career has been revived by Cubanismo.
I was disappointed in their new material, including a New Orleans mambo which seemed jerky, but I'm sure once they play it live enough times it'll flow more seamlessly. Their encore was Bob Marley's "Get Up, Stand Up," which I thought would be awful, but I underestimated their ability to take a reggae song and add a salsa swing to it. It was a sublime ending to a wonderful musical evening. (And there was only one bit of painful feedback to remind us where we were!)
MARACA Y OTRA VISION
at Yoshi's, Oakland, June 2000
Maraca and his band met my expectations for talent and diversity. The drawback was their show was at Yoshi's. The sound is good but the ambience is flat and the tables cramped and uncomfortable. Yoshi's rarely puts in a dance-floor (they can't sell as many drinks that way) & they kill the show at midnight and kick everyone out. (They haven't started playing "Greensleeves" yet, but the vibe is definitely, "You've seen the show now get the hell out of here!") They're a supper club but could be a super club if they'd have a dance-floor and a deejay after the show and continue to serve drinks. My date and I went to Merchants bar in the produce market and observed the strange habits of the natives, but the jukebox left a lot to be desired, reminding us of crappy rock we hadn't heard in decades, forcing us to stare searchingly into our pints.
Maraca has played with Jesus Alemañy's Cubanismo and seems to have learned from him that the best way to lead a band is to direct it and promote the individual talents in the group. This is the opposite from an artist like Eliades Ochoa who insists on being the star, hogging the solos and applause. I'm not a big fan of flute solos but Maraca made sure the other instruments got equal time on the mike.
¡DESCARGA TOTAL!, Maraca's new album (Ahi-Nama music), showcases his latest material and is a good blend of classic Cuban styles interpreted in a modern way. Guajira-son, salsa, mambo, Afro-descarga, and even a rap-son are featured. The material was worked up on tour over the last year and shows a lot of energy and spontaneity. As at the Yoshi's show, the legendary Changuito came on board for a number (looking like a walking advertisement for Tide with bleach). On the album, it's a Yoruba jam with Changuito on timbales. Live they did a sweet Danzon, with just flute, bass, piano and percussion. Another important guest on the recording is the great Pancho Amat on tres. Yumuri guests on vocals on two tracks, but most of the vocals are ably handled by Wilfredo Campa whose voice adds a nice balance to the rapping by Almiel on "La Pelea." This is not as dire as it might sound, as there is a great descarga with flute and soprano sax intertwined in the background, while the rest of the horns add a full chorus.
It's fifty years since Bebo Valdes introduced the descarga or jam session on recordings and this is what makes good live Cuban music really exciting. The new album begins and ends with really cooking descargas. In between it covers a lot of territory, showing Maraca and Otra Vision have really matured on the road. I think we have a new dynasty of great Cuban orchestras (reminiscent of Machito, Prado and Puente in the 50s), and Maraca stands at the fore, along with Cubanismo.
CUBAN FILM REVIEW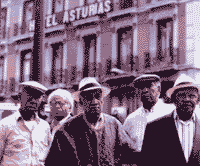 LAGRIMAS NEGRAS (Black Tears)
A Film by Sonia Herman Dolz
If you want to understand what the current passion for Cuban music is all about, don't miss Sonia Herman Dolz's 1997 documentary film LAGRIMAS NEGRAS.
Like Wim Wenders' 1998 documentary THE BUENA VISTA SOCIAL CLUB, LAGRIMAS NEGRAS follows a group of traditional Son (or ballad style) musicians from Cuba's Oriente province on their international tour and inter-cuts this concert footage with scenes from their hometown in Cuba. BUENA VISTA SOCIAL CLUB is by far the better known film, but LAGRIMAS NEGRAS is superior in every way -- the real deal.
LAGRIMAS NEGRAS is a loving film that is full of insight into the everyday lives and musical aspirations of "La Vieja Trova Santiago" (The Old Troubadors of Santiago), a group assembled by a German businessman who wanted to bring together some of the elder statesman of Cuban son and have them tour.
And since it's Cuban traditional music we are talking about, these "Monkees" are not young hipsters aimed at a teenage fanbase, but rather retired musicians who had glorious careers in the 1940s and 50s: the golden age of Cuban Son, Guajira, and Montuno. Even though most of the musicians are in their 80s, Dolz inspires the guys to play practical jokes on one another, talk candidly about sex, love and loss, and make fabulous music. They are relaxed with the camera and talk about their careers. She shows how when a group of musicians really click, the sum is far greater than the individual parts.
We see scenes of them rehearsing in a living room in Santiago and then --seamlessly-- the action cuts to the same moment in the song, live on stage in London or Amsterdam, and the sound fills out. We see them do some of the classics of son: "El Paralitico," "El Tren," and other gems from the pen of Miguel Matamoros, including of course his lovely ballad, "Lagrimas Negras (Black Tears)," a song about a disillusioned, abandoned lover.
The music and the chat are kept separate so that the film presents several complete songs: something that is welcome to me as a sonophile, and a radical departure from the musical documentary style where the music fades down to the background of talk.
During the rehearsals we see shots of Santiago: barely motile Chevys strain to get up the cobbled streets, couples dance, sip rum, soak up the afternoon sun, children play in the park, dance, rehearse in jazz bands in their pioneer uniforms. Cuba looks like a beatified place: there is a spirituality to these scenes that seem startling in a Communist society.
After taking leave of their families, the old troubadors set off on their European tour. In London's Highgate cemetery they visit the tomb of "Carlos" Marx and we understand how Marxism has affected them personally. It's been tough, but they are stoic.
During the 1998 San Francisco Film Festival, Dolz appeared at a screening of her film at the Castro Theatre. Someone asked how she managed to elicit such impassioned off-stage performances from these old-timers. With a laugh she explained her secret: in addition to being thoroughly informed about the music, her small crew included a very attractive young Dutch woman as the sound recordist. The old guys were all competing for her attention, and so were playing to the camera with all the chops they could muster.
Because of the similar theme, comparisons with Wim Wender's recent documentary about the Buena Vista Social Club are inevitable. The most popular Cuban recording released last year (probably the most popular of all time) was the Buena Vista Social Club album conceived by Nick Gold of the World Circuit label, facilitated and arranged by guitarist Juan de Marcos Gonzalez, and spurred into the top ten by the appearance of world music slacker Ry Cooder. For some it's just the exotic frisson of the month, for others, part of a growing interest in the culture of an important neighbor that has been taboo for a whole generation. Gold, the "King Midas" of World Music knew he could bank on a sequel so got Wenders in to document the group. It was not coincidental that Wenders' video was released simultaneously with the second CD.
But to me that sloppily thrown-together video betrayed the worst aspects of cultural vampirism. Wenders is too wrapped up in himself to apprehend what this music is all about. The shots of Ibrahim Ferrer talking about his household god were so disrespectful that the audience was laughing as if it were some quaint custom from primitive times.
From a musical standpoint, the hand-held concert footage is awful, and the thing that bugs me most: when Barbarito Torres lights into a stinging solo on his laoud, the cameraman pans and comes to rest on -- Ry Cooder! (It reminded me of the Cachao film where they kept showing Andy Garcia playing cowbell!) At the end, the film just peters out: "Okay, that's almost two hours and we don't have any more footage so let's end it...." It's not even about the music: in fact every time a song gets into the groove, Wenders cuts away to talking -- much of it Cooder saying "bueno" in a bad Spanish accent.
After a bit Wenders got bored so he started walking around in circles. I think this is the most characteristic image one remembers from the film: the spiralling camera. It's Wenders in desparation, saying "I don't know what the hell I'm doing here!!!" Quite often he is completely behind the person speaking! When pianist Ruben Gonzalez starts to talk about his years with the legendary Arsenio Rodriguez, the camera is elsewhere so we don't get to see the wonderful old photos he is showing. I wanted to slap the cameraman. Pay attention, you imbecile!
Then when Ry Cooder naively says he arrived at Egrem studios and there were all the musicians assembled -- by a miracle -- it seems like too much to believe. They don't explain the miracle was wrought by Juan de Marcos Gonzalez. It's telling that Juan de Marcos is not interviewed in Wenders' film (and they included Cooder's son -- will someone slap that boy!).
Juan de Marcos formed the group Orchestre Sierra Maestra to preserve the traditional sounds of Eastern Cuba, the forerunner of Buena Vista, except there were no big names in the band. Their CD ¡DUNDUNBANZA! was released on World Circuit, and so Nick Gold approached him to put together some of the legendary old-timers of Cuban music for Cooder to jam with. (Personally I find the youngsters handle it with a bit more energy and imagination.) While he chose the material and did the arrangements, De Marcos doesn't even get to play though he is far superior to Ry Cooder whose wanky noodlings seem more suited to the theramin than guitar. At least Cooder knows enough to stay in the background musically for the most part and is respectful of the music. One presumes De Marcos is too modest to take the credit and was just happy to be part of the confluence.
LAGRIMAS NEGRAS is everything Wenders' effort fails to be. Beautifully crafted and filmed, this is one you will want to own on video and watch over and over again, if you love Cuban music. Go see it and you will also become passionate about it. This is a gem of a documentary that not only includes some superb music but gives a candid portrait of life in Cuba today.