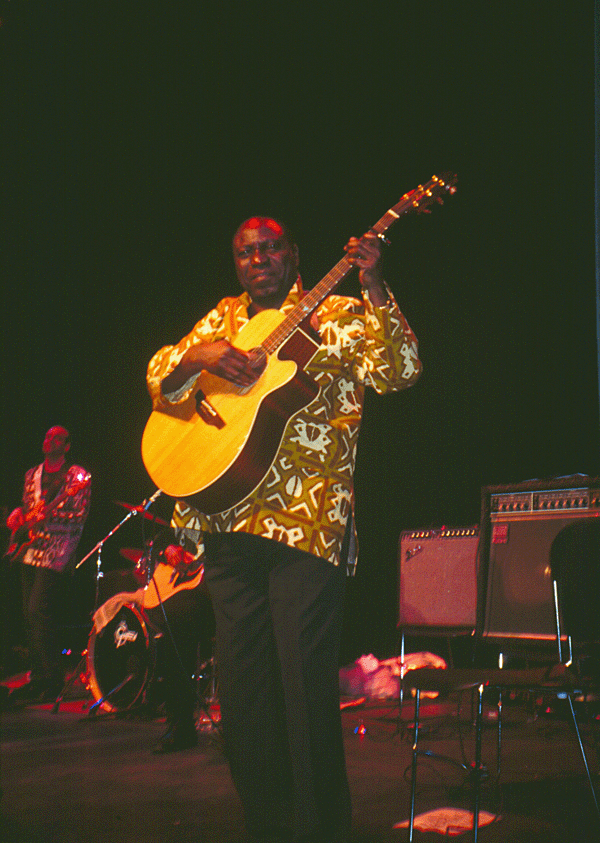 Above: Syran Mbenza

KEKELE LIVE at Yoshi's, Oakland, 3 July 2006

Bay Area summer night, chilly, fog in the air. Though it's a monday night, ten p.m., there's a line round the corner from Yoshi's and up the street. More people arrive and see friends in line so the line moves out towards the pavement rather than back round the corner where I am with IJ & Yoko. Trains pass. It's sold out, so Yoko can't get in, unless I ask her to be my plus one instead of IJ. IJ looks doubtful, Who would you rather take? he asks, Frankly, I say... --Come on, I even shaved tonight... Yoko calls a friend and gets a lift. IJ knows half the people in line from his wide connections deejaying. After a long wait we move inside and grab seats at the back with a friend of IJ's who is celebrating his birthday and is already drunk on rum & cokes. I ask him if he likes this kind of music. I don't know, he says, I am open to anything. The band comes on slowly after a sumptuous meal (Yoshi's is a Japanese restaurant & you can get a great tuna tartare with wasabi on a bed of arugula if you want to eat while listening to jazz) and starts to pick up. There's a lot more oomph than on their albums and they are more polished than on their last two tours. Yoshi's have been advertising them as Cuban-derived African music, to fit in with their Salsa Mundo series, so the audience is not familiar with them (which means they gained new converts), and Loko tried to speak in Spanish between songs. It's an odd concept, but Congolese Rumba, as it's called, has nothing to do with real rumba, the ritual drum and percussive music of Cuba, but there's enough influence from Son Montuno to engage the salseros. When they do the Guillermo Portabales material from their third album, "Yoka biso biso biso," sounds so like "mi son, mi son, mi son," to convince anyone it's purely Cuban. The addition of Muzette accordion (Jeoffrey Arnone) and the legendary Jimmy Mvondo-Mvele on sax is a great idea and fattens the sound, making a connection to early OK Jazz. Syran is jamming by the second number, "Delali," playing two-fingered leads that recall Franco. It's highly reminiscent of OK Jazz and there's Wuta Mayi, who sang with OK Jazz, to sanction the pedigree. The sound is not ideal: the mikes trebly and everything a bit too loud for the small space when you take into account they have amps on stage as well as a PA system. The accordionist points at the ceiling as if to say God is listening (& can't hear me), but the engineer ignores him. The congas and accordion are lost in the mix. However, the bass (Ahmed Barry who has toured with Sam Mangwana and Kanda Bongo Man) and drums (the great Komba Mafwala who was part of Four Stars) are rocking the house. Despite missing Bopol and also Papa Noel who must be too frail to endure the tour, Fofo Vangu-Tungila, ex-Quartier Latin de Koffi Olomide, does a great job on lead guitar and has a lot more enthusiasm than Rigo who toured last year when they played a sit-down gig in Marin. There's our collectively beautiful Oakland interracial crowd jammed into a tiny dancefloor swinging and swaying and trying to shake their butts. "How do they do that?" Miri asks me. It's in the hips I tell her, but I am worn out from teaching an evening class and only mildly winding my waist. I've ditched the table because the guy who is drunk and open to anything is talking loudly and even calling people on his phone which means he is basically yelling in my ear. The lead guitar () is hotter than the previous two tours, but they should switch to electric guitars for the seben (like "Stairway to Heaven"?). In fact it's clearly an unplugged soukous show, and probably wont be long before they start doing some of their old Quatre Etoiles material, much of which is heading towards "classic" status. Just imagine: Kekele with special guest Bopol Mansiamina doing Lipua Lipua and Quatre Etoiles material unplugged. Now there's a live album to conjure up.
KEKELE IN CONCERT, Marin, January 2005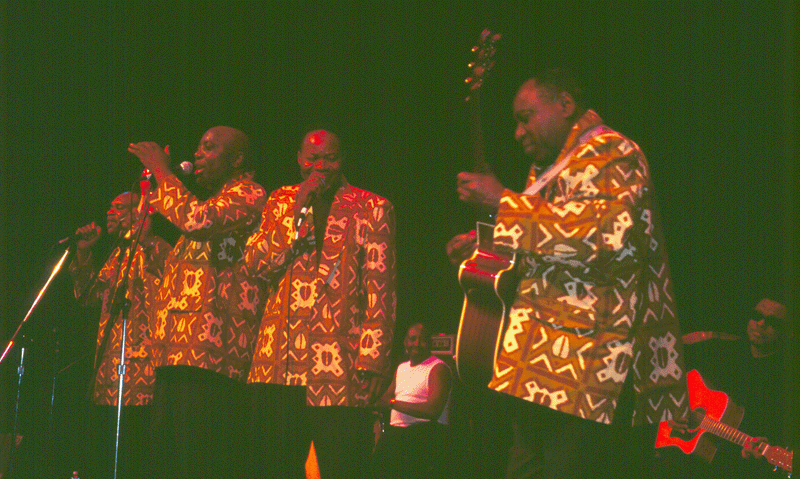 Above: Wuta Mayi, Loko Massengo, Nyboma Mwan'dido [vocalists], Deba Sungu on congas, Syran Mbenza, Rigo Star [seated], guitarists
Thursday the 20th of January 2005 was not an auspicious day. In Washington DC the little weasel was being sworn in at great expense while burning questions were asked: why did he need to spend so many millions when he could have given it to the schools or the social security system? and why was most of that money spent on security (because he has made the USA less secure than ever). And where was Osama, isn't he a cabinet member? The real question was why was there no popular uprising like in Ukraine over the election's apparent fraudulent result (and the answer to that is the American media is owned by the same Nazi pimps who control the little weasel). 7000 miles away in Mecca the Hajj came to an end with a traditional ceremony: four million muslims threw pebbles at three rock pillars representing the devil. Now if only we could have focussed their negative energy on the little weasel in Washington. But on the bright side, Kekele were playing at a community center in San Rafael. It said 7:30 start but that's unheard of for an African concert, but indeed when I arrived with my posse at 9 we had missed the first set. I was wearing my embroidered muslim hat in honour of the Hajj, though I am a devout aetheist. Turns out the concert was at a Jewish Community Center, so I got a few sideways glances. But this is Marin, not Tel Aviv or Berkeley, and we are all one big family, right? It was like a high school auditorium with candlelit tables shoved right up to the proscenium stage. The group came out in matching outfits to mild applause. Those of us at the sides attempted to dance in the aisles. Folks were leaving muttering, "I thought you said tonight was the Bulgarian Ladies choir?!" and I thought of grabbing a table down front, but I wanted to be able to move.
In their day, Les Quatres Etoiles were my all-time favourite band, so I still have high expectations for Kekele. Kekele has a deep repertoire, when you consider the Quatre Etoiles' material, not to mention their own songs from their respective careers in many mythical bands: Nyboma in Bella Bella, Negro Succès, Lipua Lipua and Les Kamalé Dynamique du Zaire, Wuta Mayi with Rock-a-Mambo, OK Jazz & Orchestre Continental, Loko Massengo with Trio Madjesi, Syran Mbenza with Somo Somo, Lovy du Zaire and Sam Mangwana's African All Stars. They are indeed a supergroup. I noticed Nyboma did one Quatre Etoiles song (I think it was "Enfant Bamileke"), but they also covered my all-time favourite Congolese song, "Infidelité Mado," written by Celli Bittshu and popularized by Franco and OK Jazz in 1971.
The sound was problematic, which was too bad for an essentially acoustic band. If you got down in front, which we managed to do at the end, you could hear the guitars from the amps on stage. The drums were too loud and you couldn't hear Rigo Star (who was sitting in -- literally -- on second guitar). Rigo sat impassively in shades and frowned the whole time, constantly fiddling with his tuning pegs. You could only hear Syran at the beginning of each tune.
The three singers (Bumba Massa had visa problems so didn't make the trip) danced and had a good time, their note-perfect harmonies a little fried by the cheap PA system. I hope they do a live album next, as their studio albums seem a little restrained. They have finally got the perfect formula and the right line-up, with Jimmy Sax Mvondo on saxophone and Sebastien Malherbe on button accordion (replacing those cheezy synthesizers that plagued Congolese pop for a decade). Vincent Hamanjian on bass did a superb job of locking down the groove with Komba Bellow's intense drumming. Rounding out the group was Deba Sungu on congas, though he was only audible during his solo at the end.
On the drive home IJ was lamenting the African music scene here in California. Since 9/11 fewer acts have toured, there has been less support in the local media and only one or two venues (notably Ashkenaz in Berkeley) willing to take a chance on a class act of this calibre that may not guarantee a sell-out. Still, we had big fun, in our middle-aged way, and hope these elder statesmen of African music keep touring into their next decade.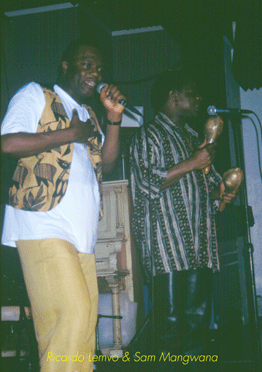 SAM MANGWANA
AT Yoshi's, Oakland, August 17, 1999
For a long time I've been bemoaning the death of Soukous, the vibrant high-energy pop from the Congo. Recent albums and local concerts by major exponents of the form like Diblo Dibala and Rigo Star confirmed my feeling that the music had become stale. By chance I ran into the greatest living exponent of soukous guitar, Syran M'benza, outside Rasputin's Records in Berkeley and invited him across the street for a beer. Syran now lives in Paris and unfortunately was not in town to play. I asked him why he had not recorded anything since his classic 1990 album SYMBIOSE. He explained he was waiting for the right moment to try something new, and agreed that the music had become formulaic. Syran's group, Les Quatre Etoiles (or Four Stars), are a stellar configuration of the cream of Congolese talent. There are two vocalists -- Nyboma Mwan'dido and Wuta Mayi -- two guitarists -- Syran and Bopol Mansiamina -- and, uncredited but crucial to the sound, the rhythm section of Ngouma Lokito on bass and Komba Bellow on drums. Another reason the Four Stars haven't been touring is they are all busy with other projects. Bopol is currently touring with Ricardo Lemvo, the sensational singer from Congo who started a band in Los Angeles -- Makina Loca -- that perfectly blends Cuban and Congolese rumba, and Nyboma is fronting the Soukous Stars. But the gospel of Four Stars is spreading as the music is slowly evolving.
Sam Mangwana came to the San Francisco Bay Area and made a huge impact at Stern Grove and then did two nights at Yoshi's where I got to see him on August 17th with his current band. Sam is one of the key players in the evolution of African music. He has the unique distinction of having fronted two of the greatest bands in Zairean music history: Rochereau's African Fiesta National (when he was 18), and Franco's OK Jazz. In his thirties, Sam set up a base in Abidjan and with the African All Stars (including at one point Syran and Bopol) began touring widely in Africa, introducing musical elements from Martinique and Cuba, as well as from other African countries, into the traditional soukous sound. In his fifties, he continues to be a major innovator in African pop music.
Komba Bellow was holding down the drum kit and Sam had taken the first step to liberating Soukous from the hegemony of Parisian synthesizer players by bringing along an accordeonist. Viviane Arnoux grew up in the French provincial tradition of Musette, learning on a double-button accordeon.
At the break I asked her how she got into African music and she told me that the 1993 recording ACCORDEONS GO TO ABIDJAN by Le Zagazougou opened her ears to the possibility. There are fewer notes than in musette, she said, but she knew she had found a new passion.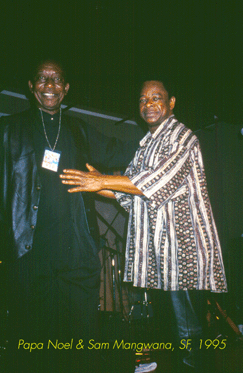 Mangwana has also teamed up with another giant of Congolese rumba, Nedule Papa Noel, one of the most gifted guitarists in the history of African music. Noel was recruited from OK Jazz to replace the legendary Dr Nico in African Jazz in the mid-sixties. His career took him acros the Congo river to join the Bantous of the Capital in Brazzaville in the 1970s, and when he left, they had to hire two guitarists to replace him! Papa Noel has a solo career (with four superb solo albums, including most recently HIGH TENSION and NONO) but was onboard with Mangwana and playing acoustic guitar which was a pleasure to hear, though that night he was feeling under the weather and so only played one solo.
Mangwana opened his Yoshi's show with the title cut from his new album GALO NEGRO, on Putumayo, a song in Portuguese about war and starvation in Central Africa. The music flowed beautifully back and forth across the stage as the accordeon and acoustic guitar traded riffs. Sam sang "Manjani" in Lingala and even gave us what sounded like yodelling at the end. Mangwana speaks many languages and switched to Spanish for "Linda Mujer," a classic rumba. "My songs are dreams," he explained to the audience, then taking a professorial role, he gave a short explanation of the spread of High-Life music throughout Africa in the sixties. It was brought by traveling salesmen, he laughed, and elaborated: While the different countries within Africa are struggling with the ethnic strife caused by the borders arbitrarily drawn by the European colonists a century ago, the artists within Africa have informally created a United States of Africa.
This is a wonderful notion, and Sam makes the best ambassador for this country: the USA of the next millenium.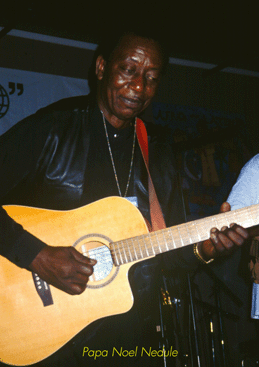 Sam urged the sedate audience to get up and boogie. "We are not a movie," he joked. "I never saw tv growing up, but here you have tv everywhere, even in restrooms!"
I can't figure out why Yoshi's doesn't have a dancefloor and why they don't have a deejay before and after the show, it would be lucrative and the patrons would have a more enjoyable evening, rather than being shunted out at the show's end, but we made the most of it as the zouk influence came out in one of Sam's classic songs, "Georgette Eckins" from 1978 (recently reissued on Sonodisc CD 7002), for which Noel switched to electric guitar. Despite the awkward arrangement of tables, people were dancing in the aisles, and the ten-minute groove segued neatly into the outro of "Maria Tebbo," Sam's biggest hit, which he covered in 1980. Drummer Komba Bellow got to do a little toasting as they rocked the joint. The party ambiance was so high that my pal Big Steve (an ardent Francophone) jumped on stage and dashed the accordeon player, Viviane, pasting a $5 bill to her forehead in appreciation of her virtuosity! (White-on-white dashing, that has to be a concert first!)
Next Sam performed "Minha Angola" (from his album RUMBA MUSIC) about the civil war in his native Angola (his father was an Angolan worker in Congo when Sam was born in Kinshasa in 1945). If you've read Ryzard Kapuscinski's ANOTHER DAY OF LIFE you'll understand the irony of this futile war where Cuban mercenaries defend American corporate oil rigs from American-backed South African guerillas. "I wrote this in 1975," Sam said, "and they are still fighting."
Mangwana switched to Kiswahili for "Kabibi," his 1987 song about a beautiful six-year-old girl he met while learning that East African trader language. In her he saw the natural beauty of all Africa and composed the song.
The show ended with "Nakupenda," a rumba in Swahili from the new album. "You must enjoy it," joked Sam, "It's a love song." Again the group demonstrated the confluence of musical styles that meet in their music. In the guitar alone I could spot R&B chording, flamenco flourishes, the finger-picking influence of likembe, or thumb piano, and tres styling from Cuban son. "Sukuma" which Sam shouts as encouragement to the band, means "push push" in Lingala and they really push the boundaries of music.
Nyboma's sweet tenor voice has graced many bands, starting in the seventies with Orchestre Bella Bella (which also produced Kanda Bongo Man), then he fronted another Vercky's-produced band, Orchestre Lipua Lipua, before starting Les Kamale.
But the star of the Soukous Stars is lead vocalist, Shimita El Diego, a powerful singer and also one of the most accomplished dancers and entertaining performers I've ever seen. A really great soukous show spotlights the antics on stage as much as the music, and the dapper Shimita is the one to watch. He is the Chaplin of contemporary music, and I mean that as a compliment. He has as much expression in his smallest gesture as the greatest theatrical actors. In fact the whole band dress like riverboat gamblers, in frock coats, flounced shirts, leather boots, and prominent ostentatious gold crucifixes around their necks, so it's hard not to just stare at them. Shimita was wearing red and black, which went beyond color into heavy religious symbolism (with the devil predominating) while the angelic Lokassa, dressed all in white, looking on bemused.
Despite the unfortunate lack of a sound check, the band kicked straight into Nyboma's "Papy Sodolo" which he first recorded with Les Kamales in 1980, featuring (then as now) Dally on lead guitar. Then, from the new album, FACE TO FACE, we were treated to "Ghana Success," a sequel to their smash hit, "Lagos Night," and another example of the hybrid Highlife-Soukous.
When it comes down to it, the Soukous Stars are a consummate bar band. They know how to tear up the dance-floor and it doesn't really matter what the material is, so, for this song, they reprise a medley of popular hits from Ghana in the '60s and '70s like "Taxi Driver" and "Bere Bote." The audience thronged the dance-floor.
Lokassa stepped on the flanger and his Gibson sounded like a souped-up harpsichord. As Shiko-Mawatu & Dally took turns playing the mi-solo, which adds counterpoint to the main riff, Lokassa pealed off some spectacular runs which sounded as much like Bach three-part inventions as anything in popular music.
When audience members started jumping on stage to dance things got really loose. Certainly some of them were ringers, more than the espontaneos you'd get at a bullfight, but they were welcome. In fact there were so many professional dancers on stage I stopped dancing to watch them. The success of the evening really was in the hands and feet of the audience -- the party in the first part. The band got wilder, the audience got looser, and Shimita did some really vulgar dance moves: a great contrast to the silent smug political correctness of the poster-plastered Ashkenazi walls. At one point I did a double-take thinking he was actually humping a woman dancer on stage: He had the microphone clenched obscenely between his thighs & was thrusting his pelvis to beat the band!
To cool down the pace, the Soukous Stars slid into one of my favourite rumbas, "Para Fifi" by Joseph Kabaselle. As Dally played the riffs of Docteur Nico, using reverb to emulate the Hawaiian guitar sound of Nico, the presence of the African guitar gods was palpable.
The second set was even hotter than the first, beginning with a shattering version of Nyboma's huge hit from 1984, "Doublé Doublé," once again calling on Dally who was smiling at the whole place going nuts as he effortlessly peeled off the licks.
Shiko got his turn at the mike to sing "El Manisero." It was a little shaky, but the band segued into "Mayeya Mayeya," another Cuban-tinged hit from Benin's Gnonnas Pedro, and then into the sublime "Jamais Kolonga" from the immortal Tino Baroso. Despite the jet-lag I was blissed out. The club manager got onstage to say they better cut it short, so as the 2 a.m. curfew approached they finally kicked into their huge hit medley "Lagos Night," giving a clipped, lightning recitation of some of the hits of Nigerians Rex Lawson and Price Nico Mbarga.
We worked up a sweat again as Papa Wemba and the original Viva la Musica came to Ashkenaz. This was almost too good to be true: Ashkenaz is the perfect venue to hear these African acts. Even though it was mobbed, it was a lot better than clubs with bad sound systems or difficult public access. I got down front before they came on because I wanted Her Grace (who is vertically challenged) to see the dancers. This meant we were sandwiched in between a knot of Congolese ex-pats who didn't move at all as they were mesmerized to be in the presence of the favourite band of their youth, and some typical Berkeley "me-first" types who thought it was cool to thrash about in the limited space, causing considerable discomfort for those they kept elbowing, kicking and poking.
Viva la Musica was a small band with Demoukousse on guitar and Awilo Longomba on drums from the original line-up, along with the great Miguel Yamba, solid on bass, and the only non-Congolese, Abdoulaye Diabaté, on Korg keyboard. Three singers came out to get the crowd going and soon the place was hopping. Wemba appeared dressed in bright red (including a red fishing hat) looking like a Rajneesh devotee. He's gained some weight (haven't we all) but his pipes were in fine fettle and he sang acapella before launching into a string of classic Zaiko Langa Langa oldies. The highlight of the first set was a long medley of "Bakwetu" and "Ceci Cela" -- a song from the '70s that featured Lidjo Kwempa. The groove locked in (not exactly like a stuck record!) but kept the tempo for ten minutes of trance-like repetition. Kwempa looking very louche in backward baseball cap and shades with an oversized suit, smiled as he felt the crowd react and the other three singers did choreographed dances and sang harmony. Cele Le Roi didn't get a solo turn but was the sharpest dresser, in snakeskin pants and a silk flowerprint jacket. The mikes were a little hot so you got that slightly fuzzy fried sound familiar from the old Zairean pressings. It was perfect!
The second set began with the surprise appearance of Nene Tchakou and Shimita el Diego who sat in for an old rumba of the African Jazz era. They also had Bongo Wende which I only realized when they played one of the classic Viva la Musica songs where the singers exhort Bongo Wende in his solo. Wemba explained (in French and Lingala) that he should have paid more attention to his English professors in school but he was sorry if he couldn't communicate to the crowd, however he wanted to thank all the loyal fans ("tous les melomanes!") for turning out.
Inevitably the second set was a little more freeform with dancers getting on stage from the audience, but since Ashkenaz is an all-ages venue there was a great moment when two little Congolese girls about 10 or 12 got on stage to dance, one wearing all white the other all red. The band also loved it. The second set was crowned by "Mokili Ngele." Many, many thanks and praises to the Ashkenaz staff for bringing this music here.