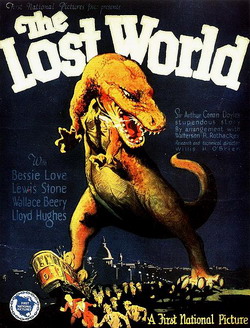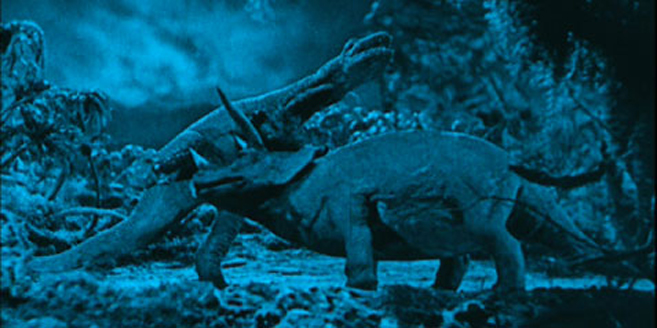 DENGUE FEVER
THE LOST WORLD score at the San Francisco Film Festival, 5 May 2009
The annual San Francisco Film Festival has one feature I always look forward to: Every year they project a classic silent film from the 1920s and have a contemporary artist perform a new score. One of the most memorable was the Alloy Orchestra's accompaniment to Dziga Vertov's Man with a Movie Camera (which has been released on DVD). Club Foot Orchestra scored Nosferatu and Metropolis and went on to perform scores of scores. This Cinco de Mayo had something different. An art rock band, mostly known for 3 or 4 minute pop songs, faced the task of creating a varied and engaging score for Arthur Conan-Doyle's 1925 film The Lost World, and the result was a triumphant success. As usual the grand Castro Theatre was abuzz with excitement as the Wurlitzer organ rose out of the floor playing "San Francisco (Open your Golden Gates)". Some of the audience from Pixar were there to see pioneering claymation work by Willis O'Brien, others were fans of the band Dengue Fever, but most were just cineastes enjoying one of the big premieres of the festival.
The film stars Wallace Beery as Professor Challenger who has discovered a plateau in the Amazon inhabited by prehistoric animals. The subplot involves a cub reporter determined to prove himself to the girl he loves by risking his life in a daring exploit. The main attraction is the bestiary of dinosaurs that scared the roaring twenties audiences (the animator later made King Kong which reuses some of the themes). It is corny and thoroughly charming.
The brunt of the score fell upon the keyboard and horn player. Versatile David Ralicke kicked things off on trombone and used this instrument quite a bit, sometimes with mute, to great effect. He also played flute and sax and even growled and groaned during the scenes where the wild ape man appeared. The keyboard player Ethan Holtzman was very adept at using the synthesizer for atmosphere and during an early love scene played accordion to establish a theme. It was extremely well suited to the film & added greatly to the mood, even though the audience was laughing at the intertitles ("I can't steal my happiness from another woman" "--But she's a whole continent away!").
Singer Nimol -- wearing a glittery evening gown and shades (in the dark) -- didn't have much to do until the explorers reached the Amazon. As soon as exotic beasts appeared (Sloth, python, leopard) they launched into a dubby version of "Sleepwalking through the Mekong" and she vocalized, adding expressive wails. This was a good leitmotif. Bits of "Made of Steam" and other familiar riffs floated through the music, but for the most part Dengue Fever wove new themes and sustained a wonderful momentum throughout the film. The rhythm section kept up a beat during the fight scenes between the bloodthirsty T-Rexes. At the climax, the professor is being ridiculed once again at the Natural History museum in Kensington when news comes that the brontosaurus he brought back as proof has escaped and is rampaging through the streets of London. Dengue Fever launched into "1000 Tears of a Tarantula" and rocked it as the monster tore apart Tower Bridge, before swimming off (we assume to Loch Ness).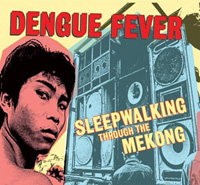 DENGUE FEVER
SLEEPWALKING THROUGH THE MEKONG (Directed by John Pirozzi)
Dengue Fever's music is cinematic and lends itself well to a soundtrack. This film is a snapshot. The one-hour documentary covers the band's first trip to Cambodia. We gets snippets of Cambodian history and a few glimpses of life that leave it still seeming like a very exotic destination. Even in this jumbo-jet era, these are two cultures with very little interaction, other than a musical bridge to a past era. At first the band introduce themselves on Cambodian TV in Khmer. Then we see them perform and the antics of some strange variety show clowns. For once the tables are turned for the singer, Chhom Nimol. She is in her element and jokingly being stern with the band for their slowness, inability to adapt quickly to the local customs, not knowing basic table manners even, let alone the language. She came from Cambodia, where a singer is able to support an entire family, to Los Angeles, where she struggled with the culture, worked hard for five years and was barely able to support herself. But there is also the issue of integration. Is Dengue Fever a Khmer band? Or a bunch of Americans playing Khmer music? The audiences love it, but it is an exotic concept, even though the music they once danced to was based clearly on American pop and surf music of the 60s. Dengue Fever has reclaimed it and taken it up a notch. This is because apart from Nimol's great vocal range she is backed by a fearsome force of talents surrounding guitarist Zac Holtzman. Holtzman's sincerity is seen not only in his learning Khmer for the songs, but attempting to write new songs in the language. He explains how he strung some phrases together and a taxi-drvier told him it was nonsense. So he invited the cabbie to collaborate on the lyrics. The soundtrack also surrounds the band with some of the classics from the repertoire but to me they only demonstrate the superiority of Dengue Fever's musical skills. There is a healing quality to the music now, and the old songs from the 1960s have an enduring cross-generational appeal. Henry Kissinger heads the list of war criminals from the USA who should be brought to the Hague for trial. Because of America's bombing of Cambodia as a desperate ploy when the Vietnam war was being lost, Pol Pot came to power in the mid-70s and killed a third of his own people. Music was forgotten as people struggled to survive. Things like radios became collective property and only played official music as the Khmer Rouge worked to destroy the entire culture of the country, particularly targeting artists and popular entertainers. One of the goals of Dengue Fever on their trip was to seek out older artists who are playing traditional music and jam with them and show them some respect. "It's my first trip to the country," says David Rolicke the keyboard player, "I love it!" "It's my second visit!" quips Nimol. The film was made in ten days but still is coherent and well done. If you like the music you will love the band's performances, in clubs, classrooms and singing acapella in a market. "We thought you were bigger," says one of the market women to Nimol, as the others joke about their great height and physical strangeness in the midst of these petite folk. They jam with kids at an academy of traditional music and dance and then stage a performance with them in the heart of a shanty town. It's a very moving experience for their teacher who understands the mission of the band and is touched. In addition to the film there is a bonus disc containing the full soundtrack, which features several of the band's best songs, as well as songs by the top Cambodian performers of the 60s, a child singer and a couple of karaoke bits.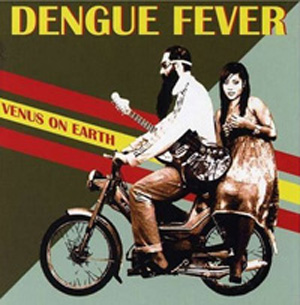 DENGUE FEVER
VENUS ON EARTH (M80 101)
I had to justify this one to the Duchess. She objects to hearing a lot of new music, accusing me of doing my homework in her earspace. It's like 60s rock, Country Joe or the Doors, filtered through a postmodern sensibility, like Beck, I said. Oh, I forgot you like rock and roll, she said. I think she suspects me of having something for the singer who is another Asian beauty. The rest of the band, Dengue Fever, on the other hand have that grungy LA look that we associate with the top session men who only come out at night. They could all be refugees from The Mothers of Invention by their looks, not to mention their chops. They have a unique sound, with the ethereal voice of Ch'hom Nimol floating over it, though as Big Steve says facetiously they have ruined Cambodian pop for all time, we will always think it's them! I am sure the spirit of Barry Melton (Farfisa organist with Country Joe & the Fish) hovers over this sound, but I had the opportunity to talk to their keyboardist, Ethan Holtzman, and he assured me he had never listened to Country Joe and the Fish. Maybe it's an LA vs. SF thing, but how can you not know the "Fixing to Die" album which was huge at the time of Woodstock, Monterey Pop, etc. But then that dates me and younger musicians may like the general sound of the late 60s without knowing specific artists' identities. The opening cut, "Seeing hands" is a knock-out, and recapitulates some of the feverish ambience of "Sleepwalking through the Mekong," the stand-out track from their second album. "Tiger Phone Card," a number in English about trans-continental relationships evokes the Doors as well as Question Mark and the Mysterians, with their bouncy Vox Continental sound. "Sober Driver" opens with a hint of Grace Jones. There's one really wet ballad "Tooth and Nail," but otherwise a great set from this hot band on the pop, er world fusion, er alternative music scene.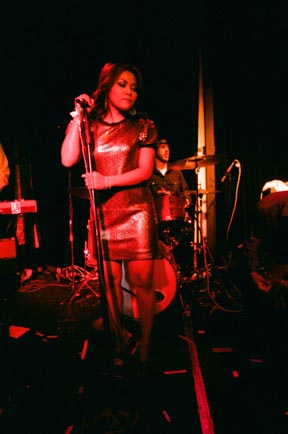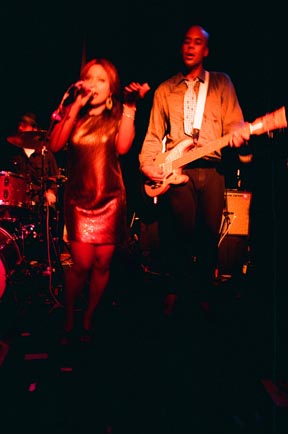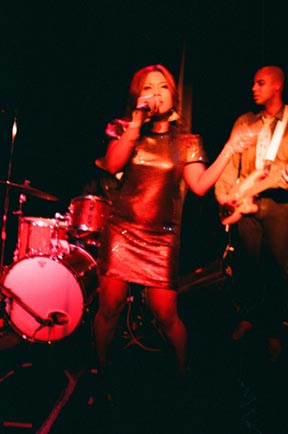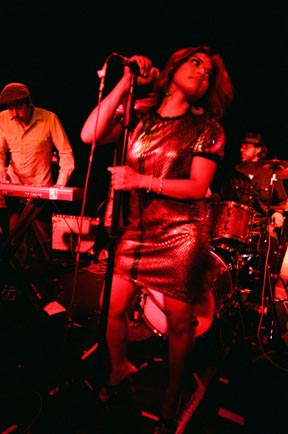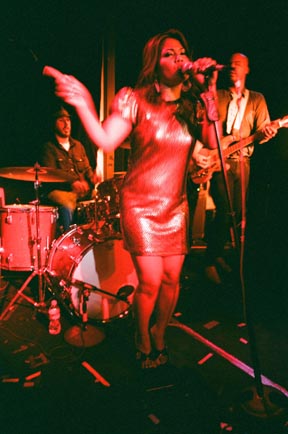 DENGUE FEVER LIVE
THE INDEPENDENT /SAN FRANCISCO 18 APRIL 2008
PHOTOS BY SHELLY VOGEL FROM SOHO/ SANTA BARBARA 17 APRIL 2008
It's official: my friends all are old fogies. Well, IJ was recovering from an operation on his foot, and couldn't stand, and Big Steve was out of town, but I could not, for the life of me, find someone who wanted to go out and party at 11:30 on a Friday night! There was a lot of traffic out there but I got to the Independent at 11 and then had to circle the club for fifteen minutes before finding a parking spot in a tow-away zone next to a building site. I gave my plus one to a hopeful broke guy outside who offered me a beer to get him in. It's so long since I have been there the club has changed name (It's used to be the Kennel Club, then the VIZ) and is now, mercifully, smoke free. In fact, last time I was there someone among my party passed out from the heat & smoke and we had to leave. I got upstairs to a great spot on the balcony overlooking the stage just as the band came on. The floor was packed with a capacity crowd of what looked like 2000 people jammed together. Chhom Nimol looked stunning in five-inch heels and silver skintight leggings. It was hard not be be turned on by her, uh, energy. Blame the full moon. Also the privileged few on the balcony could see the whole stage. It was especially good for catching the antics of bassist Senon Williams who moved about to create dynamic silhouettes with the other musicians in a jokey deathrockgod posture, back to back, axes aloft. Senon has shaved his beard (as Chhom suggested in a song from the first album) & so he and Zac Holtzman don't look like confederates of ZZ Top any more: glabrousness suits the handsome chap.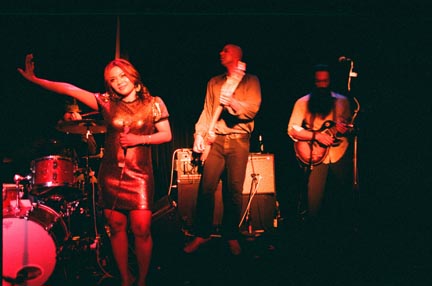 What I love about Dengue Fever is their creativity. They have taken simple pop ditties and added a whole layer of jazzy sophistication. There's plenty of room for the lead guitarist and sax player to do inventive solos within the framework of the rock solid bass and drums laid down by Paul Smith. In addition they had "Nappy G" on percussion. And the Farfisa sound alternately bubbles or wheedles along. Chhom's voice is unearthly and I suppose it's the exoticness of her tone and range that attracts fans, who feel secure with the familiar "born to be wild" quality of the riffing, but with her aetherial vocals floating atop it all. The standouts were their big guns from the second album which are now polished to a fine sheen in performance, as well as "Seeing hands" and "Tiger phone card" from the third album. At one point "Tiger phone card" sounds like "All day and all of the night" by the Kinks. The organ also conjurs up "Not-so-sweet Martha Lorraine" by Country Joe & the Fish during "Integratron." David Ralicke played baritone, tenor sax, and even trumpet and flute. He used echo effectively and in fact all of the musicians were on top of their effects pedals giving a studio-like quality to their parts that is exceptional among live performers.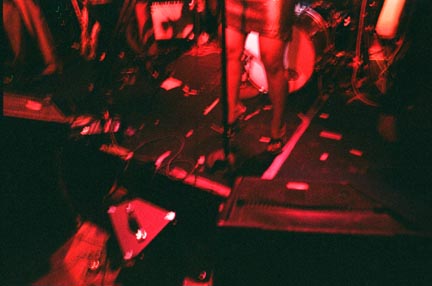 During the moments when the music would wind down, the band would all sink to the floor, except Chhom. You'd only see Ethan Holtzman's fingers clutching a G minor over the red case of his keyboard. But mainly the boys in the band were all pogo-ing and having fun.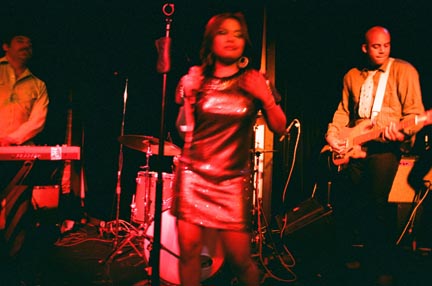 Someone yelled for "Sni Bong," and a girl was pulled out of the crowd to sing along. Then they noticed a giant panda in the throng. Despite the close conditions there was a woman in a full panda costume! Somehow it seemed a very Asian thing to do. Around me young people were drinking to excess (ah, heady youth) and having yelled conversations about what a good time they were having.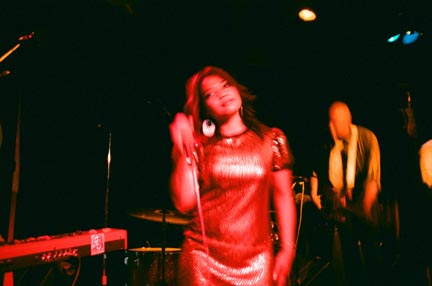 My mind wandered back to the many great bands I had seen there: Loketo, Quatre Etoiles, Kanda Bongo Man, and how the club had remained independent despite the musical hegemony of the Bill Graham Organization which has effectively stifled music in the Bay Area by pursuing its own agenda (Eddy Money! gimme a break) and killing off the smaller clubs. Back in the 80s when it was the Kennel Club there was a wonderful inter-racial crowd that would show up for Doug Wendt's reggae night. He would play music videos and everyone had a blast. One night Doug asked Papa Fred and me to fill in for him. He showed us the video set-up and said if we wanted we could play tapes that had clips of old African movies, etc, on them and then just spin whatever we liked. This appealed to us more. I have always felt that the best music didn't necessarily come with a video and people get seduced by a clever video without realizing the music is second-rate. Then you had people bumping into one another because they were staring at the screen. So Fred and I got to work. We played some Marley video clips and then about midnight, worn out with the unfamiliar, decided to put on one of the clips tapes and play some longer African tracks. We were cuing up another song, fiddling with the levels, etc when the manager came bursting in. What the hell are you doing? he demanded. We turned around and looked up and there on the screen, twenty times larger than life, was a hardcore porno movie pumping away to OK Jazz. Oh shit, we said, we just stuck that tape on there, had no idea. Needless to say it was the first and last time we deejayed there!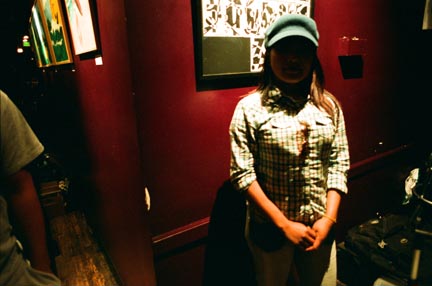 Chhom was singing "Tip my canoe" in her eerie way, and the two guitar players were bopping back and forth, yelling the chorus "cha cha" forcefully into the mike. Virtuoso Zac Holtzman was ripping away with his tube screamer on and making his Gibson sound like a synthesizer. He took the mike for "Made of steam," one of the really moody pieces from "Dragon House," though I have to say they're one of the best mood-setting bands I know. They did not do "Hummingbird," a ballad that reminds me of "Lady Jane" by the Stones, however that song captures the sense of longing you get from Chhom's voice, even though her English is incomprehensible on it, like Rochereau turning "Let it be" into "Lullabee," or the Bulgarian woman on YouTube singing "Ken Lee" instead of "Can't live" in the song by Harry Nilsson (and not Mariah Carey as everyone seems to think). They did "Sober driver" which reminds me of Grace Jones, with Zac singing a duet again, and David Ralick's horn pouring on the smoky late-night angst. It was a great night, and I got home singing "It's four a.m. I check my e-mail," hearing the stadium rock guitar swells and Ray Manzarek organ echoing in my brain.