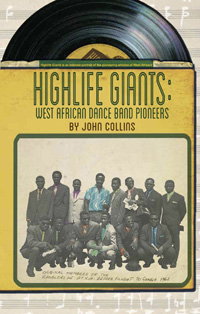 JOHN COLLINS
HIGHLIFE GIANTS: WEST AFRICAN DANCE BAND PIONEERS (Cassava Republic)
200 years ago the English poet John Keats wrote in a letter to his brother in America about the discovery of the Ashantee, a "lost" kingdom in Africa, with gold window frames, a standing army of 100,000 and human sacrifices: "all rather Bluebeardish but I hope it is true," he adds... There certainly was European contact with this kingdom two centuries ago: a combination of visiting sailors and explorers. Then returning Africans from Brasil and the Caribbean in the late nineteenth-century brought waves of musical inspiration. In this engaging book, John Collins sets forth the story of West African Highlife. What makes it particularly compelling is the use of first-hand accounts. The chapters are small and each one is relevant to a particular topic, personality or group of musicians. The book relies on interviews and commentary collected by Collins who grew up in Ghana, started a recording studio and is now a professor of music at the University of Ghana as well as founder of Bokoor African Popular Music Archives Foundation. By interviewing old-timers on the scene, as well as fellow musicians, he was able to trace the story back to the 1920s from eye-witness statements and, far beyond the usual "When Satchmo came to town" stories, fills in a lot of background on how the music evolved and spread. Early colonial dance bands developed out of military drum-&-fife bands all along the West Coast of Africa. By the 1920s some of these, particularly those from the West Indian regiments, were picking up local songs as well as Western music and would even play ballroom music for Krio elite dances. Marching bands with home-made drums and the few brass instruments they could gather soon imitated the military model. These percussion-based "konkoma" groups became a craze in the 1930s created by "school drop-outs and ruffian boys." They even had uniforms with lots of pockets for colored handkerchiefs. The next component was the guitar that came with Kru sailors and swept West Africa between 1885 and 1908. Juju in Nigeria, Makossa in Cameroun and even the dry guitar of Congo all evolved from this style which became known as "palm wine" when it reached the heart of Ghana. The Kru sailor used a thumb and first finger plucking technique on the Spanish guitar that was adapted from the traditional way of playing seperewa, an indigenous instrument.
The name "highlife" was coined in the 1920s when dance bands began playing popular street songs in their sets. Collins quotes a woman who remembers her childhood home overlooked the open-air courtyard of a night club where well-to-do Ghanaians danced in the 1930s. When the band struck up a highlife number the sedate dancers let fly, waving handkerchiefs and "letting their hair down."
During the Second World War Americans arrived in West Africa with sunglasses, records and "soundies" (short music films featuring the likes of Duke Ellington, Glenn Miller, Cab Calloway and the Nicholas Brothers). After the War key Ghanaian musicians went abroad: Guy Warren (Kofi Ghanaba) visited the US to soak up the new Afro-Cuban sound of jazz and London where he got into calypso. After the Second World War Cuban drums were brought into the highlife ensemble.
E.T. Mensah's career is considered in depth. In 1951 his Tempos went to Lagos for a week where their gigs were eagerly attended by Victor Olaiya and Bobby Benson. Further West African tours in 1953 were so successful the Tempos were able to turn professional. Rex Lawson in Nigeria set up his own band to play highlife, including Tempos' covers. Success led to rivalry and ultimately the Nigerian Musicians Union banned E.T.'s band from touring in 1958. However, in 1958 the Tempos made a very successful tour to Guinea, Liberia and Cote d'Ivoire. When Sekou Touré heard them play African music on western band instruments it gave him the idea to create six state-sponsored dance bands, including Les Amazones, Bembeya Jazz and the Syli National Orchestra. Mensah was close to Kwame Nkrumah, Ghana's first president, writing songs for him and playing at his rallies. One consequence of independence however, was increased taxes. There was a beer tax, an entertainment tax, even a concert ticket tax, so that in fact Mensah was forced to sell his club in 1957. But he kept going, constantly forming new bands. In 1961 he was keen on unionization, and ended up as first head of the Ghanaian musicians union. He wanted to protect royalties and managed to double the amount paid by the British record companies from 2d to 4d per sold disc, and also protect wages so there would be fewer defections from bands.
E.T.'s band the Tempos became a revolving door for talented musicians as he only hired the best, but the country was in turmoil after Independence. Starting in 1961 there was a series of right-wing assassination attempts on Nkrumah. Bombs were thrown at the Socialist president during rallies, injuring musicians. So a dusk-to-dawn curfew was imposed. Then bands were forced to play afternoon gigs, or go to nearby countries and play in Lomé, Togo or Cotonou, Benin.
Highlife took off in Nigeria until the civil war (1967-70) when musicians were drafted into the Nigerian army; afterwards Juju music took over. Victor Olaiya's career continues the story in Nigeria, although his started his first band in Birmingham, England while studying accounting. His Cool Cats were the first Nigerian band to score a platinum record. As well as trumpeter Rex Lawson, other graduates of his band include teenagers Fela Kuti and Victor Uwaifo. In 1969 Uwaifo got the first gold disc in Nigeria for "Joromi." His hit "Mammy Water" came from a late-night beach encounter with a mermaid who called out to the "Guitar Boy." He played to her until she floated off: "If you see Mammy Water, never run away." At art school he tried to learn guitar and used color as a notation system. Then he noticed musical rhythms woven in akwete cloth which he interpreted as a new sound. His Ekassa came from a traditional Benin City dance. "Five days a week love," using a reggae beat, earned him his second gold disc.
Like Olaiya, Ignace De Souza's business savvy led to a successful career in band management. As an aside the story of De Souza from Benin includes a fine 2-page exposition of the development of Congo jazz out of maringa music in the interwar years.
Jerry Hansen was influenced by the Ellington "soundies" and V-discs he heard in the 40s. He joined the Black Beats and led the band when King Bruce was absent. In 1961 the group splintered, with Hansen forming the Ramblers International. On a trip to the UK in 1968 they recorded their first stereo album for Decca. In all they recorded 20 albums but successive military governments in the late 70s made life hard for musicians and Hansen couldn't stock his musical instrument store. In 1984 he moved to Washington DC and worked as a security guard for the next 17 years. The political instability led Ghanaians like Kofi Sammy to move to Nigeria which was undergoing an oil boom. We read of many musicians forced into exile due to economic hardship and war. Nico Mbarga fled to Cameroun during the Nigerian civil war. In 1976 his "Sweet mother" sold more than 13 million copies. But this wild migratory pattern had been established by the Alien Compulsion Order after Nkrumah's overthrow in 1966 which expelled non-Ghanaians like Ignace de Souza and his band of Nigerian, Togolese, Beninese and Congolese. Then in 1983 Nigeria passed an Alien Expulsion Order. But by the 80s the youth had lost interest in highlife and favored canned music in discotheques.
There is, perhaps necessarily, duplication of information from chapter to chapter and the photos are murky for the most part, but this book will become an indispensable reference work for enthusiasts of West African popular music. My other criticisms are minor, mainly typographical errors like Jonas Pedro for Gnonnas, but calling Congolese rumba soukous is likely to confuse readers. And note you can still find the accompanying soundtrack on such albums as E.T. Mensah & the Tempos (4CD box from RetroAfric), King Bruce and the Black Beats (also from Retro); plus original artist reissues on the Soundways, Evergreen, Strut, Premier and Original Music labels.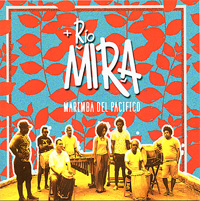 RIO MIRA
MARIMBA DEL PACIFICO (AYA Records AYA 005 CD)
I put on this offering from the Colombia/Ecuadorian group and immediately thought I was listening to an unplugged version of Sidestepper's "Deja." The first cut "Adios Morena" shares the basic melody of Sidestepper's remix, but it's probably a universal Colombian folk tune. The Mira river flows between Colombia and Ecuador but people on both banks have a shared heritage, eat the same food, speak the same language and have much in common, including this lilting marimba music, that is so ingrained in the region that it has been protected since 2015 by UNESCO on their list of the Intangible Cultural Heritage of Humanity. The group are eight youngsters who have taken up the instruments, along with the bombo, a bass drum, the cununo, a hand drum, and the guasa, a cylindrical shaker. They sing to patron saints and for mourning ceremonies. As we know the palenques of these coastal people were established by runaway African slaves who kept their own cultural traditions alive: they didn't respect national boundaries and had as little to do with the Spanish colonial authorities as possible. The wooden xylophones are of course indigenous to the Bantu peoples of West Africa and cyclical rhythms as well as call and response vocals can be heard in both West African and Pacific coastal music from Colombia down to Ecuador. The marimbas are made of wood in both diatonic and pentatonic scales, the hanging resonators are cane and the mallets are made from rubber, each component contributing to the unique qualities found in this music. It is a well-paced and beautifully realized album.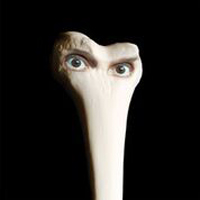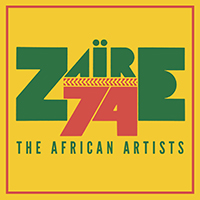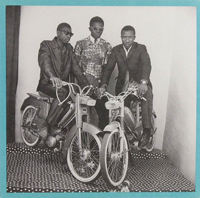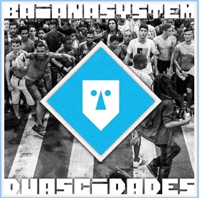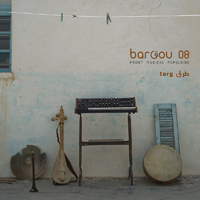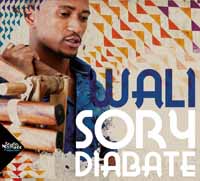 the year so far:
(click on maps at the top of the page to get to continent of choice)
July 2017
African Gems went to the African Miscellany section
Ravi Shankar's Ghanashyam &
Rocqawali's Sufi Spirit are both filed in India
Rough Guide to Ragtime Blues is filed under Blues
Toko Telo can also be found in the African Miscellany section
Toronto's Bellaviti and Conjunto Lacalu are in Salsa
Lisandro Meza went to Colombia part 2
June 2017
Zaire 74: The African artists is filed in Congo part 4
The Photographs of Charles Duvelle is filed in Africa Miscellany
Oumou Sangare's Mogoya can be found in Mali part 4
Kasai Allstars Around Felicité is filed under Congo part 4
Juana Molina's Halo can be read about in Argentina
Rough Guide to Jugband Blues is in the Blues section
I put Vincent Ahehehinnou in Nigeria part 2 though you may be looking for him in Benin
Fruko's Tesura is in Colombia part 2
Orkesta Mendoza pose a problem, being so eclectic, but I put them in the salsa category
My write-up of Michel Camilo, Gonzalo Rubalcaba and Chucho Valdes is in Cuba LIVE
April 2017
Mamadou Kelly's Politiki is filed in Mali part 4
Afro-Cuban All Stars' Viva Mexico is filed in Cuba part 4
BaianaSystem's Duas Cidadas is filed under Brasil part 3
Read about the Original Sound of Mali in Mali part 3
Orch Baobab's latest, Tribute to Ndiouga Dieng, is in the Senegal part 3 section

March 2017
Bargou 08's Targ is back in Arabia
Shem Tupe is filed under Kenya part 2
Les Amazones d'Afrique's Republique Amazone can be found in Mali part 3
Aurelio Martinez' Garifuna opus Darandi is filed under Caribbean miscellany
OK Jazz's The Loningisa Years 1956-61 is in Congo Classics part 2
Synthesize the Soul: Astro-Atlantic Hypnotica can be read about in the Cabo Verde section
Fruko's A la Memoria del Muerto &
Combo los Yogas' Canabrava are filed in Colombia part 2
February 2017
Jaako Laitinen and Väärä Raha are filed under Old World misc
Sory Diabaté's latest is filed in Mali part 3
Diama Ndiaye's Dafarèèr is filed under Senegal part 3
so is Ibrahima Cissokho & Le Mandingue Foly's Yanfu
a review of the movie Faaji Agba is filed under Nigeria part 2
January 2017
Palenque Records AfroColombia mix is filed under Colombia part 2
Jinja by The Nile Project is filed in Arabic music
Djime Sissoko's Djama Djigui went to Mali part 3
The Rough Guide to Hillbilly Blues is reviewed in the Blues section
The Top 16 of 2016 is HERE
Top 15 of 2015 is HERE

My Top Ten of 2014 can be found HERE.

My Top 12 of 2013, with best reissues, etc, is online HERE.

My Top Twelve of 2012 is HERE.

My Top Ten of 2011 can be found HERE.

My Top 9 of 2010 is online HERE

Click HERE for my top 10 of 2009

Click HERE for my top 9 of 2008

Click HERE for my top 10 of 2007

Click HERE for my top 11 of 2006
MY BEST-SELLING BOOK!
"Essential reference guide to the Congo guitar king" -- SONGLINES 64 **** (four stars)
"I do not know anybody who has such immense knowledge of African music. Congratulations." -- Gerhard G (a purchaser)
BACK IN PRINT (Second edition, November 2012)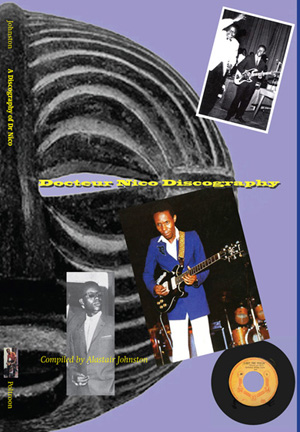 A DISCOGRAPHY OF DOCTEUR NICO
By Alastair Johnston
Poltroon Press, 2012, expanded to 88 pages; list price $19.95.
Available now. Click here for details.