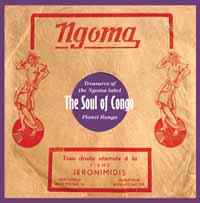 NGOMA: THE SOUL OF CONGO
(3 CD or 3 LP set from Planet Ilunga PI 10)
(Compiled by yours truly)
In 1983 I went to Africa. I safaried through Kenya with my brother and sister-in-law to Tsavo game park, then to Mombasa and Malindi, and on to the magical island of Lamu. The Swahili word for white man is "Mzungu" which literally means "a purposeless wanderer." I was up for more adventure and hooked up with an ex-RAF plane mechanic who was driving an old army truck from Nairobi through Uganda to the Ruwenzori mountains and the Ituri rain forest, planning to look for gorillas and pygmies. We did not find any gorillas but the pygmies found us and we spent a week with the ba-Mbuti at their forest camp.
After that I took another loco wazungu overland trip for four months up the length of the White Nile from Juba, Sudan to Alexandria, Egypt (with a detour to the Red Sea which is how we got lost in the Nubian desert and, fortunately, arrested at gunpoint by the Egyptian Army near Aswan as suspected smugglers). I came back with two things in my blood: malaria and Zairois music. Over the next 40 years I nurtured a passion for African music. I met Fred Hill who had a radio show on local college station KUSF and he introduced me to a lot of great music; eventually I took over his show, broadcasting 2 hours a week from 1990-99. He also started Round World Music with Robert Leaver, which was originally going to be a branch of Stern's, the London record shop. I went to work there part-time to feed my habit and also learned about the music of the rest of the world from the other employees, who were also compulsive obsessives in their own fields. When the radio show ended I was already writing for magazines such as WIRED and Whole Earth Review as well as some websites which were springing up, and so, to keep abreast of the music and retain my copyrights, I started this website.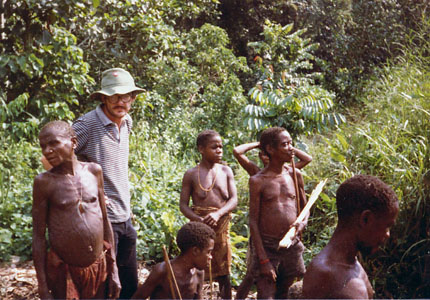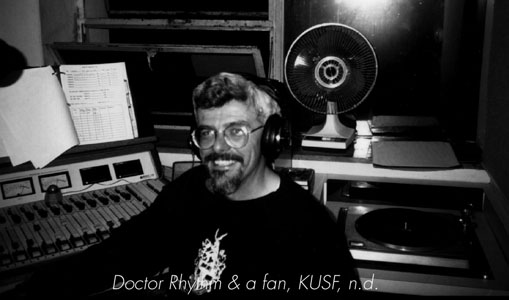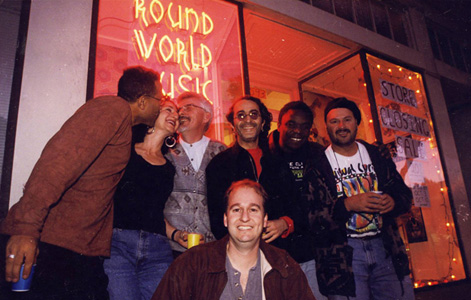 Knowing how transient the internet can be, I proposed to the owners of half a dozen other similarly informative sites that we pool our resources in one spot, so they would not get lost. I know Brewster Kahle who founded the Internet Archive, and he offered to be our host. But African music website owners are like cats and will not be herded. Doug Paterson died, so his site may disappear, KenTanza Vinyl is now offline, but a massive loss was the sudden death of Flemming Harrev of afrodisc.com in 2020. Three years ago Flemming sent me zips of precious 78s from Ngoma, saying cryptically he did not have time to listen to them. When it dawned on me what he meant, I reached out to a group of friends and others with an interest in the music, including Dr Wolfgang Bender (who had issued two CDs with the popular african music label of Günter Gretz of Ngoma), Stefan Werdekker (who has posted many great Congolese discs on his worldservice blog), Bart Cattaert of Planet Ilunga, Yoshiki Fukasawa (compiler of Early Congo Music 1946-62: First Rumba to Real Rumba), Jonathan Ward (compiler of Opika Pende: Africa at 78rpm), Mike Kieffer (sound engineer who has worked with Mississippi Records, most recently on John Ondolo, Kiko Kids and Bulawayo Blue Yodel releases, and restored Bix Biderbecke) and Alan Brain, Peruvian director of the definitive film about modern Congolese music: The Rumba Kings. I suggested we do something to commemorate Flemming's achievement.
All of these people and their circle of friends jumped in to offer any assistance I might need, and began sending me rips of their priceless Ngoma 78s. I have one album of 78s (ritual music from Haiti) but never got into the shellac habit due to, shall we say, financial constraints. I started listening to the wealth of music, amazed at how breathtaking it was. Not only was Ngoma a ground-breaking label in terms of scope, early in the field, featuring diverse styles as well as folk music from a wide area, they were also really prolific. But due to the trashing of their store during the Mobutu years there was no longer an archive, so what remained was scattered and more likely to be preserved in Western collections. Two things were conspicuously missing: the original version of "Maria Tebbo," and "Ata Ndele," which I will return to. I listened to all of this music that was unfamiliar to my ears. Furthermore, while I could quote you pedigrees of the Franco, Verckys and Nico generation of bands, I knew little about their predecessors, like Trio BOW, comprised of Manuel d'Oliveira, Wendo Kolosoyi and Léon Bukasa [below L to R].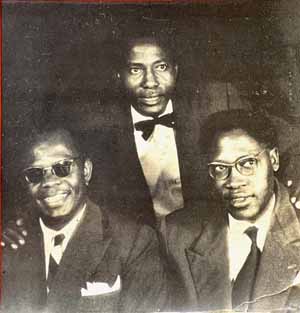 For two years I immersed myself in books (some rare ones founds in the UC Berkeley music library), dissertations and documents: Alan Brain was moving to Morocco so sent me a shelf of reference works which I devoured, including Nimy's priceless Dictionnaire des Immortels de la Musique Congolaise Moderne. I stumbled on citations and scans online including rare newspaper articles as well as "facts" on blogs like mbokamosika which I could not verify independently. But scholarly research is my passion so I persevered, and all the time I was listening to the music, refining my selection, whittling down the final "must-have" 4 hours to 3 CDs of 70 minutes each. And because of my passion for Cuban music, I was able to add dimension to the Kongo-Cuba connection which has intrigued so many researchers. I am not saying my argument is definitive, but it does take into account all the latest theories. I also wanted more context for the songs, so reached out to African fans of the music to transcribe and translate the songs, starting with my dear friend Jerome Ogola in Kenya who is a polymath, linguist, and also a fount of information on Congolese music. When I wanted to pay two collaborators from Congo, I got emails from Western Union asking if I knew them personally, if these were religious donations, if i had been coerced into sending them money, etc, etc!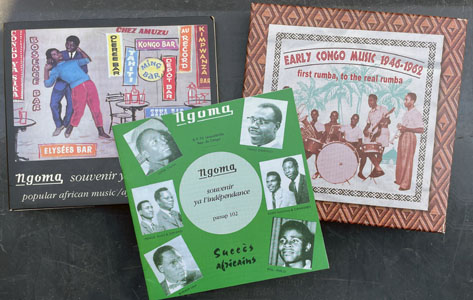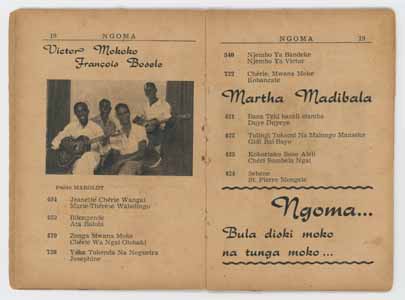 My first criterion in compiling the sets was to NOT include tracks which were available on other CDs. This included the two Ngoma CDs of Wolfgang Bender on p.a.m. which contain many classics, as well as Yoshiki Fukasawa's more recent box set on El Sur Records Early Congo Music 1946-62, again, loaded with gems (from many labels). There were other compilations too: recently Hisano's bloke put together Congo Revolution, which came out from Soul Jazz in 2019 and included 3 Ngoma tracks. There was another consideration: David Boulakia, a Paris DJ and record-store owner was planning an Ngoma release also. I spoke to him on the phone; we compared lists and I reluctantly agreed not to duplicate his choices, though again they were certainly strong. I did keep one of his selections, "Mono kwame ya nzola" by Tchadé and Beguen Band, a blistering jam which came from Stefan's collection. I had to cut back on Paul Mwanga and Charles Lembe but was glad I had solid selections from them. Another regret was "Canta del Negro" by Tino Baroza, a propulsive number from Tchadé, d'Oliveira and Mariola, but it had also appeared on a (very obscure) Blue Flamingo compilation.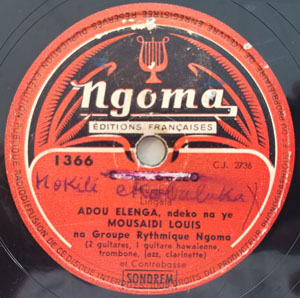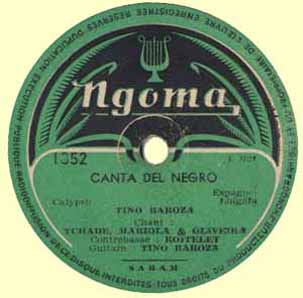 There were still two missing tracks. The original of "Maria Tebbo" (popularized in a remake by Sam Mangwana) was a song called "Marie Tchebo" by Manuel d'Oliveira (later covered by Adou Elenga also). Miraculously both Bart Cat and Mike Kieffer had copies of the original, and we were able to choose one to lead off the compilation. The other song which no previous compiler had managed to find was called "Ata Ndele" (sooner or later). Originally titled "Mokili Ekobaluka" (Ngoma 1366; see label above), Alan Brain acquired a copy from Clement Ossinonde. This song said sooner or later the world will change, and implied the Belgians were going to get kicked out of Congo. The singer Adou Elenga was imprisoned and the song was deleted from the Ngoma catalogue, becoming one of their scarcest titles. Sometimes I included a strong flip-side and pointed out the availability of the other side in one of the previous comps. Now the project is finished and so here is a video about it, and the press release I wrote for Planet Ilunga: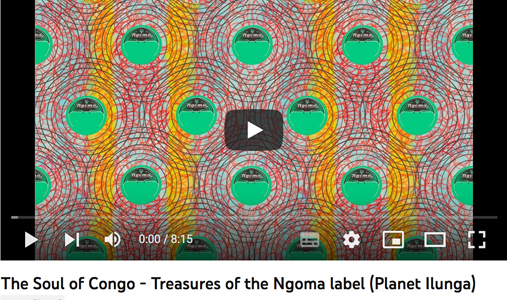 Planet Ilunga presents The Enduring Cultural Heritage of the Congo

Ngoma: the Soul of Congo is a compilation that spans the years from 1948 to 1963 as the Belgian Congo emerged from colonial subjugation into the first flower of Independence. Singers and players came to Congo's capital Léopoldville, from all over Central Africa — from the busy streets of Brazzaville on the opposite shore of the Congo river to the vast plateau of Mbanza Congo in Angola, from the mineral rich areas of Lubumbashi (Elizabethville) in the Deep South to the lively docks of Kisangani (Stanleyville) in the northeast, from the rocky wastes of Mbandaka (Coquilhatville) in the West to the majestic forests of Bukavu (Costermansville) in the East.
Léopoldville became a cauldron of musical syncretism between the African rhythms that arrived with these musicians and the European, Caribbean and Cuban tunes that were popular in the big city. The new sounds were recorded for one of the big five Congo labels: Opika, Loningisa, Esengo, Olympia or Ngoma. Musicians sang their songs in many languages: Lingala, Kiswahili, Kikongo, Tshiluba, Lari and Budja. And to show their urbanity: Espangol, a fractured form of Spanish, heard here in half a dozen selections. And although their lyrics covered many topics such as love, daily life, and the quest for freedom, their main message had no language since it was a musical one: to spread joy and hope.
None of the other Congolese labels better showcased the energy, variety & spirit of this era than the Ngoma label. During its existence, from 1948 until 1971, Ngoma made over 4500 recordings, creating a crucial cultural legacy, recognized as long ago as 1954 when poet Philippe Soupault wrote on behalf of UNESCO to Nikis Cavvadias, owner of Ngoma, thanking him for his work "collecting popular melodies and traditional songs which have caught the attention of the whole world. You've contributed to enlarging the knowledge of humanity."

As the Ngoma label flourished, so too did the first big stars of this new sound: Manuel d'Oliveira from San Salvador (who excelled in the polka piqué rhythm), Antoine Kolosoyi "Wendo'' from Bandundu and Léon Bukasa from Katanga. Cavvadias suggested they form a power trio, called Trio BOW and go on tour. He drove, and the tour lasted 20 months, reaching the borders of Angola and Cameroun. They crossed vast forests and rivers with help from locals who signaled their approach with tamtams or lokoles and then came out in the thousands to welcome the stars and fete them for their musical performances. The three of them are heavily featured in the Ngoma catalogue and in this compilation. They were all charismatic singers and guitarists who knew folk music but also adapted popular music from Cuba (heard on the famous GV records). Ngoma also provided a way for female singers, such as Martha Badibala, to rise to fame and inspire other women to dream of a life beyond taking care of the kids and husband.
Ngoma still recorded traditional folkloric music, such as the songs by old-time accordionist Camille Feruzi and likembe player Antoine Mundanda, but also looked for fresh talent as far away as Brussels where they recorded Camerounian heartthrob Charles Lembe fronting a fierce quartet on some flashy adapted Cuban Guaracha rhythms. Instrumentalists like Antoine Kasongo (clarinet), Albino Kalombo (sax) and Tino Baroza (guitar) also made their mark through the Ngoma recordings.

Adou Elenga's 1954 hit "Ata Ndele," that criticized the white colonists, led to his imprisonment and the song being quickly deleted from the catalogue (long sought after, a rare copy has been found for this collection). Already in 1953 he suggested a "change was gonna come," and slowly but surely it did. Angolan Paul Mwanga, too, was unstinting in his criticism of the colonials, and he was also active with authors' rights associations. Frank Lassan was a singer who brought the romantic style of French crooners to Congolese popular culture, while guitar wizard Manoka De Saïo or "Maitre Colon Gentil" (Genteel Settler) were flamboyant popular figures in the nightclub scene, captured on disc.
Guitar prodigies like Antoine Nedule "Papa Noel" or Mose Se Sengo "Fan Fan" cut their teeth as teenagers in studio bands (Maquina Loca and Jazz Babalou) which had fluid membership. The band names changed rapidly — Jazz Mango, Jazz Venus, Dynamic Jazz, Affeinta Jazz, Mysterieux Jazz, Rumbanella Bande, Beguen Band, Vedette Jazz, La Palma, Negrita Jazz — all of them are heard here. At first the word "jazz" was applied to the Cuban guïro or scraper, but as it came to indicate modern urbanity it was adapted for many band names.

As Nicolas "Dr Nico" Kasanda said, when interviewed by Michel Lonoh:
"Les anciennes réalisations de nos pionniers ont un place particulière chez moi. Ce sont surtout ces gens-là qui ont produit la vraie et la pure musique congolaise. Vous comprenez que nous sommes les produits de civilisations métissées. Pour nous garder Congolais, nous devons sur le plan musical, écouter, comprendre et pénétrer nos anciens pour ensuite les modifier et corriger quelques-unes de leurs erreurs qui résultaient de la primitivité. Personellement j'ai un respect absolu envers tous nos artistes de jadis."
["The early achievements of our pioneers have a special place for me. It is especially these people who produced the true and pure Congolese music. You understand that we are the products of mixed civilizations. To keep us Congolese, we must, on the musical level, listen, understand and penetrate our elders' work to then modify it and correct some of their errors which resulted from primitiveness. Personally I have an absolute respect towards all our artists of yesteryear."]

Now sadly, the Ngoma legacy has been decimated as many of the original recordings were played to bits or otherwise lost to posterity. A step towards preservation of our knowledge of Ngoma was made when Flemming Harrev created a massive discography and history of the label on his afrodisc website. When he died in 2020 the compiler had the idea of assembling a memorial disc in tribute to Flemming Harrev. He stated that afrodisc.com was "a tribute to the creativity and diversity of the performers," and now we have the opportunity of hearing some of the music, beautifully restored.

Dedicated record collectors came together to make this possible. From Morocco, the USA, France, Belgium, the Netherlands, Germany and Japan, these generous fans of the music have pooled their collections for this compilation, assembled and annotated by Alastair Johnston, author of the Discography of Docteur Nico, who runs the popular Muzikifan website from California. This is the first time such a massive sampling of Ngoma recordings has been gathered together. Legendary but unheard songs were tracked down, some emerging from dead stock in a forgotten Tanzanian record store. Experts who have made previous compilations were solicited for their advice and recommendations; liner notes, graduate theses, African periodicals, blogs and documents by authorities such as Jean-Pierre Nimy Nzonga, Gary Stewart, Manda Tchebwa, Sylvain Konko and Michel Lonoh were scoured for clues.
Planet Ilunga, the Brussels-based publisher of this epic collection, has produced a series of recordings dedicated to the history of Congolese popular music from artists like Franco & OK Jazz, Docteur Nico, Orchestre Rock'a Mambo and Joseph Kabasele, "le Grand Kalle" et son African Jazz. Ngoma: the Soul of Congo is their 10th release since the creation of the label in 2013 and their most ambitious project to date. Tracklist of the 3 LP set is here; tracklist of the #CD set is here