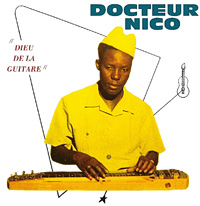 DOCTEUR NICO
DIEU DE LA GUITARE (Planet Ilunga 4)
I was pleased when Bart of Planet Ilunga contacted me about his latest project, an album devoted to Docteur Nico. I am a huge Nico fan and my small editorial role in this production was personally gratifying. Planet Ilunga has previously published discs devoted to Le Grand Kalle, Rock-a-mambo and early Franco, so it is fitting he should turn to the next great name in that pantheon: Nicolas Kasanda, an artist who started out in Opika studios as a teenager and grew to be arguably the most innovative and original guitarist to come out of Congo. Nico's style is different from Franco's -- his nearest rival -- being more fluid, more ethereal, less rooted in the musical structure of the piece. While Franco was the Sorcerer of the guitar, Nico was considered the God. But rather than continue comparing apples and oranges, let us listen to Nico. I do not have the resources to pursue the rare early 78s, or even some of the Nico 45s that regularly come up on Ebay with asking price of $50 or more. I have lucked out and found one or two but my collection is mainly based on the 20 or so LPs released or distributed by Sonodisc and the ten reissued CDs which tended to muddy the waters with mislabelled or substandard additions (Between them they cover about a quarter of Nico's mature recordings as band-leader). I have tried to clarify the issue with two editions of my Discography of Dr Nico which lists most of the 134 singles on the VITA label from 1963 on and the subsequent 142 singles on Sukisa from 1966 to 1975. Ngoma, African, ASL & Decca/Congo also reissued these singles, though occasionally singles came out on other labels such as Philips or Super Contact.
But Bart's interest is in the complete history of the artist, particularly the early work. After Opika closed in 1957 most of the artists moved to Esengo: Nico was just out of his teens but already the star guitarist on the label so he plugged into different combos for recording. Apparently one of his greatest recordings from this period is "Telegramme d'amour" -- this is a qualified statement as no one seems to have it, or at least be willing to share it. This reinforces the point that this cultural patrimony has been seriously mishandled by the French and Belgian labels who had the rights to publish and promote the music. They got it cheaply, in nefarious deals with the likes of Roger Izeidi and Rochereau, and (easy come, easy go) have discarded or mislaid tapes or master discs. Nico's own tapes were lost when his studio mysteriously burned down after he refused to record a praise song for the dictator Mobutu. Here we have the whole story, from simple early studio work, with jagged guitar, upright bass, congas and claves, maracas, even a 1940s Solovox organ with its farty warmth. Among the miscellaneous rumbas we hear one outstanding folklore-based piece, "Tshiandanda Ngalula" which foreshadows some of Nico's later recordings (usually penned by his brother) that have the mutuashi beat of Kasai as their basis. Outstanding sidemen include clarinetist and sax player Jean-Serge Essous.

After his work at Esengo with African Jazz, Nico and his brother Dechaud broke away and formed African Jazz Aile Nico in 1961 but then returned to Kabasele briefly. By 1962 Nico was standing out prominently with tracks like "Kamulanga," reprised here, and the "shimmering" effect on "I'm sorry," another of his merengues. Roger Izeidi ran a hotel called the Blue Bar in Kinshasa and the German ambassador heard them and asked them to come and play in Germany. Kabasele did not make the trip, as he was going on his honeymoon, and he faxed them a request that they not use the African Jazz name, and this is when the group because African Fiesta. While a lot of Congolese bands used "Jazz" in their name, Fracasseur (the group's drummer) noted that Europeans who heard them knew they played rumba and thought it a bit absurd to call themselves jazz bands. Fracasseur was himself a good jazz drummer, having started out as conga player in a trio with Manu Dibango, then says (in conversation with film-maker Alan Brain) he was the first Congolese to play trap drums (but only in bars). Kalle's protégé Rochereau was now the lead singer and the repertoire leaned heavily on the cha-chas and son-montunos of Orquesta Aragón, Enrique Jorrín, Sonora Matancera and so on.
Side Three of the disc presents the work of this iteration of African Fiesta. But the egos of the three bandleaders were too big to contain them in one group. Roger & Tabu Ley left to form African Fiesta National while Nico went on to build his greatest group, African Fiesta Sukisa, adding André Lumingu "Zoro" on bass and Pierre "De la France" Bazeta on a third guitar to play between his lead and his brother Dechaud's rhythm: this new style was called the mi-solo. He added three new singers: Dominique Dionga "Apôtre", Valentin Sangana and Chantal Kazadi. Nico remade the band in his own image: the music evolved from covers of Cuban songs to original songs with great solos and Nico even bought a vintage 1957 Fender De-luxe "Hawaiian" lap-steel guitar with which he created a completely original sound. He also indulged in two new guitars: a "Dakota red" 1965 Fender Jazzmaster and a 1966 Hofner solid de-luxe with a white front and black back. Despite defections and having to rebuild the band more than once, Nico entered his most creative decade. African Fiesta Sukisa toured West Africa and came back with new dances, the kono (listen to "Sadi motema") and the kiri-kiri (e.g. "Baoulé," or "Lassan yembele ngai"), the latter an inverted version of the American dance craze "the jerk." In 1968 Bovic Bondo joined the band to bring a bit of the American funk and grunge sound. Personally I think it is gratuitous and really dislike his garage-band covers of Buddy Holly and Johnny Halliday. But Nico was giving the punters some variety and probably could leave the stage for a drink while Bovic did his shtick. One of his stand-by numbers was the merengue (he recorded half a dozen of them, and there's a "new" one on here) which, according to his manager, he could rip out while having a conversation with someone at the side of the stage. Luminaries who passed through the ranks of African Fiesta include Sam Mangwana and Pamelo Mounka in 1965 and then Bopol Mansiamina, Lessa Lassan and Josky Kiambukuta in 1970.
The album beings with the tentative first steps of Nico as composer at Opika, though his guitar is exactly like that of his mentor and cousin Tino Baroza. (He may even be using the same guitar, equipment being so scarce then.)
Side Three focuses on the Vita years, 1963-6, when Nico, Roger Izeidi and Rochereau led the group together. From these 270 songs, Bart has selected a good cross section: a bolero "Moto abungaka" has lush guitar over a tropical guiro, conga and maraca beat. "Rose mosica" also shows the complex riffing of Nico in a Mujos song with Tabu Ley on harmony; "Merengue Matthieu," another rarity, has horn counterpoint to needlework-like guitar; "Vita Matata" is a classic Cuban cha cha (based on "Trompetas en chá chá chá" of Enrique Jorrín with new Lingala lyrics); "African Fiesta Congo" is one of the two songs on this side that have been compiled before. With "Omeli mayi na tonga" we start to hear the band emerging from the shadow of Cuba to create an original Congolese rumba, with great sax as a bonus. The lyrics curse Nico's enemies and say "He who seeks shall find, but risks falling on his ass..." The side ends with both sides of Vita 131, a disc I had no knowledge of until now. Side A is "Zola José" by Armando and side B a cover of Orquesta Aragón's "Recuerdos de Ipacaraí"-- misspelled as "Reguerdos" by the Africans. It starts so slowly you think it's going at the wrong speed, with a dull baritone sax bomp replacing the piano, and then the flute part transposed to trumpets. Instead of violins Nico wafts his lap steel swooshes over the proceedings.
"Souvenir Air Congo" was a promotion disc made for the airline. It's new to me, though the riff is familiar, but it is essentially a novelty. That leaves only space for four tracks by what I consider the peak of Nico's career: African Fiesta Sukisa, with Ngoualali Michel on flute and the wonderful vocals of Valentin "Sangana" Kutu and Chantal Kazadi, whom I believe are far more soulful than Tabu Ley and a much better fit with the music, especially the dreamy ballads with lap steel guitar. This band released 92 singles, then there was another fracture and a final great band with Josky and Lessa Lassan on vocals from 1970 to 75. Wisely Bart stops there and doesn't venture into the "comeback" recordings which are a pale echo of the former glory of Nico, "God of the guitar."
With help from Flemming Harrev and Stefan Werdekker, Bart has pulled some magical white rabbits out of the hat: great tracks unknown even to the discographer. There is more out there and we hope it will turn up. Thanks to the internet, global communications are much better and we can find like-minded souls in other places. This has made possible a great network to pull Nico's legacy together. The liner notes include a long interview with a childhood friend, Ignace Mukendi, later Nico's manager. Like the other carefully crafted Planet Ilunga releases, this one will vanish like the morning dew, so grab it while you can.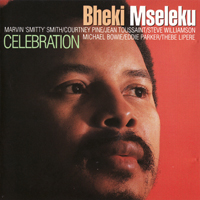 BHEKI MSELEKU
CELEBRATION (Matsuli MM112)
The recently rediscovered Coltrane recordings which came out as Both directions at once got me back into listening to that classic quartet with McCoy Tyner, Elvin Jones and Jimmy Garrison. This reissue of pianist Bheki Mseleku's album as band leader fits right into the set with that sparkling gem: Bheki is certainly comparable to Tyner on the ivories. He also does a fair Coltrane impression on sax. Alice Coltrane was so taken with him at the Newport Jazz festival that she gave him one of Trane's mouthpieces! Born in Durban in 1955, Mseleku grew up in harsh times. Uniquely, the South Africans adopted American Jazz as a model while other African countries were pursuing funk and pop as well as their indigenous music. Partly this had to do with the Apartheid government which scrutinized every lyric for double entendre that could be construed as criticism. A quarter century earlier as most African countries achieved independence from their colonial overlords, new nationalist governments were expunging Latin and other influences from their music and encouraging bands to look inward. But even jazz with its black identity could be seen as a form of resistance. This album was recorded in 1992 which is so recent you have a hard time thinking of it as being still the bad old days for South Africans, but those old white boys have a way of hanging on till the end -- just look at the US congress and senate. Also surprising to me is that it was issued in England on World Circuit, but by then Bheki had established himself internationally as a talented pianist and recorded with not only Elvin Jones, but Pharoah Sanders, Joe Henderson and Charlie Haden. In the 1980s Mseleku lived in exile in Sweden so was able to pursue music, but was on hard times and suffering from mental disorders. A stint in London changed his fortunes and a residency at Ronnie Scott's led to his meeting Steve Turre and his band and drummer "Smitty" Smith who was playing with Dave Holland. After three nights at the Jazz Cafe with members of the Jazz Warriors (Steve Williamson on alto sax and Jean Toussaint on tenor) the ensemble cut these four sides, now reissued, for the first time, on vinyl. While it's hard to play "like" Coltrane, with his incredible technical mastery of the instrument, you can emulate what he did which was to try to lose himself in the music in order to achieve spiritual transcendence or bliss. Coltrane famously paid tribute to Sonny Rollins by saying one of his solos was "Like Sonny" and here we hear the band channeling the supreme tenor saxophonist, so you could say it's "Like Johnny."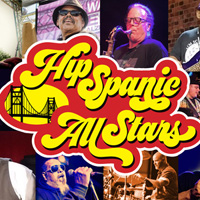 HIP SPANIC ALL STARS
OLD SCHOOL REVOLUTION (Hip Spanic Records)
Before gentrification San Francisco's Mission District was a happening scene. It was gritty (still is in places) and visceral with low-rider cars cruising and blasting their stereos, spontaneous conga jams in the park, little clubs like Bruno's, El Rio and Elbo Room, and big ones like Cesar's Latin Palace. Places for poetry, improv and comedy, like Intersection, Artists Television Access, the Marsh and other indie scenes thrived there. Churches were packed on Sundays; there were bakeries, bookstores and of course scores of taco stands. I lived there in the 1990s and worked part-time at Round World Music. The neighborhood started becoming "the new Bohemia" as people gave up on North Beach and the Haight-Ashbury trying to avoid tourists and looking for cheaper places to live. The "sound of the Mission" had been defined in the 60s by Santana and in the 70s by Tower of Power, Sly & the Family Stone and other funk bands. It's a sticky sweet mix of pop, soul and Latin grooves and is captured perfectly by the Hip Spanic Allstars on their new disc Old School Revolution. The group was formed by ex-members of Los Mocosos who found former members of Santana (timbalero Karl Perazzo), the snaky guitar of Spearhead, and indeed Tower of Power (trombonist and baritone saxophonist) with time on their hands and an urge to groove. Some band members formerly known as Latin Soul Syndicate did a lot of soundtrack work for The Sopranos, Devil wears Prada and John Leguizamo's last film. The old school of the title is the Chicano groove and surprisingly they kick off with a non-Latin pop song "Crystal Blue Persuasion" which was a 1969 hit for Tommy James & the Shondells. The original did have bongos and big horns and of course an irresistible Hammond organ groove and it's great to hear it recontextualized as a low-rider classic with layers of percussion. There are also audible echoes of the Rascals and Mazacote. The album is poppy but has consummate musicianship especially in the tropical sounds of "Bacuna Wow Wow Wow" and their cover of Sonora Santanera's "La Boa." A bit late for the summer party under the stars, this is still a guaranteed crowd pleaser.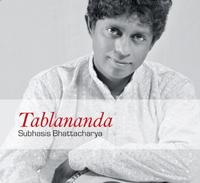 SUBHASIS BHATTACHARYA
TABLANANDA (Riverboat TUGCD1110)
This is the second Bhattacharya family spin-off album I have reviewed in as many months. I think they have a secret pact with World Music Network. However, let me say they are all worthy of your attention (and stand by for a different Bhattacharya coming next month!). I get a lot of music over the transom, and the fact I only post a few reviews per month means I listen to it and evaluate it before most of it gets dismissed: some of it after a few bars because it's crap or irrelevant to me, then there are those with a good opening cut that then go nowhere -- but the ones I like take you on a journey where they already know the route but are willing to make detours and have surprise parties on the way to keep you attentive. Subhasis is the understated tabla accompanist on his brother Debashish's many wild recordings on his homemade guitar. For his first solo outing he assembles an impressive cast of sidemen on western instruments such as guitar or trash can, or Indian instruments like dholak, bansuri or sarangi. The album was recorded in Santa Cruz, California and Kolkata. Subhasis rips through it on his skins like a dervish. He plays a dozen other percussion instruments, according to the liner notes, so I am guessing they overdubbed like crazy. But the layers work well and it seems like most of it was improvised on the spot. For example on "Senegalese Impulse" he brings in Ibou Ngom on sabar and djembe and the two just go at it for four and a half minutes. Intense doesn't begin to describe it. There are waterphones, which sound like Harry Partch devices on "Deep water syllables," and while they are otherworldy, Subhasis fits in well to ground it.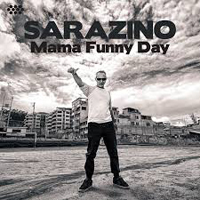 SARAZINO
MAMA FUNNY DAY (Cumbancha CMB-CD-117)
When I first put this on I thought I was accidentally playing two things simultaneously, which might happen it you leave YouTube or some other app running in the background. From the start there is a lot going on. Singer Fellah is an Algerian who grew up listening to reggae, flamenco, rai and French pop. In 1993 Fellah's father was murdered by Islamic radicals and the family forced into exile. At the time Fellah was studying and making music in Montreal but a couple of years later he moved to Quito, Ecuador. The opener is a simple pop ditty with hiphop overtones and a rap by the silly all-style-and-no-substance singer Sandflower. I looked her up on YouTube -- all her songs (that I could stand to watch) are auto-tuned and full of visual flash. Nevertheless this is a catchy kick-off track with four simple chords in an endless round. The same groove then morphs into reggae for the title cut which features another member of the demi-monde called Black Prince (It's not Prince Rogers Nelson, nor the calypsonian of that name, nor indeed the 14th century knight). The next guest is Li Saumet of Bomba Estereo who turns in her usual recognizable rigorous rap this time in concert with Julian Assange who phones in his bit from the Ecuadorian embassy. Consciousness is important in all music but it seems a bit preachy to sample Assange, no matter how relevant his warnings. Each of the 15 tracks has a guest rapper on it, most of them singing in Spanish which is translated in the booklet. Lamine sings in French but "Daddy o, daddy o" or "Go, Johnny, go, go go" are easily understood. And by track six I get the feeling that I am listening to the same four chords over and over. Mostly, however, the techno-derived reggae-inspired grooves are catchy. I am thinking the aim is to fire many rounds (15 three-minute songs) and get at least one hit. "People," track 13, has the recognizable dulcet groan of Toots Hibbert, but again he is largely buried with a lot of slushy production. No musicians are listed, maybe one should not presume there is a band. I think the title is a play on Lee Perry's "People funny boy" or maybe "Mama look deh" by the Pioneers. Maybe I am overthinking it. Ultimately I come to the realization that I must be Babylon.