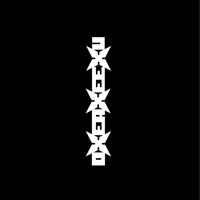 Although the black and white cover with its stark title logogram suggests this is a cryptic word game or even an alien script, it's the words Oxé, Axé, Exu, pronounced O'Shee (!woah!), Ashay (a type of Brasilian pop from the 80s with drumming, reggae and even Candomblé overtones, indicative of good vibes), Eshoo, the name of the Yoruba god, trickster, messenger, keeper of the crossroads, worshipped in Candomblé, liable to mess you up, whom I presume will appear if you thus summon him. This band is big in the favelas of Salvador da Bahia, and this may explain why they give away their music. Another important favela band, Olodum, a drum ensemble formed in 1986, named for the supreme Yoruba god, Olódùmarè, is also heavily influenced by samba and reggae. But BaianaSystem go beyond this to add electronics, samples, and rap, while creating a great flow for the duration of the disc. It opens with a characteristic tune which could have been on their previous albums. The bloco of repique drummers is there, with bright layered guitar notes, and a call and response rap with BNegão and wild clarinet, all piled on a basic "Manicero" riff. This is the well-situated opening cut, "Reza Forte," guaranteed to please their fans. I love it.
There are 21 tracks, some just a minute or two to express a mood or idea that floats by (like the old woman invoking the saints on the second cut), interspersed with radio static and other suggestions of transience. The group is also flexible, based around guitarist Robertinho Barreto, who plays a small 5-string "baiano" guitar – half-way to a cavaquinho – bassist Marcelo Seco, electronic percussionist Wilson Batata and DJ João Meireles, mixer. They also have a graphic designer in their entourage who provides a pleasing, hip graphic identity. The African and Brasilian influences are strong but so is the pervasive dubbing from Jamaica which pushes the notion of the "trio electrico" well into the 21st century. One track, "Nauliza," brings in a rapper, Makaveli, from Dar, Tanzania. Chico César added his voice, from Uruguay, and a bandoneon player sent his part from Argentina. The other guest who is a known factor is Céu whose debut came out on Six Degrees in the US; she sings about feelings: "O que não me destrói me fortalece (What doesn't destroy me makes me stronger)." I always think singer Russo Passapusso sounds like an old pirate and he doesn't let me down, singing about pirate booty on "Tubarão." You can also watch it live here. There is a fair amount of filler, with all the collaborations and experiments, making this more of a collective effort than a single BaianaSystem album, but they way it's been anchored with strong tracks at the beginning middle and end holds it together.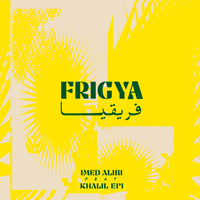 IMED ALIBI & KHALIL EPI
FRIGYA (imedalibi)
This disc represents the meeting between traditional North African percussionist Imed Alibi from Tunisia and producer and multi-instrumentalist Khalil Hentati. Alibi has worked in many North African ensembles and backed performers such as Rachid Taha, Watcha Clan, Natasha Atlas and Emel Mathlouthi. The two spent several years researching and cataloguing Mezwed and Bedoui repertoires, finding strong connections between older African drumming forms among them, and then chose some to rework in a studio with loops, overdubs and effects. The result is a shimmering tapestry of beats, very contemporary sounding but rooted in deep musical legacies. Though familiar it shows how far we have come from the Brian Jones presents the Pipes of Pan at Jououka album which was an early attempt to add echo and sound processing to traditional Moroccan music. Unnamed vocalists appear as well as other instruments, but rhythm is the main ingredient. I hear a warbly synth, a violin-like instrument and even bagpipes on echo which sounds very heavy-metal. In fact the last track, "Hattaya," sounds like they are channeling Rush or some other wasted rock band of yore. But let's not overlook the ululating ladies off in the distance.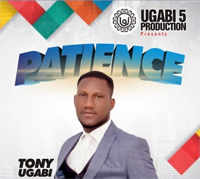 Hot on the heels of the remarkable Oliver Nakoya album Aja Wele-Wele comes another dose of mellow Nigerian highlife with the sweet sound of yesterday, as welcome as a hot tub on a chilly night. Tony is the son of Vincent Ugabi, largely unknown in the West although he did tour to the USA in 2007-8, but author of over thirty albums of Etaskor music from Benin City, Edo State, in the 1970s and 80s (some of which are available on Spotify, etc). In the vein of his father, and other highlife musicians, Tony's music is largely praise songs for his patrons. Vincent wrote some of the songs, in fact, and another son Andrew is also succeeding in the same career with a debut album released in this past year. My friend Michael Scott, who is the resident expert on Nigerian music, has posted some of Vincent's music on his blog, along with an interview with the octogenarian singer. "Waziri Oshomah and Vincent Ugabi were the two most important singers in the movement," says Scott. It's very meditative and it's aim is to bring hope to the hopeless. The son is aware of this too as the new album has shout-outs to both Michael Scott and another of my music buddies, Dr Chris Meserve, both of whom are outstanding collectors and archivists and I am proud to say, came to African music through listening to my radio show from San Francisco in the 1980s. Tony learned his craft in the ranks of his father's band and has taken it over so there is a seamless transition to the now 50-year-old sound. "E go beta (Patience)" has pidgin english lyrics that suggest things will improve if we have faith in God. I did not know until I googled Weppa Wanno that the Ugabis come from a kingdom that recently separated from its conjoined neighbor, under British rule. There's Tony's take on "Sweet Mother" praising his mummy in English. Then we get to the two longest cuts, clocking in at ten minutes each, "Simeon and Moses," which seems to show that inter-tribal animosity goes back a long way (Simeon's is the only one of the 12 tribes of Israel not blessed by Moses according to Deuteronomy – OK, I won't go there). Maybe it's better we don't know what this is all about. This is a very impressive debut album. Tony has picked up his father's mantle, and wears it well. Hopefully the world will now be ready to hear the word from Weppa Wanno.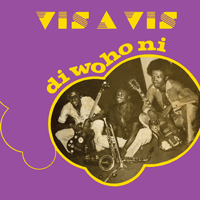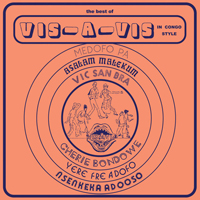 This Toronto-based label (We Are Busy Bodies) has been finding some lost gems of African music, such as an early Philip Tabane LP on Gallo, another by Kippie Moketsi, plus several albums from Ghana's Vis-a-Vis band. Vis-a-Vis was the band of singer Isaac Yeboah and his guitarist Sammy Cropper (I assume it's a pseudonym riffing off Steve Cropper, guitarist of the great Booker T & the MGs). Slim Yaw Manu played bass, "Kung Fu" Kwaku the drums, and Abee Mensah was on keyboard, along with Yaw Asante, congas and percussionists. They also backed Alhaji K. Frimpong. Their 1976 album ƆdƆ Gu AhoroƆ was reissued in Canada in January 2021, soon after their 1977 album Obi Agye Me Dofo. Their 1978 High Life Time was reissued in the USA by Makossa as Papa Akwasi by Sammy Cropper and his Wire Connections, which is where I first encountered them. That one added sax, trumpet and synth and featured Yaw Amoako (of Nana Ampadu's African Brothers) on vocals. Now two more of their classic albums have returned. Di Wo Ho Ni kicks off in a familiar relaxed style, with maracas and laid-back guitar and organ over rickety traps, then sweet harmony vocals come in. This is exactly in the sweet spot for Ghanaian highlife. The album is only 32 minutes in length but goes off into a pleasant dreamspace for that half hour. Their other reissue inna Congo style, from 1976, shows their chops on some classic tunes penned by Docteur Nico, Verckys, and even an early fifties tune, "Chérie Bondowe" penned by Manuel D'Oliveira and first performed by his group San Salvador in the early fifties, and later covered by Mayaula Mayoni and OK Jazz. My friend Jerome tells me it's about a "Twilight girl" in the port city of Matadi. It's appealing and this highlife version (I am sure like me they didn't know the meaning of the song) stretches out and the guitarist shows off his Franco chops. He is less effective at imitating Docteur Nico on "Asalam Aleikum," but then no one should even try to play guitar like Nico. "Nsenkeka Adooso" is a spirited take on Verckys with melodic rather than raucous sax.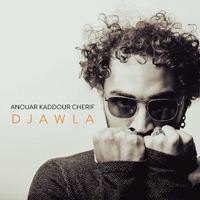 ANOUAR KADDOUR CHERIF
DJAWLA (Riverboat Records TUGCD1133)
Quite distant from the raw percussive tribal stuff we have been getting into lately, comes an album of North African jazz, featuring Anouar Cherif on mandole, and his Swiss sidemen: Clément Meunier on bass clarinet, Hannes Junker on drums, and Antoine Brochot on double bass. I was immediately drawn to the bass clarinet, not just because of the warm woody sound, but because the cover art shows the player laying on his back, a pose adopted by one of the Temperance Seven, from my favorite LP when I was 11 years old. The mandole is a lute-like instrument and the repertoire comes from the Arabo-Andalusian tradition, though more on the Algerian side on the Straits of Gibraltar than the Iberian side. Cherif was homeless in Geneva in 2018, when a Jewish lady took him in. "Autumne Occidental" is his tribute to her. The bass clarinet is noteworthy here and the interplay between the quartet is at a high level. And is that a cuica I hear? In his three years of exile, Cherif has had ample opportunity to reflect on his musical heritage and try to keep it foremost in his mind as he brings his rhythms to the context of a jazz quartet. "Sirocco" seems to bring news of the old quarter of Algiers in hot dry winds that blow from the Sahara before abating in the cool heights of the Swiss alps. "Virgule" is an Indian interlude which has its own inner-mounting flame. Then the African mood comes to the fore with a thumb piano kicking off a loping waltz, that is a return to the Arabo-Andalusian sound in "Amiret Erriyam," the closer.