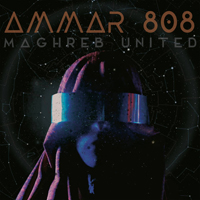 AMMAR 808
MAGHREB UNITED (Glitterbeat GB060CD; also on vinyl)
Bargou08 exploded into the speakers a year ago and shot into my top ten. The group has morphed somewhat but the idea is still there: to take traditional North African music and modernize it with a booming bass courtesy of synth and drum patterns on the TR-808 (a descendant of my namesake the Doctor Rhythm, which was the first and now primitive-sounding drum machine made by Roland). I am not sure who the leader is, but he has assumed the name Ammar 808 and the band as well as the album is called Maghreb United. The TR-808 was only made from 1980 to 83 so is now a vintage instrument, beloved of hiphop artist and those who like to generate their own rhythms rather than using samples. As unification implies, the reach of the album covers the entire Maghreb of North Africa with singers from Morocco (Mehdi Nassouli), Algeria (Sofiane Saidi), and Tunisia (Cheb Hassen Tej). The instruments are a distorted (over-amplified) guimbri, played by Nassouli, gasba flute, and zokra bagpipes. The album is futuristic -- but it is not a bright and rosy future it envisions, rather the grim reality of more of this shit we are enduring now. The world has become fragmented into individuals lost in their own worlds, whereas once there was a diverse yet continuous culture. Borders are erected between countries that were once friendly neighbors who allowed for free flow of people and ideas. The Maghreb was once a giant continuous space embracing many different elements. If we can recognize those differences and still connect we are getting somewhere, and that is Ammar's idea behind this gripping suite.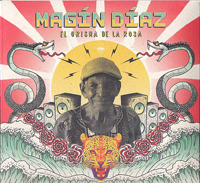 MAGIN DIAZ
EL ORISHA DE LA ROSA (No Name 2017)
At the end of his long life Magín Díaz won a grammy. I am sure it was less than a thrill, since the award was for the packaging of his final CD and not the contents (for which he was also nominated). The shock may have killed him as he died, still in Las Vegas, ten days later. The grammies is a really spurious event created to celebrate the big industry honchos are their money making abilities. But we wont let that distract us from this wonderful assemblage. As an elder Díaz was able to call in some remarkable assistance on this project. The opening cut "Rosa" has both Totó la Momposina and Carlos Vives on it! This is a song he composed when he was only 13 or so, but certainly more than 80 years ago. In the interim the above-named artists and many others have covered it to the point where it is now a standard. The disc then goes to a marimba and hand-drum workout with chorus, classic traditional coastal sounds of Colombia. "Dolores tiene un piano" even has a flute on it. Díaz's mother was the biggest influence on his music, she was a bullerengue singer and would sing him to sleep nearly a century ago. He has collected the songs he wrote in his head ever since and, in his mid-90s, was given a microphone and asked to sing as many as he could recall. Sometimes he called on friends to supply the missing verses. Thus he recreated what could be the purest remaining folk music in Colombia. Then the vocals were taken to a studio to be mixed and each day different artist or bands would show up to check in on their own projects, and also perform on the songs. They were allowed to pick songs they thought they could fit in with, so artist as different as Monsieur Periné, Chango Spasiuk, Sexteto Tabalá or Mayte Montero can be heard on here. The moods also vary from Venezuelan joropo to Argentine tango (or Chamamé); even Congolese guitar legend Dizzy Madjeku chips in for the modernized Palenquero sound. The constant is Díaz's world-weary voice and his conga playing but the wide variety of other artists, from Chango Spasiuk's accordeon to the spaciness of Sytema Solar or the rapping of Li Saumet & La Yegros reframe him in a glittering kaleidoscope of sounds.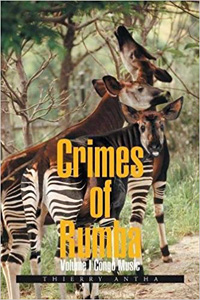 THIERRY ANTHA
CRIMES OF RUMBA (Xlibris Us)
Reviewed by Alan Brain
According to scholarly writing about Congolese music by Manda Tchebwa, Kazadi Wa Mukuna and Andre Yoka Lye Mudaba, modern urban Congolese music or what we know as Congolese Rumba was born in Léopoldville, after the Second World War, out of a combination of several influences such as French music from the movies of Tino Rossi, Ghanaian Highlife music, indigenous Congolese music, an intertribal popular African dance music called Maringa, and Cuban music. This last one came to Léopoldville around the 1940s in the form of a specific series of 78 rpm shellac records from His Master's Voice. Their "G.V." series contained Cuban or Latin songs with rhythms such as Cha Cha, Bolero, Guaracha, Guaguanco, Merengue, etc. Congolese musicians soon fell in love with Cuban music and started playing it. In the beginning, Congolese musicians recorded songs trying to mimic those Cuban rhythms that came with the "G.V." Later, little by little, the flavors of Cuban music mixed with all the other influences and gave birth to a new style, Congolese Rumba.
The main hypothesis in Mr. Antha's book is that, around the 1950s, Congolese musicians started recording Cuban rhythms and incorporating Cuban musical styles in Congolese music, not because they freely fell in love with Cuban music but because they were obliged by the Belgian authorities. According to Mr. Antha, the Belgian administration decided that Cuban musical genres were profitable. So, they forced the Léopoldville music label owners and their musicians to record a minimum monthly quota of Cuban music or face justice. Mr Antha calls these quotas "musical cash crops". Supposedly, these Léopoldville-produced Cuban records were going to be sold outside of Congo to enlarge a particular European record label empire.
This is an extraordinary claim that does not fit at all with the narrative of the already significant body of scholarly work about Congolese Rumba by acknowledged sources of authority. I know personally most of the scholars and journalists that have written about Congolese Rumba such as Clément Ossinonde, Manda Tchebwa, Jean Pierre Nimy, Kazadi Wa Mukuna, Gary Stewart, Maitre Yoka, Alastair Johnston, Ken Braun. None of them has ever mentioned anything remotely similar to what Mr. Antha tries to advance in his book.
Also, and contrary to Mr. Antha's claims, during the 1950s the sales of Congolese records outside of Congo were never significant enough to enrich any record label.
Unfortunately, Mr. Antha does not present any hard evidence to support his theory. There are no official documents from the Belgian administration that support his theories. Nor are there any official documents from the main Léopoldville studio labels (Esengo, Loningisa, Opika) to provide proof for his claims.
To support his theory, Mr. Antha relies on a myriad of testimonies from some of the most famous Congolese musicians ever, such as Franco Luambo, Joseph Kabasele "le Grand Kalle", Tabu Ley Rochereau and Augustin Moniania "Roitelet". Unfortunately for us, there is no way to confirm these testimonies since all the musicians quoted are now dead. The problem for Mr. Antha is that there are many audio and/or video recorded interviews with Franco Luambo and Tabu Ley Rochereau and while some of these interviews are long and exhaustive, there is not even one interview where Franco or Tabu Ley mention what Mr. Antha has quoted them saying. Furthermore, one of the other musicians quoted in Mr. Antha's book was a friend of mine, Moniania Roitelet. I met Roitelet in Kinshasa while making a documentary film. I have spent several afternoons with Roitelet and I have interviewed him on film many times (sometimes for more than 2 hours). He never ever mentioned anything along the lines of what Mr. Antha claims. I actually asked Roitelet several times why Congolese musicians started playing Cuban rhythms? His answer was always the same: "Because, at that time, everybody loved Cuban music in Léopoldville, and the musicians loved it too. So, we started playing it."
For my documentary film, which is about Congolese Rumba, I have interviewed, on film, more than 40 musicians and Congolese Rumba experts, I have even met with the sons and daughters of the Léopoldville studio owners of the 1950s and, again, nobody has ever mentioned what Mr. Antha tries to advance. So, unless Mr. Antha provides solid evidence to support his extraordinary claims, this book advances a false theory that only serves to stain the legacy of Congolese Rumba by making it a byproduct of forced labor.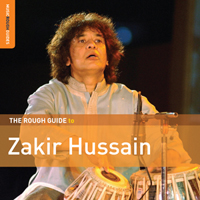 ROUGH GUIDE TO ZAKIR HUSSAIN (RGNET1372CD)
Not all music has to hit you upside the head and make you jump up and down. We all need those peaceful moments when we want to hear some soothing melodies and let our minds wander distractedly without being forced to pay attention to a clever solo. On the other hand even low-key music can draw you into the subtleties and make you hear the gaps or notice the interplay between the percussion and the spaces left by the melody. Zakir Hussain is perhaps the greatest living tabla player. He learned from his father Alla Rakha who preceded him in that elevated position. (I accidentally wrote "table" player which is true, as his father taught him by having him drum along with his fingers as a baby.) With two hands and two small drums he can play melodies or trade licks with the best of them. Here are five tracks that demonstrate his skill. On "Kirwani" he plays along with a santoor, a Kashmiri folk instrument which sounds like a dulcimer, sweet and refreshing like a cool shower on a hot day. Hussain's hands move fast, like talking, his fingers reciting tales, fables, finishing the narrative begun by the strings to the point where he is really excited, making his point, and you are suddenly paying full attention. This compilation is more than a best of: it allows us glimpses of different facets of Hussain's art, mostly in duet with a stringed instrument.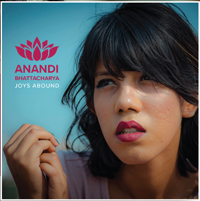 ANANDI BHATTACHARYA
JOYS ABOUND (Riverboat Records TUG1116)
I saw Anandi in concert a few years ago. That is to say, I saw her father Debashish perform in Chicago and he prodded the shy young teen onto the mike to do a number. The good news is she has blossomed into a fine singer and on this album is backed by her dad's band. Debashish plays slide guitar and uncle Subhasis plays tabla. There are guests on djembe, mandolin, keyboards, flute, cajon and percussion but all very unobtrusive. Lata Mangeshkar is now 88 and hopefully enjoying retirement but you cannot avoid a comparison to the fine voice who graced so many (thousands) of popular Hindustani songs. But Anandi also cites Ella Fitzgerald and Joni Mitchell as influences. The music here sounds traditional, and includes an invocation to Ganesh, folk songs, and even a Rabindranath Tagore poem set to music, but all the compositions are original. Included in the band is Carola Ortiz, a clarinetist and singer from Spain who adds another dimension.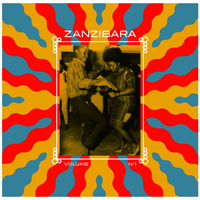 Zanzibara VOL NO 1
Taarab & Dance Band Music From East Africa (Ouch!)
I resisted CDs for the longest time, over a decade, because I simply did not trust the technology, couldn't see what was going on and experienced enough bad media to know not to trust something you couldn't fix with a needle or a brush. When I deejayed back then it was all vinyl, which sounds elitist nowadays, when many DJs show up to gigs with a flash drive or a laptop. But the vinyl craze has returned like tulipmania & the latest entry is derived from the esteemed Zanzibara series, originally compiled by Werner Graebner for Buda Musique. Since I love muziki wa dansi of the early 80s and have diligently followed the series I don't need the vinyl, but checked the playlist to see what was new or different. Of course there are some outstanding hits on here: Mlimani Park's "Visa Vimenichosha" and International Orchestra Safari Sound's "Homa Imenizidia" are both sublime. The material on disc one came out on the odd numbered CDs, Zanzibara 5, 7, and 9, with the exception of "Angelu" by Maquis Original, which was on an Ahadi cassette (AHD005) and also the LP Karubandika which is a personal favorite. Two of the songs from the Maquis cassette made it onto the first Muziki wa Dansi CD from Africassette, a reworking of Monsun's Tanzania Dance Bands, vol 2 (also compiled by Werner Graebner). On side three we find two more selections from Zanzibara 3, and have to start digging for the other tracks. Salum Abdallah & Cuban Marimba Band's "Naumiya" appeared on Dada Kidawa, from Original Music. I have not stayed up with the Taraab releases, being less keen on that genre, and checked Songs the Swahili sing (another Original Music issue) only to find the two artists represented, but with different tracks. The track "Dada" by Matano Juma & Morning Star Orchestra was the lead-off cut on Zanzibara 2, which also included the Zuhura & Party number. "Vingaravyo Vyote Si Dhahabu" by Ikhwani Safaa Musical Club was on Zanzibara 1, dedicated to them; the second track, Rajab Suleiman & Kithara's "Kimpenzi Changu Cha Moyo" escapes my notice. The closer Bi Kidude's "Kijiti" was on Zanzibara 4, which was devoted to her. It's "double LP priced," but if you have it all or most of it on the Buda CDs you have to decide if you want your disposable income going to fill your shelves and whether it's something you will play a lot or just possess as a fetish item. Having said which, the liner notes, I presume, are worth reading. And if you don't have them, the earlier muziki wa dansi releases are essential.