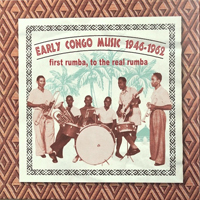 EARLY CONGO MUSIC 1946-62
FIRST RUMBA TO THE REAL RUMBA (El Sur Records)
Modern Congo was born in the 1930s with rapid urban expansion. According to Jeannot Diop, people from the countryside attempted to retain village practices in the new urban environment as a way of preserving continuity, so there was a degree of tribalism even as the cosmopolitan centers of Brazzaville and Leopoldville continued to grow. Music flourished on both sides of the Congo river as Western musical instruments such as guitars and accordions gradually supplanted traditional log (lokole) or frame (patenge) drums and likembes. The establishment of Radio Congolia in 1939, broadcasting local music, is a watershed. This is followed by the establishment of the Olympia record label in 1946. And that is where out story begins.
This two-CD set comes with an 86-page bilingual book, richly illustrated with labels and artist photos and includes notes on the lyrics of the songs. It's the complete opposite of that wretched and deceitful Nostalgique Kongo CD I reviewed a few months ago. Ironically there are two songs duplicated from that haphazard set: "Amis Benatar" by Jhimmy & Paul Mwanga and Wendo's "Bakosi liwa ya Wendo," both of them important to the history, but now we get some context to aid in our appreciation. Yoshiki Fukasawa is the compiler and author of this outstanding compilation. Apart from Flemming Harrev's discographies on afrodisc.com the only generally available information on the history of early recorded music in the Congo comes from liner notes, such as Planet Ilunga's albums or Sterns' few sets of Congo classics, and Gary Stewart's indispensable book Rumba on the River (Verso). As Fukasawa-san says in his introduction: "Reliable written information is crucial but listening to and feeling the actual music is most important of all to understand the popular music of the time." So he set out to collect the largely lost recordings of this era and this is where he made his first startling discovery. The earliest "rumba" records he found from Congo -- Orchestra Odéon-Kinois on the short-lived Olympia label in 1946 -- are a brass band! At the same time early guitar recordings by Wendo (widely traveled as one of the first "pop stars" of the Congo) were also labeled "rumba," so Fukasawa-san came to the brilliant conclusion that the term implied popular or cool music, and not a genre or rhythm at all. In fact it's not until African Jazz in the early 1950s, that anything resembling a clear Cuban "cover" is detected. (Rumba is also a problematic term because Congolese rumba is a blend of cha cha, son-pregon and son-montuno and is only obliquely related to Cuban rumba as heard in e.g. Los Papines or Muñequitos de Matanzas.) Highlife, brass band and palm wine music were earlier imports, coming with sailors and workers from Sierra Leone and Ghana. You can also spot elements of calypso and church music in the roots. Cuban music arrived with the gramophone in the 1930s and "rumba" was embraced for its familiar African rhythmic underpinnings. Real rumba, he tells us, is a result of Jhimmy the Hawaiian (Zacharie Elenga) and Paul Mwanga bringing a pop sensibility to the music to appeal to the youth, and adding what is essentially "animation" within the song. Sadly the two fell out, Jhimmy gave up music and from the core of musicians surrounding him at Opika, African Jazz was formed.
Previously there have been collections devoted to Loningisa (the two Roots of Rumba Rock sets on Crammed), Ngoma (two compilations on Popular African Music), and the two volumes on Ngoyarto Bankolo Miziki, which does not identify its sources, but is mostly from Ngoma, and seemingly all the tracks were rerecorded in 1973. Columbia & HMV reissued singles from Loningisa & Opika after 1957. Honest Jon's compilation The World is Shaking: Cubanismo from the Congo 1954-5 collects some of these HMV reissues. Fukasawa-san presents selections from all the labels, so he has the broadest range and the most insightful analysis.
The first El Sur disc shows the influence of palm wine and other styles on the development of the music. Traditional thumb piano still has a role in the rapidly modernizing country (just as it resurfaced with the electrifying "Congotronics" artists captured by Vincent Kenis a decade ago). Antoine Mundanda of Likembe Géant fame turns up with the unique whistle and likembe piece "Mabele ya Paulo." Of course there is a parallel with the finger-picking guitar style. This song about singer Paul Kamba's girlfriend celebrates the traditional within the modern urban context. Kamba was popular in both capitals across the river and the song combines conflicting even contradictory elements of the social experience, as commentators were keen to point out, this is the same sentiment that prefers imported beer to the local brew. This pseudo-sophistication also leads to rejecting domestic musical forms in favor of foreign ones. There's a nice 1946 solo piece from DeSaio who influenced DeWayon, Franco's teacher. As he finishes singing, leaving only his accompaniment, he calls out "Guitar!" I had to laugh. We hear Wendo, d'Olivera and Bukasa individually. They later formed the first supergroup in Congo: Trio BOW. Another big star in the '50s was Adou Elenga, son of a coastman guitarist from Ghana [correction: Flemming Harrev sent me an obituary of Elenga which states his father was from Zanzibar, but known as a great guitarist in his era]. Elenga's controversial political song "Ata ndele" was banned; he also had huge hits with "Tout le monde Samedi soir" (a cover of a popular Nigerian highlife song, "Everybody loves Saturday night" which according to Flemming Harrev probably has Caribbean roots) and "Maria Tebbo" which was reprised by Sam Mangwana (those tracks are on Ngoma: the early years, and the Bankolo Miziki albums; it's odd to have to revert to these liner notes from a Japanese scholar to get the necessary information about a compilation put out by Congolese and Belgians. On the other hand, the Ngoyarto set may be a bootleg reissue of Anthologie De La Musique Zaïroise Moderne issued by the state in 1974, so perhaps they were keeping their heads down).
We progress chronologically to the point where the real rumba starts breaking out, on tracks like "Baye-baye" by DeWayon with Wendo and a group that would become Watam a year later (with teenage Franco, whose mother rented a room from DeWayon where he kept his guitars). This is followed up with a powerhouse from Wendo: "Bakosi liwa ya Wendo," a "Peanut Vendor" cover with piano in the mix (according to the label: "3 guitares, piano, contrabasse & jazz" -- Jazz actually refers to a scraper!). "The Peanut Vendor" returns on disc 2 with a track from Gobi, sung by Lucie Yenga, backed by guitar, organ and sax. And while this influential Cuban number permeated all Africa, it is clear what we have been calling rumba roots is really a pan-African sound involving highlife, maringa and many indigenous folk influences. So Yoshiki's point is well-taken that "rumba" on the label does not refer to rumba in the grooves. We simply did not have a big enough sample of early Congolese records to judge accurately. Ngoma, which pressed 30,000 discs a month in their European plants, had no competition before Opika ("resist") came along but their master tapes were destroyed in a fire and their master collection in Kinshasa was destroyed in riots in 1989. As Wolfgang Bender says many discs by prominent names in their catalogues cannot be found. In short they were played to death.
If the first disc was the chrysalis, the second disc is the butterfly. On the second disc we note the personalities of Franco, Essous, Kabasele, Rochereau (with the magnificent "Catalina"), Tino Baroza and others emerging. Belgian sax player Fud Candrix brings real jazz to the studio and pushes the core members of African Jazz into exceptional jamming. And there are other discoveries here like Roger Salmson with Dynamic Jazz (Ngoma 1958), on "Ami amore bonita." There's a great clipped guitar solo by Dumana, and lyrical clarinet evocative of early OK Jazz. Roitelet and Le Beguen Band give us "Sala mbongo," a cha-cha, also from 1958 and also on Ngoma, that suggests Rock-a-Mambo. Of course the make-up of these groups was fluid. Core members from Rock-a-Mambo and OK Jazz, who had previously worked together in 1954 as Negro Jazz, reunited on Independence as the Republic of Congo broke from France. They moved back to Brazzaville to form the mighty Bantous de la Capitale, and the rest, as they say, is history.
This monumental achievement by Fukasawa-san not only combines scholarship with well-chosen music but is sequenced in a way to aid in our understanding. It constitutes a key document in the history of the development of Congolese popular music.
(NB: The compiler suggests, if you are outside Japan, buying from Farsidemusic or Ebay as the Tokyo publisher doesn't want to deal with international mail order.)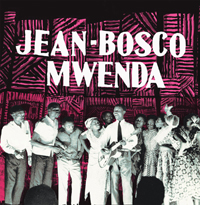 An historic encounter in African music took place on Saturday 2 February 1952. That afternoon, Hugh Tracey, on one of his safaris throughout Southern and Central Africa, looking for musicians, heard a busker playing in the town square in Jadotville (modern day Likasi) in south-eastern Belgian Congo. Bosco was 21 and had only been playing guitar for a year, but he was brilliant. He had perfect pitch and had developed a finger-picking style that resembled likembe/sanza or thumb-piano style, with both hands moving contrapuntally on the fretboard. The next morning, Tracey taped eight songs, including "Masanga." Tracey was so impressed with Bosco's picking he asked him for another take, without the vocals to hear clearly the exquisite arrangement. Later that year Tracey compiled a 10-inch LP that included two selections from Bosco, alongside George Sibanda, J.P. Odero from Uganda with "Kiss-cha-moto-moto" and other gems. The disc won an Osborn Award, the equivalent of an Oscar, and the African Music Society's album of the Best Music for 1952 kicked off with "Masanga" and "Mama na mwana." Tracey had a preternatural knack for discovering talent and his 1972 Gallo/Kaleidophone LPs Musical Instruments 6/7 Guitars 1/2 deserve a proper reissue. Bosco went on to record nearly 200 sides for Gallotone, the South African label, and made a few other recordings in Nairobi, even touring to Germany. His final recording session from 1988 appeared on Rounder. Mississippi Records has now put out a wonderful selection of 1950s recordings by Bosco, collected by sound engineer Michael Kieffer. These songs were hits in East and Central Africa and influenced an entire generation of African guitarists. (Listen to "Djamo Djamo" by Sam Mangwana's African All-Stars for a 1979 reprise by Dizzy Lengo, Lokassa ya Mbongo and Syran Mbenza.) Since Bosco was a master of many styles there is an interesting question of whether his records were influential further away in West Africa or whether he was picking up on what he heard. Someone taps on the table with a pencil while another plays a shaker as Bosco romps through "Masimango." He uses the percussionists to stagger the tempo on the guitar and it lurches along beautifully. Bosco was joined by his partner Losta Abelo on a few songs and someone striking a bottle in a quasi-clave pattern, suggesting they were familiar with the GV recordings of Trio Matamoros and others. Some of these tracks come from worn 78s implying the master tapes are no longer extant, though there is a Gallo archive in South Africa. The album opens and closes with two tracks that have appeared before: "Masanga" and "Mama kilio e" from the 1952 session. If you don't have it, that original session is included on The Very Best of Hugh Tracey (SharpWood 034). Bosco's gorgeous "Mama na mwana" can be found on Origins of Guitar Music (SharpWood 015) and the Cuban-tinged "Mwendo tulikwenda" is on Listen all Around (Dust to Digital 52).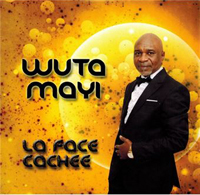 WUTA MAYI
LA FACE CACHEE (Debs Music)
Wuta Mayi's career embraces the arc of Rumba Congolaise. He sang alongside Papa Noel in Orchestres Bamboula and Rock-a-Mambo as a teen before joining Franco's OK Jazz during their peak years in the 70s. In 1982 he was a co-founder of Les Quatre Etoiles who embraced a more stripped-down sound than OK Jazz, without the horns. After drum machines and synthesizers put an end to the joy in soukous and it became formulaic, the Quatre Etoiles regrouped as Kékélé. The new sound returns to the acoustic roots of rumba-rock, with congas and trap drums, real woodwinds like flute, plus trumpet, accordion, cello, acoustic bass. Now with different accompanists, Wuta Mayi issues a wonderfully rich and varied collection of new songs, released to coincide with his 70th birthday in August 2019. Faya Tess is here and Caen Madoka, a guitarist who mimics the lead style of Franco successfully on "La patience de Winnie."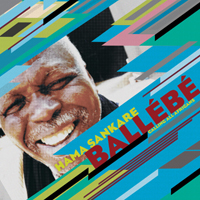 HAMA SANKARE
BALLEBE (CALLING ALL AFRICANS) (Clermont MusicCLE018)
After enjoying Hama Sankara's Niafunke which came out three months ago, I found his first album, Ballebé, which is just as satisfying. While Hama is "only" the calabash player he has anchored many famous bands and backed great musicians, including Ali Farka Touré, Songhoy Allstars and Mamadou Kelly. He is the singer, composer and also the arranger of these pieces. Surrounded by amazing talent he brings some Malian blues in a dozen laid-back tracks that are long on tradition and warm as the desert sand. He draws on Peul as well as Songhoy folklore for inspiration. As well as electric bass and additional drums, we hear a monochord djourkel, played by Brehim "Yoro" Cisse, and a horsehair violin (njarka), played by Douba Souley Cissao. These two players contribute original tunes also. Oumar Konaté is the guitar virtuoso backing the vocalist with the well-worn tones. In addition a young singer, Sekou Touré, appears on two tracks. Most welcome is the sweet slide guitar of Grammy-winner Cindy Cashdollar whom Hama met in Woodstock, NY. She plays on three tracks. The LA producer adds synth loops and electronics on two tracks to bring out the dance groove for this satisfying excursion. Here's a youtube video of one of the tracks from this album.